To order this holiday brochure for FREE delivery to your home or computer, click the GET THIS FREE button.
A Voyage Like No Other
Join Viking Cruises for the journey of a lifetime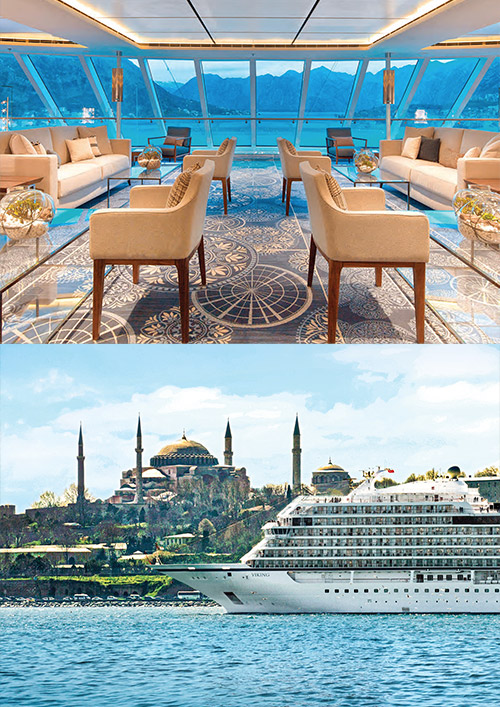 Embark on a grand voyage of discovery as you cruise from Los Angeles to England's majestic capital. Explore the picturesque isles of French Polynesia and cross the South Pacific to New Zealand and Australia. Immerse yourself in Asia's cultural treasures and sail the Arabian Sea to behold ancient antiquities of the Middle East.
Overnights in 11 destinations allow you to fully experience local life in some of the world's most inspiring cities.
The Viking World Cruise offers exceptional once-in-a-lifetime travel opportunities for discerning travellers to explore untold wonders on board Viking Sky, or the new ocean vessel Viking Neptune.
These extensive voyages are fusions of some of our most popular cruise itineraries and destinations, allowing you to explore a vast array of coveted travel locations on the one seamless journey.
Wherever in the world you choose to sail, Viking's state-of-the-art small ships are designed to take you right into the heart of your destination. And with fewer sea days and more time spent in port, a Viking World Cruise will allow you to immerse yourself in the culture and history of the locations that you love for longer.
Complement your enriching onshore experiences with the refined pleasures and learning programs available on board, and take the time to get to know your fellow like-minded travellers, who will become like family.
VIKING'S INCLUSIVE VALUE
A Viking ocean voyage offers some of the best value to be found at sea. From all of your meals in restaurants (including beer and wine) to 24-hour room service, Wi-Fi, the use of spa facilities and even crew gratuities, Viking includes everything you need in your fare so you can enjoy a stress-free sojourn every time you sail.
HOW ARE WE ABLE TO OFFER THIS KIND OF VALUE?
As a leading river and ocean cruise company, Viking has an operational base that delivers efficiencies of scale, leveraging worldwide buying power when it comes to operational costs. The efficient, state-of-the-art design of Viking's ships with our Nordic Balconies maximises your personal space without wasting a square inch on extras. Everything is managed according to rigorous company standards, resulting in significant savings that are passed on to you. It all adds up to the very best value in cruising.
ENJOY INCLUDED EXPERIENCES
Viking Expeditions offer a variety of excursions so you can experience your destination in the way that most interests you. Virtually all excursions are included in your cruise to ensure that you maximise your discoveries.
WHAT VIKING IS NOT
No casinos. No children. No umbrella drinks. No nickel-and-diming.
This brochure covers the regions and holiday types listed below. Click on the links to see more free travel brochures covering the regions and holiday types you are interested in.