New Zealand Guided Holidays View Basket
To order this holiday brochure for FREE delivery to your home or computer, click the GET THIS FREE button.
Small Group Journeys and Guided Holidays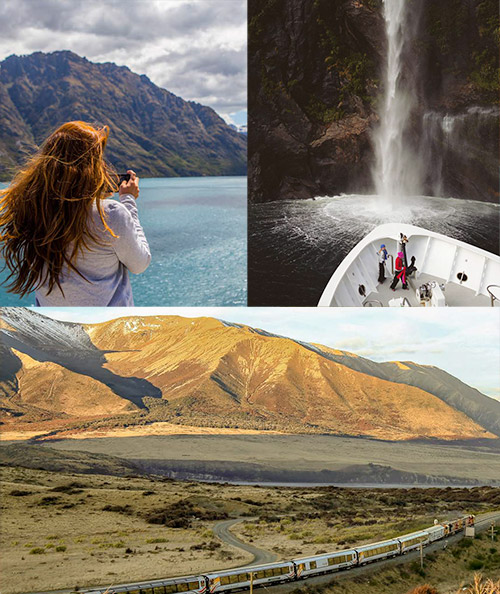 AAT Kings is a premier holiday company, with a long history of providing quality touring experiences.
New Zealand is dramatic and diverse. Whichever island you're visiting, adventure awaits – be transfixed by a bedazzlement of stars in the Southern Hemisphere's only dark sky reserve, cruise in the company of penguins on Milford Sound, and embrace the opportunity to immerse yourself in both the beauty and importance of Maori culture. And in between await innumerable soul-stirring stories to hear, characters to meet, adventures to enjoy, meals to savour, and spirits to accompany.
AAT Kings spent the last century perfecting a Holy Grail of life-changing moments – ones you likely never knew even existed, and that you won't find in a guidebook or on any website. Our DNA has never changed – we are, and always have been pioneers committed to worry-free and sustainable travel, revealing New Zealand in a way that you never imagined possible.
First Choice Guided Holidays with AAT Kings
For explorers who want:
Exclusive experiences and adventures throughout New Zealand
Everything taken care of by talented Travel Directors
There's nothing quite like setting off to see New Zealand, knowing that each wild encounter, all your accommodation – and everything in between – has been taken care of by your Travel Director, guides, and the team of supporting experts. All you need to do is enjoy the relaxed pace, make lasting connections, and delve into the country's culture. This is about going to wild places, with creature comforts.
Best Buys Guided Holidays with AAT Kings
For explorers who want:
A flexible holiday with some inclusions, and some independent travel
All the essentials managed by in-the-know Travel Directors
Take a fully curated holiday, add in a good dose of flexibility, and you arrive at this travel style, designed for those who like travel fundamentals taken care of – the transportation, accommodation – but also like the option of exploring independently, with tips from knowledgeable Travel Directors to point you in the right direction if needed.
Immersive Small Group Journeys with Inspiring Journeys
The Inspiring Journeys experience is designed for immersion and authentic connection; it is the ultimate showcase of your chosen destination.
Step into an unspoiled world and be awed by volcanic fields, crystal-clear fiordlands and pristine lakes. From the Māori heritage of the north to the Sounds of the south, expect to explore further, to discover untamed regional landscapes, thundering waterfalls, and soaring redwood forest. Indulge in native flavours and relax in dwellings nestled within the heart of your destination.
Choose your next inspiring journey in New Zealand's North or South Island or a combination of both.
This brochure covers the regions and holiday types listed below. Click on the links to see more free travel brochures covering the regions and holiday types you are interested in.