Australia Guided Holidays View Basket
To order this holiday brochure for FREE delivery to your home or computer, click the GET THIS FREE button.
Experience the best of Australia with Australia's best
Northern Territory | Western Australia | Queensland | Southern Australia | Tasmania | Guided Holidays | Short Breaks | Day Tours | Inspiring Journeys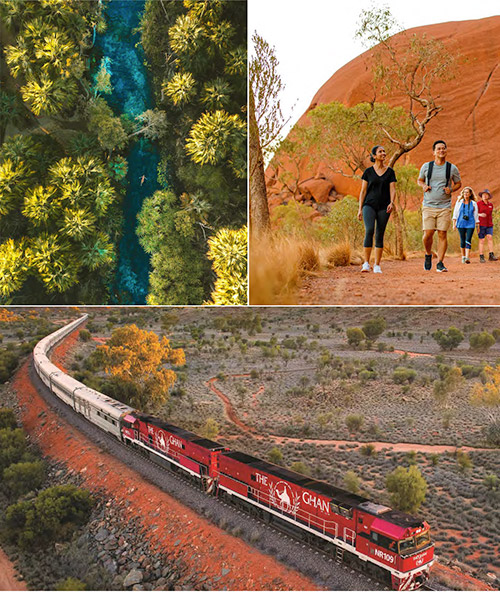 AAT Kings is a premier holiday company, with a long history of providing quality touring experiences.
Australia delivers every wide and wonderful landscape conceivable, from breathtaking canyons to soaring sacred monoliths, from tangles of rainforest to ribbons of reef. And in between await innumerable soul-stirring stories to hear, characters to meet, adventures to enjoy, meals to savour, and spirits to accompany.
AAT Kings has spent the last century perfecting a Holy Grail of life-changing moments around the country – ones you likely never knew even existed, and that you won't find in a guidebook or on any website. Our DNA has never changed – we are, and always have been pioneers committed to worry-free and sustainable travel, revealing Australia in a way that you never imagined possible.
First Choice Guided Holidays with AAT Kings
For explorers who want:
Exclusive experiences and adventures around Australia
Everything taken care of by talented Travel Directors
There's nothing quite like setting off to see Australia, knowing that each wild encounter, all your accommodation – and everything in between – has been taken care of by your Travel Director, guides, and the team of supporting experts. All you need to do is enjoy the relaxed pace, make lasting connections, and delve into the country's culture. This is about going to wild places, with creature comforts.
Best Buys Guided Holidays with AAT Kings
For explorers who want:
A flexible holiday with some inclusions, and some independent travel
All the essentials managed by in-the-know Travel Directors
Take a fully curated holiday, add in a good dose of flexibility, and you arrive at this travel style, designed for those who like travel fundamentals taken care of – the transportation, accommodation – but also like the option of exploring independently, with tips from knowledgeable Travel Directors to point you in the right direction if needed.
Short Breaks with AAT Kings
For explorers who want:
To see Australia, but don't have weeks to spare
A seamless travel experience to take in as much as possible in a short space of time
When you have a week or less to dive into thundering waterfalls, snorkel the world's biggest reef or dine under a carpet of stars at Uluru, this travel style is for you. Your journey unites everything that's great about AAT Kings – the cultural connections, insider knowledge, wondrous sights – and condenses it into a fully curated, blissfully efficient, bite-sized package.
Day Tours with AAT Kings
For explorers who:
Have a few hours and want life-changing experiences packed in
A century ago, AAT Kings became an Australian pioneer in day tripping, taking adventurous explorers where few others had gone before. We know this space well, and our Driver Guides have every connection to make your day of adventure – whether around the Blue Mountains or the Barossa – as meaningful as possible. Why spend a day watching TV, when you can forge a memory for a lifetime?
Small Group Journeys with Inspiring Journeys
The Inspiring Journeys experience is designed for immersion and authentic connection; it is the ultimate showcase of your chosen destination. Witness the may hues of an outback sunset blend into ochre natural wonders, hear ancient languages spoken and see stories written in the sand. Indulge in native flavours and relax in dwellings nestled within the heart of your destination. Choose your next inspiring journey in the Northern Territory, Tasmania, Queensland, South Australia, Western Australia, or New South Wales.
This brochure covers the regions and holiday types listed below. Click on the links to see more free travel brochures covering the regions and holiday types you are interested in.