Australia Guided Holidays View Basket
To order this holiday brochure for FREE delivery to your home or computer, click the GET THIS FREE button.
Experience the best of Australia with Australia's best
Northern Territory | Western Australia | Queensland | Southern Australia | Tasmania | Guided Holidays | Short Breaks | Day Tours | Inspiring Journeys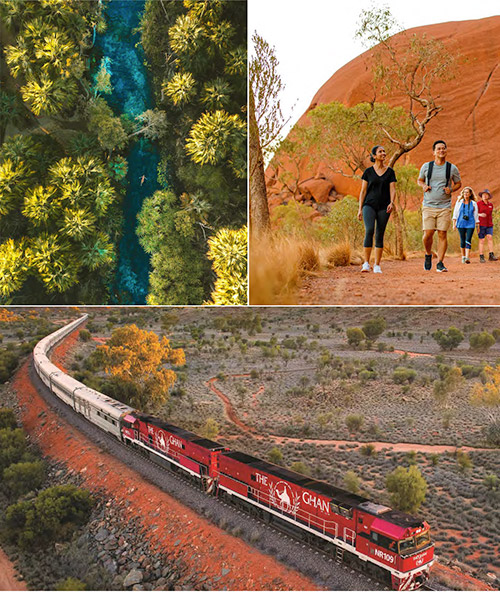 AAT Kings is a premier holiday operator, with a long history in providing quality Australian touring experiences.
Australia is brimming with both stunning natural formations and incredible man-made icons, such as Uluru (Ayers Rock), the Twelve Apostles, the Great Barrier Reef and the Sydney Opera House, Sydney Harbour Bridge, Kakadu National Park and Cradle Mountain. Each will fill you with awe and help you understand why AAT Kings remains as passionate about introducing travellers to this vastly diverse and beautiful country as from the day they first opened their doors...
With AAT Kings you experience the real Australia at a pace that's just right for you.
Since 1925, AAT Kings has been helping travellers from all over the world explore Australia with quality touring experiences. With so much experience in taking care of absolutely everything, AAT ensures that you can get on with creating great new memories and living the explorer spirit on your adventure through the wonders of Australia.
AAT Kings Guided Holidays are packed with quality inclusions and unique experiences, giving you more in every way. Experience all each destination has to offer in a 'no compromise' way:
Inclusive guided itineraries
Hassle-free travelling
VIP entry to major sites
Exclusive "HIdden Gems" sightseeing and unexpected surprises
Complimentary map
Balance of free time and included sightseeing
More central hotel locations, near the sights
More quality accommodation & comfort with superior facilities
More feature hotels & special places to stay
More included meals like breakfast daily and most other meals, plus special meal experiences like Highlight dinners & 'You are invited'
More cultural experiences
More sightseeing inclusions
Your crew: Professional Expedition Leader and Local Hosts, Guides and Experts
Your transport: Luxury air-conditioned coaches - the newest in Australia.
Guaranteed Departures
Australia Guided Holidays
AAT Kings' Guided Tours give you more. More luxurious accommodation and superior facilities. More meal inclusions and exclusive dining experiences. More sightseeing inclusions and cultural highlights. From 4 to 20 days, an AAT Kings Guided Holiday fully explores a destination, so you can immerse yourself in its landscape, history and culture.
Short Breaks
Ranging from 2 to 7 days in length, Short Breaks combine the must-see highlights of a destination with your choice of accommodation, plus selected meals. Travel with different Driver Guides each day to benefit from their combined experience. Plus, you'll meet a new group of like-minded travellers each day. AAT Kings has hand-picked a range of hotels to suit all kinds of budgets. Choose from a range of three accommodation standards.
One day or half-day sightseeing tours
AAT Kings offers one day and half-day sightseeing tours across Australia including Sydney, Melbourne, Cairns, Darwin, Uluru, Alice Springs, Perth, Adelaide, Brisbane and the Gold Coast. Leave the stress of driving in an unknown city to a friendly local expert and enjoy the stories they'll share along the way. With free courtesy hotel pick-ups, all you need to do is relax and enjoy your day.
Small Group Experiences
On an Inspiring Journey you'll enjoy rich and immersive experiences in an intimate small group setting. You'll travel in luxury coaches or 4WD vehicles and stay in boutique retreats, lodges and resorts with great cuisine to match. Fascinating guides will take care of everything, leaving you free from the stress of holiday planning but also allowing you the flexibility to choose from a wide range of hands-on experiences.
Guided Holidays, Inspiring Journeys, Short Breaks, Aussie Adventures
Uluru, Darwin & Northern Territory
Hobart, Launceston & Tasmania
Perth, the Kimberley & Western Australia
Great Barrier Reef & Queensland
Sydney, Melbourne, the Great Ocean Road & Southern Australia
This brochure covers the regions and holiday types listed below. Click on the links to see more free travel brochures covering the regions and holiday types you are interested in.