Inspiring Journeys - Explore Australia & New Zealand View Basket
To order this holiday brochure for FREE delivery to your home or computer, click the GET THIS FREE button.
Small-group journeys, life-changing experiences…
Northern Territory | Tasmania | Queensland | South Australia | Western Australia | New South Wales | New Zealand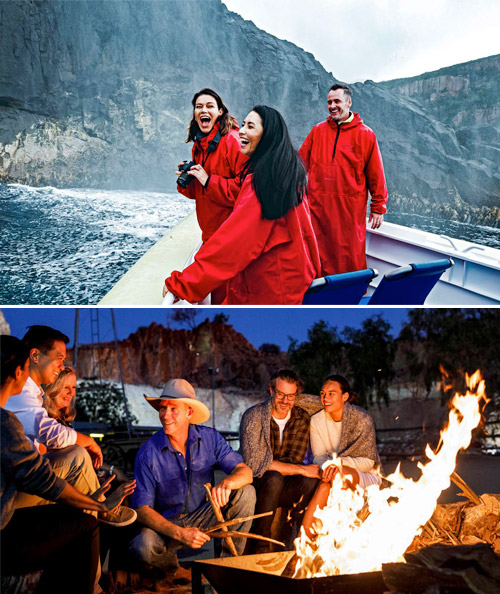 The Inspiring Journeys experiences in Australia and New Zealand are designed for immersion and authentic connection; they are the ultimate showcase of your chosen destination.
The immersive, vast beauty of Australia awaits. Witness the many hues of an outback sunset blend into ochre natural wonders; hear ancient languages spoken and see stories written in the sand. Indulge in native flavours and relax in dwellings nestled within the heart of your destination. Choose your next inspiring journey in the Northern Territory, Tasmania, Queensland, South Australia, Western Australia, or New South Wales.
Two islands of dramatic contrasts, beauty and culture await; this is New Zealand. The unrivalled beauty of the South's mighty fiords will leave you speechless, while ancient traditions immerse you in Māori culture and ignite your spirit. In a food and wine lover's paradise, indulge in world class tastings, and when it's time to relax, take in the surrounds of your idyllic dwellings. Choose your next inspiring journey in New Zealand's North or South Island or a combination of both.
Handcrafted by our experts to create your journey of a lifetime.
Small Groups
With a maximum of 22 guests, your intimate, small group journey will grant you access to exclusive experiences and lodgings which are out of reach for larger groups.
Only Outstanding Experiences
Crafted by our experts, each highlight has been carefully selected and seamlessly planned to deepen your connection with these mesmerising lands.
Your Journey Director
Inspired by a passion for your destination, Journey Directors are brimming with knowledge, stories, and expertise. Their captivating insights will give you a fascinating window into every part of your journey, allowing you to understand your chosen destination in depth.
Luxury Vehicles
With vehicles designed for the rugged outback landscapes and luxury coaches with complimentary refreshments for longer coastal journeys, simply sit back, relax and enjoy the view.
4-5 Star Hotels
From the charm of heritage listed lodgings with tales, myths and legends waiting to be discovered, to riverside mountain-view chalets, know that your premium stay will always be in the true heart of your destination.
This brochure covers the regions and holiday types listed below. Click on the links to see more free travel brochures covering the regions and holiday types you are interested in.