Garden Cruise & Tour of Japan View Basket
To order this holiday brochure for FREE delivery to your home or computer, click the GET THIS FREE button.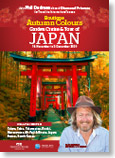 This brochure is no longer available on this website.
A great value fully inclusive fly/cruise escorted journey
Visiting Tokyo, Toba, Takamatsu, Kochi, Matsuyama, Mt Fuji & Kyoto, JAPAN | Busan, SOUTH KOREA
Join Phil Dudman aboard Diamond Princess for Travelrite International's 2020 Autumn Colours of Japan Cruise & Tour
16 November to 3 December 2020 | Tour group limited to 22 guests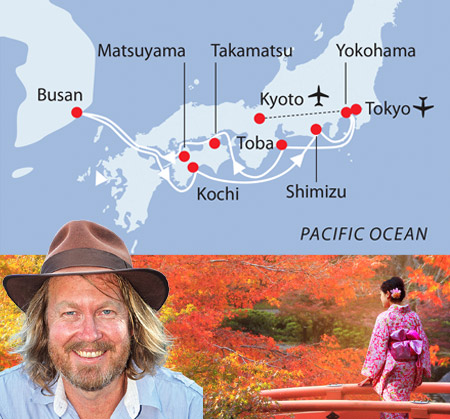 This fabulous fly/cruise escorted journey will be a wonderful opportunity to explore Japan and visit some of the famous traditional Japanese gardens. The cruise is fully escorted and includes flights from Australia to Tokyo and return from Kyoto, sightseeing tours at each port of call and special activities for members of the group.
Your Tour Leader
Phil Dudman is a horticulturist, designer, writer and broadcaster. His recent book, 'Downto- Earth Garden Design' characterises Phil's approach to gardening; easy, straight-forward and never complicated. Phil is a seasoned traveler too, having travelled extensively across Europe and Asia in search of great sites, great food, great people and of course great gardens. In the past 20 years, Phil has contributed to many of Australia's leading gardening magazines, has written three books for ABC Books and worked as a TV presenter on Garden Gurus. He is currently the Horticultural Editor of ABC's Gardening Australia magazine and host of ABC Radio's Good Gardening program.
Your ship
A voyage on Diamond Princess is an exceptional experience to be remembered. The rhythm of each day spent aboard Diamond Princess depends on your holiday style, but your options are many. Choose from four separate swimming pools for a refreshing daily dip or spend the day immersed in the library and writing room. Soothing body treatments are on the menu at the serene, Asian-themed Lotus Spa, which also includes a gorgeous terrace area and a fully equipped fitness center. With frequently changing menus and multiple main dining rooms, passengers can choose mealtimes, companions, and cuisine. Additional convenient dining options include 24-hour buffets and room service, plus the poolside pizzeria, hamburger grill, and ice cream bar. After sunset, the lights keep shining with original Broadway and Las Vegas productions in the spacious theater and plenty of room for stargazing on the balcony of the Skywalkers disco and lounge.

What's included:
Economy-class air travel from Melbourne/Sydney/Brisbane/Adelaide/Perth to Tokyo and return from Kyoto
Tour leadership by Phil Dudman
Travel on Diamond Princess in the selected cabin category
All meals, entertainment and service charges on Diamond Princess
Private activities on board Diamond Princess
3 nights' accommodation in Tokyo and 3 nights' accommodation in Kyoto in first-class hotels on a bed and breakfast basis
A welcome and a farewell dinner
Sightseeing tours in Tokyo, Toba, Takamatsu, Kochi, Matsuyama, Mt Fuji & Kyoto, Japan; Busan, South Korea
Cruise management by Travelrite International
Port and handling charges on Diamond Princess
Cruise taxes
Air taxes as of 16 October, 2019. Increases will be added to your account.
Onboard gratuities
This brochure covers the regions and holiday types listed below. Click on the links to see more free travel brochures covering the regions and holiday types you are interested in.