To order this holiday brochure for FREE delivery to your home or computer, click the GET THIS FREE button.
Viking reinvents destination cruising
Scandinavia & Northern Europe, The Americas & Caribbean, Asia, Australia & New Zealand, The Mediterranean & Incomparable Grand Voyages
Viking is passionate about travel and, as an independently owned company, Viking is able to do things differently. Viking's independence gives it the freedom to create journeys that give you more time to explore, and immerse yourself in each destination. It also enables Viking to build the kind of ships that are exactly what you have told Viking you want – elegant, warm and inviting, with an emphasis on comfort and service.
Every little detail is thoughtfully designed and beautifully crafted. And because Viking wants you to feel completely at home, you will not have to pay extra for those everyday comforts and necessities, like breakfast in bed, tea and coffee whenever you fancy, Wi-Fi, and your own spacious, private veranda on which to relax.
Viking's ships boast more than their share of wow factors, including the first glass-walled Infinity Pool at sea, so that you feel like you are swimming in your destination; the spectacular, three-tiered atrium, and the Wintergarden, with its exquisitely sculpted canopy of blonde wood.
Attention to detail and consideration for your comfort also comes in the form of what Viking calls a 'silent ship'. Where most other cruise ships broadcast numerous announcements in a variety of languages throughout the day, Viking usually just has one at midday. It's just another little thing that makes a big difference to your enjoyment.
Viking has a team of more than 4,000 people worldwide, and train all its staff to the highest standards. So no matter where you sail with Viking you can expect the service to be special every time.
Wherever you want to explore, across Scandinavia and the Mediterranean, Asia, North America and the Caribbean, Australia and New Zealand, or on Viking's epic World Cruise, Viking offers an exciting selection of ocean cruises. Whichever one you choose, you can look forward to a voyage of discovery that leaps from your imagination to become a journey that is real and memorable.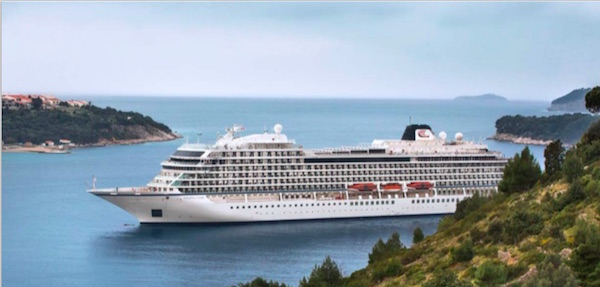 Offering outstanding value
When you travel with Viking, everything you need to relax and enjoy yourself is included in the price. Viking calls it Viking Value. You'll call it brilliant
It's all included
Exceptional Accommodation aboard the newest, most deluxe river cruise fleet. Enjoy your choice of staterooms, including Explorer Suites, Veranda Suites and staterooms with Verandas and French Balconies.
Attentive Service from Viking's award-winning, English-speaking staff, plus the personalised assistance of your on-board Viking Concierge – so you're well taken care of.
Enlightening Daily Shore Excursions in Every Port, led by friendly, knowledgeable local guides, these tours are designed to give you a deeper understanding of the places you visit.
Engaging Cultural Enrichment with informative talks, performances, hands-on cooking and craft demonstrations, and much more.
All On-Board Meals created by our Swiss-trained chefs and served in a variety of settings, including the most al fresco dining available on the rivers.
Complimentary Wine, Beer and Soft Drinks with on-board dinner and lunch service, bottled water and complimentary cappuccino, coffee and tea at our 24-hour beverage bar.
Deluxe hotels for overnight stays.
Tipping and Gratuities for shipboard crew, local guides (river cruises) and drivers (river cruises) are included in your Europe cruise program, so budgeting couldn't be easier.
Complimentary Internet Service throughout Viking's ships.
In-Room Entertainment system featuring movies-on-demand, BBC, CNN, national Geographic and more.
Quietvox Audio Headsets are included and personal for every Guest on board so that, on your on-shore excursions, no matter where you're standing, you won't miss a word.
Complimentary Travel Companion Booklets are sent to your home before you leave to help prepare you for your upcoming trip. Packed with information, maps and local stories to enhance your enjoyment even more.
Locked-in Price when you pay your deposit, with Viking's Price Guarantee, making you safe from price increases due to fluctuations in currencies, taxes, fees or fuel prices.
Competitive Airfares, only available when you book a cruise with Viking.
Travel Credits on future cruises.
Referral Rewards Program.
Inside this brochure:
SCANDINAVIA & NORTHERN EUROPE

Viking Homelands

In Search of the Northern Lights

Into The Midnight Sun

Iceland's Majestic Landscapes

Iceland's Natural Beauty

Iconic Iceland, Greenland & Canada

Iceland & Norway's Arctic Explorer

British Isles Explorer

Iceland, British Isles & Iberia

Trade Routes of the Middle Ages

Viking Shores & Fjords

Greenland, Iceland, Norway & Beyond

Baltic Jewels & the Midnight Sun

Viking Homelands & Majestic Iceland

Scandinavia & the British Isles

British Isles & Iceland Explorer

MEDITERRANEAN

Mediterranean Odyssey

Mediterranean & Adriatic Sojourn

Mediterranean's Iconic Shores

Ancient Adriatic Treasures

Empires of the Mediterranean

Italy, the Adriatic & Greece

Mediterranean Antiquities

Cities of Antiquity & the Holy Land

Iconic Western Mediterranean

Greek Odyssey

Venice, the Adriatic & Greece

Western Mediterranean Explorer

Adriatic & Mediterranean Sojourn

Mediterranean & Italian Sojourn

Ancient Mediterranean Antiquities

Italian Sojourn

Journey to Antiquities

Ancient Mediterranean Treasures

Antiquities of the Mediterranean

Iconic Mediterranean Treasures

Iberian Explorer

ASIA, AUSTRALIA & NEW ZEALAND

Australia & New Zealand

Komodo & The Australian Coast

Australia, New Zealand & Indonesia

Far Eastern Horizons

Passage to India

Across the Bay of Bengal

Voyage of Marco Polo

South Pacific Sojourn

Southeast Asia & Hong Kong

Bangkok, Bali & Beyond

Southeast Asia Horizons

Southeast Asia

THE AMERICAS & CARIBBEAN

North Pacific Passage

Alaska & the Inside Passage

South America & the Chilean Fjords

Eastern Seaboard Explorer

Panama Canal & Central America

Classic Panama Canal Passage

Amazon & Caribbean Adventure

West Indies Explorer

Caribbean Islands Adventure

TRANSATLANTIC VOYAGES

Southern Atlantic Crossing

Caribbean & Mediterranean Odyssey

Mediterranean Explorer & Crossing

Mid-Atlantic Crossing

Atlantic Ocean Passage

Atlantic Crossing

West Indies to Spain

West Indies to Iberia

GRAND VOYAGES

Grand Pacific Explorer

Australia, Asia & Alaska

Far East & Alaska
This brochure covers the regions and holiday types listed below. Click on the links to see more free travel brochures covering the regions and holiday types you are interested in.