Europe Ski |
Free Travel Brochures
View Basket

The following free holiday travel brochures feature Europe Ski holidays, tours and packages – click the GET THIS FREE button to order your Europe Ski holiday brochures.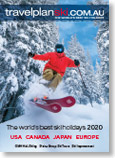 2020 Discover the world's best ski holidays to the USA, Canada, Japan and Europe. Travelplan is Australia's leading operator of quality snow holidays to the world's great resorts, and one of the world's most successful and respected operators for over 42 years. Don't leave your dream holiday to chance - make the right choices from the best advice. Savings are available on all components of your holiday including: airfares, accommodation, lifts, lessons, ski and board hire, transfers and resort services. Earlybird Deals!
> MORE...
---
---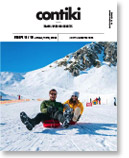 With Ski & Snowboarding Make every moment count. Europe is epic. And Contiki makes sure you see the VERY best - the blockbusters that'll knock your socks off. BETTER THAN THAT, you'll also discover the parts that you probably wouldn't find without a local friend in the know. It's all included as standard with your backstage pass, so you get incredible value that can't be matched by anyone else. Contiki's experience means you get the most amazing, authentic, life-changing experiences.
> MORE...
---
---