Europe, Britain & Ireland + Africa View Basket
To order this holiday brochure for FREE delivery to your home or computer, click the GET THIS FREE button.
Immerse yourself in the classic destinations…
CLASSIC TOURING | SMALL GROUP TRAVEL | SINGLE HOTEL STAYS | RIVER CRUISING | FAITH TOURS & THE OBERAMMERGAU PASSION PLAY
UK & EUROPE: Ireland | England | Scotland | France | Spain | Portugal | Morocco | Italy | Iceland | Finland | Norway | Sweden | Denmark | Netherlands | Belgium | Hungary | Germany | Switzerland | Austria | Poland | Central & Eastern Europe | Croatia | Slovenia | Greece | Turkey
AFRICA & MIDDLE EAST: Morocco | Israel | Egypt | Jordan | South Africa | Botswana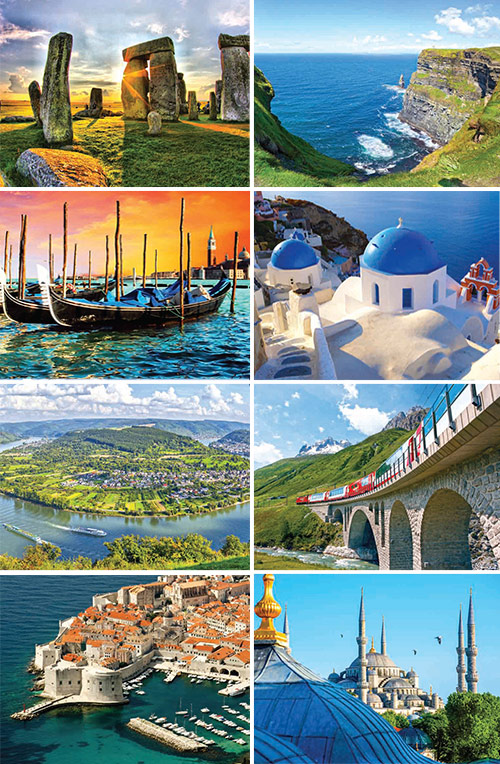 Travel affords us such enriching experiences. It reveals new cultures. It ignites a sense of adventure within us. And, it has the power to humble us. As you look out over the calm, cerulean waters of the Italian Lakes, spend the day exploring the Souks of Morocco, or savour delicious wine varietals in Stellebosch, South Africa, you'll realize that moments like this are really what matter in travel – and in life. It's time to make moments like these yours. The only question is: what are you waiting for?
A true travel experience starts and ends with people
From the glorious view as you dine at the iconic Eiffel Tower, to sharing a laugh with a local character at Ireland's oldest pub, or sitting down for a home-hosted lunch in Umbria, Collette brings you this inspiring collection of European tours that will change the way you see the world.

There's a freedom in guided travel that you won't experience on your own. Knowing that everything will run smoothly, knowing that the hotel will be just right, knowing that all the must-see highlights are included… this is what travelling with Collette is all about.

Collette's team carefully designs each itinerary to feature an inclusive blend of must-see sites, immersive experiences, strategically located hotels and culinary events. With Collette, you get more on tour, so you can say you did it all.
Collette is the only way to travel
As a guest of Collette you are treated like a VIP from start to finish. The logistics are seamlessly handled in the background, so all you have to do is enjoy your travel experience. Your expert Tour Manager will be there all the way, sharing insider knowledge and making sure everything runs smoothly.
Collette experiences
The Collette experiences you'll find as part of each itinerary are travel moments both large and small. These are the immersive inclusions that allow you to truly come to know a destination and, more importantly, the people who call that place home.
Must-see inclusions
Every destination has its iconic locations that are simply a must for visitors. Collette's inclusive itineraries interweave the "must-see's" with immersive experiences to create a richer portrait of the destination.
Culinary inclusions
Food remains a wonderful window on new cultures. Authentic culinary experiences take you into the destination, inspiring both your understanding and taste buds.
Accommodation
Whether it's the amenities, the fascinating history, the amazing view or the incredible location, your hotel often turns into a highlight all its own. They become more than a place to rest they become a part of your own story.
• Personally reviewed properties
• 4 stars and above
• Strategically selected locations
• Properties that capture the destination
Classic tours
The Collette collection of tours offers an inclusive look at a wealth of amazing destinations. From marvelling at the must-see's to becoming a part of new cultures to exploring on your own, these itineraries offer an inspiring and easy way to travel.
Explorations Small Group Tours
With an average of 18 guests, these personal adventures focus on culinary experiences, cultural immersions and unique accommodation that capture the destination. Enjoy a new perspective on the world.
Single-Hotel Stays
Explore and relax in the world's most remarkable destinations during a single-hotel stay. Immerse yourself in the fanfare of a grand city or unwind in the timeless countryside.
River cruises
Collette river cruises feature small, intimate vessels for travel through a variety of beautiful waterways. Plus, when you step off your ship with a Tour Manager by your side, you'll truly come to know the people and places along the river.
What's included:
• A professionally planned itinerary
• Unparalleled sightseeing
• Enriching cultural experiences
• Strategically located hotels (4 stars and above)
• The services of a professional tour manager
• Expert local guides who provide insider knowledge
• Breakfast every day and over 50% of dinners
• Comfortable on-tour transportation
• Hotel-to-hotel baggage handling
• Traditional entertainment
• Attraction & museum entrance fees with preferential access
• Wifi available on tour
• Private chauffer driven service on air-inclusive reservations.
With Collette, the World is Within Your Reach
Collette is a third generation, family-owned company with offices in the United States, Canada, Australia and the United Kingdom. Since 1918, Collette has been sharing a love of travel. No matter how you want to see the world, Collette can take you there. Whether you want to travel across an entire country, dive into a local culture, or come to know one of the world's great cities, Collette has the travel experience that's right for you.
Contents
Multi-Country
Ireland & the United Kingdom
France
Spain, Portugal & Morocco
Italy
Central & Eastern Europe
Greece & the Eastern Mediterrannean
Iceland & Scandinavia
Europe River Cruises
Faith Tours
This brochure covers the regions and holiday types listed below. Click on the links to see more free travel brochures covering the regions and holiday types you are interested in.