Venezuela |
Free Travel Brochures
View Basket

The following free holiday travel brochures feature Venezuela holidays, tours and packages – click the GET THIS FREE button to order your Venezuela holiday brochures.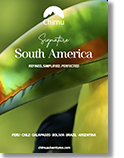 Chimu Adventures, the Latin America and Polar Specialists, are passionate about travel to these amazing regions. Flexible and personalised journeys and small ship cruises offer great value. Most Chimu travellers are 35-70 years old, but all ages and budgets are catered for. Chimu Adventures has locally-based offices in Latin America dedicated to assisting you. Destinations include Peru, Bolivia, Argentina, Brazil, Chile, Galapagos, Ecuador, Colombia, Venezuela, Mexico, Cuba, Antarctica & the Arctic.
> MORE...
---
---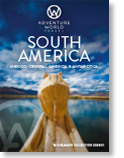 Whether it is exploring the Amazon jungle in Brazil, Peru and Ecuador, the Inca ruins of Machu Picchu, the amazing Galapagos or the exciting cities of Rio de Janeiro and Buenos Aires, Adventure World will show you the best of South and Central America. For 30 years, Adventure World has crafted holidays for New Zealanders, especially suited to those who like to experience unique destinations in comfort and style, with an emphasis on exploring local cultures. Holidays are tailor-made to suit your style and budget.
> MORE...
---
---