Latin America, Mexico & Cuba View Basket
To order this holiday brochure for FREE delivery to your home or computer, click the GET THIS FREE button.
South & Central America Flexible Group Tours, Adventure Tours & Tailor-made Holidays
Argentina | Boivia | Brazil | Chile | Colombia | Costa Rica | Ecuador | Galapagos | Mexico | Peru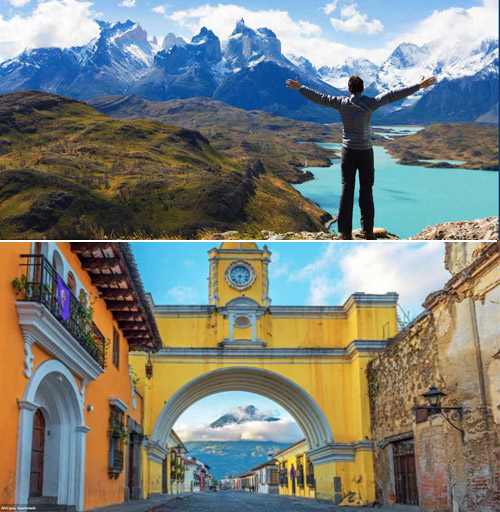 On The Go Tours is with you all the way, showing you the best parts of this amazing region through local eyes. The best way to adventure through Latin America is On The Go.
On The Go Tours will put together an exciting itinerary, in countries as diverse as Brazil, Patagonia, Panama, Mexico and Peru, seeing the highlights such as Macchu Pichu, Rio de Janeiro, Iguazo Falls, Lima, the Inca Trail, Amazon jungle, Antigua... Latin America is as vast as it is diverse.
You'll also find pulsating modern cities, century old colonial towns, ancient Mayan ruins, legendary carnivals and colourful markets. Which brings us to the people – witness vibrant modern Mayan life, experience the hospitality of the native Quechua people or kick back in a Garifuna village, the home of African-Carib culture. Whatever you're looking for, Latin America will provide!
Challenge yourself with the rewarding experience of trekking the Inca Trail to Machu Picchu, staying in the Amazon Jungle or taking part in adrenaline-fuelled activities like bungee jumping and white water rafting.
Whether you want a week's break or a longer adventure, On The Go offers a fantastic selection of small group tours ranging from 7 to 32 days. Dedicate yourself to one country or see the highlights of more with their multi-country trips. These tours are escorted by an experienced tour leader and local guides accompany many of the excursions, such as visits to archaeological sites and the Inca Trail Trek.
On these Latin America tours you'll stay in simple hotels, guesthouses and on occasion, hostels which are generally the equivalent in comfort and amenities of a 2 star hotel. On The Go takes into account a range of criteria when selecting group tour accommodation and the emphasis is on accommodating you in well-managed, centrally located properties that factor in local ambience, comfort, cleanliness and security.
Central America Group Tours
From the ancient Mayan ruins of Teotihuacan, Tikal and Chichen Itza to the enchanting colonial cities of Antigua and Granada, learn about ancient civilisations, bask on the tropical Caribbean beaches of Caye Caulker, Roatan or Bocas del Toro island, ramble through the wilds of Costa Rica in search of exotic wildlife, discover rumbling volcanoes and shop in colourful highland markets! Our flexible, small group Central America tours , which have a maximum of 18 passengers and range from 9 to 22 days in duration, take in the highlights of Mexico, Belize, Guatemala, Honduras, Nicaragua, Costa Rica and Panama and can be combined to create longer itineraries.
South America Group Tours
Overflowing with lush jungles, arid deserts, snow-capped peaks, rugged steppes, vivid lakes and expansive glaciers, South America's scenery enchants and captivates. The overwhelming array of wildlife and indigenous peoples will keep the avid traveller continually intrigued whilst the sheer abundance of outdoor adventures on offer will keep you coming back for more. Trek the ancient Inca Trail and witness legendary Machu Picchu at dawn, come face to face with the wildlife of the Amazon, marvel at the spectacular Iguazu Falls, experience the hospitality of the native peoples of Lake Titicaca, enjoy a 4WD drive through the surreal landscape of the Uyuni salt lakes, visit La Paz, the world's highest city, or tango in Buenos Aires - the incredible choice is yours!
Tailor-Made Holidays
If you would like your own private holiday in Central or South America, that's no problem. On The Go's tailor-made department can create a bespoke itinerary, just the way you want it.
Rio Carnival
Every year Rio de Janeiro is home to the mother of all carnivals, the legendary Rio Carnival when hundreds of thousands of people flock to the city to celebrate. It's a time to sing, dance, party and have fun whilst immersing yourself in the Brazilian spirit.
Choose your style of travel
Signature small-group tours
Local interaction and authenticity is placed at the centre of your travel experience whilst upping the comfort stakes with 3-5 Star hotels. Explore all the main sites with expert English-speaking guides and stay in comfortable hotels. These small group tours are limited to 24, with an average of 18.
Budget
Perfect for independent spirits travelling on a shoestring. Many tours include a local payment to help keep costs down so you get the best possible value. With a maximum size of 32, these tours are designed to create a social and fun travel experience.
Handpicked
Offering you the most iconic experiences in destinations where you'll join travellers from a carefully selected portfolio of local partners, these tours represent exceptional value. Typical group size is 28 and accommodation is of 3-4 Star standard, but varies by destination.
Active – trek, cycle, walk
Explore more than the standard highlights on an exciting trekking, walking and cycling holiday. Your accommodation will reflect the off-the-beaten-track nature of these trips, with simple hotels and guesthouses plus some camping. You'll need a good level of fitness and an intrepid spirit.
Independent
Set the pace on your own bespoke private itinerary with your preferred standard of accommodation and style of tour. From pre-priced packages available off the shelf to fully curated tailor-made holidays, this range also includes our selection of stopovers and short city breaks and provides maximum flexibility. On The Go's specialist team is happy to tailor the perfect holiday for you. Choose the standard and style of accommodation you desire, your preferred mode of travel and the particular sights you want to see and On The Go will construct a holiday that's just right for you.
Solo travel
On The Go's trips are an ideal way for solo travellers to experience the world with the comport and security of knowing you'll be travelling with others and have a knowledgeable guide on hand to help.
On a selection of the most popular Signature tours, solo travellers can choose to have their own rooms, supplement free. Most of the Signature, Budget and Active group tours also have a "no compulsory single supplement" policy, which means that if you're happy to share a room, On The Go will try and match you up with a solo traveller of the same sex so you don't have to pay for a single room.
This brochure covers the regions and holiday types listed below. Click on the links to see more free travel brochures covering the regions and holiday types you are interested in.