India Small Group Tours & Bespoke Experiences View Basket
To order this holiday brochure for FREE delivery to your home or computer, click the GET THIS FREE button.
Discover incredible India in comfort and safety
Small Group Escorted Tours | Extensions | Bespoke Experiences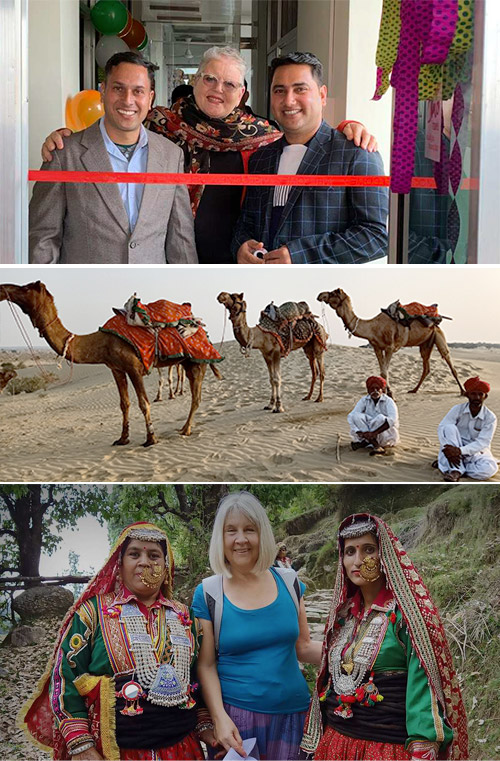 Explore incredible India, from the jungles of the south to the Himalayas of the north and the deserts of the west, with Australia's female-led specialist tour operator.
Ekno Travels has designed a range of tours, extensions and bespoke experiences that combine popular must dos like the Taj Mahal and Jaipur with more exotic and remote locations like Ladakh, the Spiti Valley and Northeast India.
Small groups cater for up to 10 people, but if you would like to go at your own pace, Ekno Travels can design an itinerary to suit your style and budget. Whether you want a luxury hotel, a Rajasthani haveli or a more modest home stay, Ekno has it covered.
Expert guides and staff are on hand to ensure your safety and comfort from the moment you land in India until the time you leave. With over 17 years' experience and offices in Australia and India and a 24x7 hotline, Ekno is with you every step of the way.
Why Choose Ekno Travels?
Ekno's Travel Director, Australian Sharon Thrupp, has lived in India and Nepal since the beginning of the millennium. She has introduced countless travellers to the uniqueness of India, from the snowy peaks of the Himalayas to its vibrant cosmopolitan cities.
Ekno focuses on quality and attention to detail, operating under Australian laws and standards, with deep connections in the local community. This enables Ekno to offer unique tour packages, with both an Australian sensibility and an insider's perspective of India.
Travel safely with a female-led company
With Ekno, your safety and well-being are paramount. After more than 15 years of living in India as a single western woman, Sharon understands the concerns and needs of the solo female traveller and provides an authentic and safe Indian sojourn with like-minded travellers.
Self-Guided Tours
If group travel isn't you, gather a few friends and Ekno Travels will do the rest. Or if you want to do your own thing, Ekno can facilitate self-guided tours tailored specifically for you, secure in the knowledge that Ekno's in-country service is only a phone call away 24/7.
Comfort & Safety
Ekno's boutique accommodation, comfortable transportation and mouth-watering restaurants are handpicked to deliver premium comfort and local flare.
Classic  Tours
Let Ekno Travels take you on a once-in-a-lifetime journey. Classic & Festival Tours take in the main highlights and are perfect for the first-time visitor to India.
Festivals
Experience the bustling Pushkar camel fair, the ancient and remote Hemis festival and the twinkling candles of Diwali. Ekno Travels has a wide range of festival tours that encompass the wonderful diversity, colour and ceremony that India has to offer.
Adventure Tours & Trekking
Let Ekno Travels take you on a life-changing adventure trek through the awe-inspiring Indian Himalayas, encountering unique cultures and spiritual traditions along the way. Ekno Travels specialises in the Himachal Pradesh and Ladakh regions.
Custom Itineraries & Short Stays
Over the past 12 years, Ekno Travel has tailored itineraries for many small groups,  specialising in Buddhist pilgrimages, retreats and Indian festivals. Retreats can include yoga, meditation, cultural activities, walks and hikes, cooking and natural medicine. You may also combine it with one of Ekno's other itineraries or extensions. A range of short-stay packages take in the many not-to-be-missed destinations throughout India that can be used as an extension to your an Ekno experience itinerary or as independent travel.
Classic Tours & Festivals
Golden Triangle

Inside Rajasthan

Hidden Gems of the Himalayas

Best of Ladakh

Spiti Valley

Enchanting Kerala

Wonders of North East India
Adventure Tours & Trekking
Kareri Lake Trek

Great Himalayan Trek
Buddhist Pilgrimages
Extensions & Bespoke Experiences
Amritsar

Agra

Varanasi

Delhi

Mcleod Ganj / Dharamsala

Jaipur

Mumbai

Udaipur

Rishikesh

Jodhpur

Kochi
This brochure covers the regions and holiday types listed below. Click on the links to see more free travel brochures covering the regions and holiday types you are interested in.