Expeditions – Arctic, Antarctic & North America Cruises View Basket
To order this holiday brochure for FREE delivery to your home or computer, click the GET THIS FREE button.
Discover the difference with the world's leading cruise line
Antarctica, The Arctic & The Great Lakes of North America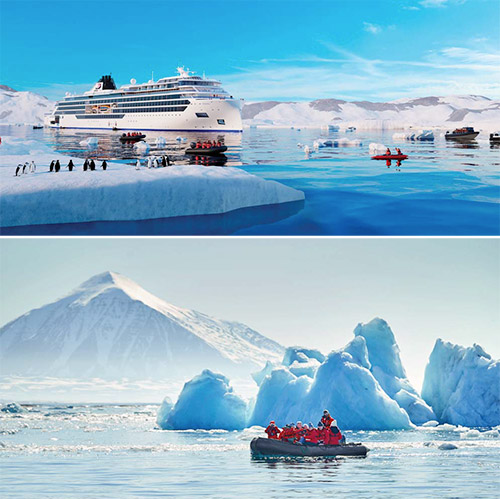 A NEW STANDARD FOR EXPEDITIONS: SHIPS LIKE NO OTHER
Viking Cruises has applied many years of expertise to create the perfect expedition experience. The result is two new, purpose-built ships, optimally sized for expeditions: small enough to navigate remote areas, yet large enough to provide speed, superior handling and stability in the roughest seas.
The vessels merge comfort and exploration in an unprecedented way. This optimised size also facilitates enhanced enrichment activities by carrying a fleet of zodiacs, RIBs, kayaks and submarines, and providing outstanding venues for onboard lectures and learning.
VIKING'S INCLUSIVE VALUE
Expedition fares include everything you need – from all your onboard meals and 24-hour room service to unlimited Wi-Fi and access to The Nordic Spa – and are excellent value for money.
HOW ARE WE ABLE TO OFFER THIS KIND OF VALUE?
As a leading river and ocean cruise company, Viking  has an operational base that delivers efficiencies of scale, leveraging worldwide buying power when it comes to operational costs. The efficient, state-of-the-art design of Viking's ships with our Nordic Balconies maximises your personal space without wasting a square inch on extras. Everything is managed according to  rigorous company standards, resulting in significant savings that are passed on to you. It all adds up to the very best value in cruising.
ENJOY INCLUDED EXPERIENCES
Viking Expeditions offer a variety of excursions so you can experience your destination in the way that most interests you. Virtually all excursions are included in your cruise to ensure that you maximise your discoveries.
Landings and excursions offer incredible views of remote landscapes and remarkable wildlife and are led by an experienced team of experts highly skilled in operating in rugged and polar environments.
Hike through the majestic landscape outside Tromsø, Norway; take a zodiac to land on Antarctica and encounter penguins; dive deep to explore under water or marvel at the power of Niagara's Horseshoe Falls. You can also choose from optional excursions such as dogsledding or bald eagle-spotting among red-gold maple trees.
SCIENCE IS AN IMPORTANT ASPECT OF YOUR EXPERIENCE
Participate in collaborative science during your excursions with experiential activities or fieldwork, facilitated via landings by zodiac, RIB cruising or submarine journeys. Viking provides every opportunity for guests to further their understanding of the world around them.
WHAT VIKING IS NOT
No casinos. No children. No umbrella drinks. No nickel-and-diming.
Inside this brochure:
ANTARCTICA

Antarctic Explorer

Antarctic & South America Discovery

THE ARCTIC

 

GREAT LAKES & CANADA

Canadian Discovery




Undiscovered Great Lakes




Great Lakes Explorer




Niagara & the Great Lakes

GRAND JOURNEYS

From the Arctic to Antarctica




Viking's Northern Isles




Atlantic & Equator Sojourn




Brazil's Vibrant Coast




Caribbean Connections

 
This brochure covers the regions and holiday types listed below. Click on the links to see more free travel brochures covering the regions and holiday types you are interested in.