South America Signature Journeys View Basket
To order this holiday brochure for FREE delivery to your home or computer, click the GET THIS FREE button.
Personalised Journeys with the Latin America Specialists
PERU | CHILE | GALAPAGOS | BOLIVIA | BRAZIL | ARGENTINA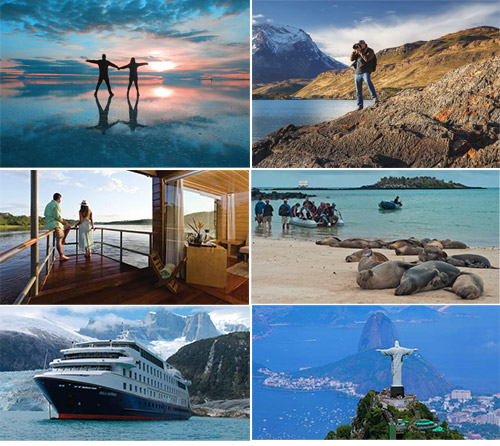 For the free-spirited, independent adventure seekers who want to pack up their bags, head for Latin America and not miss a thing, you've come to the right place.
Chimu's new signature range has been carefully designed to make planning an upmarket South American adventure easy.
Chimu Adventures has designed a new range of premium itineraries, Signature South America, that highlight the best of each region to to make planning an upmarket South American adventure easy.
How Signature South America Works
Simply select from one of Chimu's six Signature South America itineraries (Machu Picchu, Galapagos, Patagonia, Buenos Aires to Rio, Salt Flats or the full South American Circle) and then tailor your itinerary with extensions before or after your tour to create a more in-depth experience.
All itineraries are carefully crafted to showcase the best of the destination, with authentic and highly-rated hotels and exclusive Chimu features to help guests discover the history, culture, and cuisine of the region.
After almost 20 years in the South American travel space, Chimu has learnt a thing or two about what works best on the continent.
Each of Chimu's Destination Specialists has an average of five years' experience in designing South America travel itineraries, so their wealth of knowledge went into carefully designing these new itineraries. Experience has shown that guests can feel overwhelmed when planning South American travel, due to its vast geographical size, lending to logistical issues, so Chimu has simplified trips to make planning an upmarket South American adventure easy.
All itineraries are carefully crafted to showcase the best of each destination, with authentic and highly-rated hotels and exclusive Chimu features to help guests discover the history, culture, and cuisine of the region. Day tours are specially planned to ensure guests visit popular destinations at different times of day than other tour operators to reduce the impact of mass tourism and deliver a more authentic and meaningful experience.
Planning a trip to South America is a big decision, so Chimu is here to help every step of the way.
What's included?
Hand-picked Hotels
All accommodation is carefully selected by Chimu's Destination Specialists and local offices. Comfortable hotels are hand-picked to offer creature comforts, convenient locations, and impeccable service. Each hotel is to a high standard and adds to the authenticity of your trip.
Some Meals
You'll notice that some meals are included in each itinerary. This is because we want to showcase some of South America's delectable culinary options on our trips, but we also want you to have the freedom to sample street food, dine in local cafes, or discover new restaurants on your own.
Authentic Experiences
Itineraries are designed to offer meaningful, authentic, and sustainable travel experiencea – so that you can see, hear, taste, and enjoy all the vibrant culture, history, music, and cuisine that South America has to offer, ensuring your trip takes you to places beyond the tourist guidebooks.
Airport transfers
Each of the Signature South America itineraries include private airport transfers. You'll be greeted at the airport by a Chimu representative holding a sign with your name so that your journey from the airport to your hotel is as seamless as possible.
Local support offices
Throughout your trip, you'll have access to English-speaking support and assistance from Chimu's local offices. If you have any questions or need to make changes to your itinerary, your friendly Chimu representatives are always there to help.
Upgrade options
Want to upgrade to a deluxe hotel or extend your holiday with a trip extension? Chimu has plenty of options for you to upgrade your experience or add on additional days to explore more of South America – itineraries are flexible and can be tailored to your interests, budget, and timeframe.
When to Go?
When is the best time to visit South America? On such a big continent, that's a big question to answer!
The truth is, any time of the year can be great, depending on your interests. Due to the continent's vast geographical size, varying altitudes, and the presence of the equator running across South America, you'll find many different temperatures and weather patterns which vary based on location.
Unless you have six months spare, visiting the entirety of South America at once is an impossibility, due to the sheer size of the continent. So, choosing the best time to visit really depends on the countries you choose to visit, as it's more convenient to localise your travels.
It's best to start by thinking about where in South America you'd like to visit, then investigate the yearly weather trends to decide when might be best for you. Chimu's Destination Specialists are experts in South America and can always help answer any trip planning questions.
Peru (Machu Picchu)
The history and beauty of Machu Picchu are ideal to explore from April to October, as this is the dry season, opening up sunny skies and clear views. July and August can be busy though, so going earlier in the year might bring a little rain, but it also brings fewer crowds.
Brazil
Brazil really comes alive between November to March, but its mild climate means there's never a bad time to visit. The hot, sunny days of summer are great for the beach, and you've got Carnivale in February. If you're visiting the Amazon or the Pantanal, the dry season is June-September.
Chile (Patagonia)
Patagonia is best visited in the Australian summer, as the warm weather is ideal for hiking and outdoor activities, and everything will be open. If you're visiting in summer, you can also combine an Antarctic cruise with time in Patagonia.
Bolivia
The famous Bolivian salt flats can be visited year-round. During the dry season of April-October, you'll experience colder weather but can 4x4 across the entire area. In the summer months, during the wet season, you'll observe the mirror effect of the salt flats.
Argentina
Argentina offers warm weather in the Australian summer months, so January can be an ideal time to visit Patagonia for hiking. Buenos Aires is great during Australian spring or autumn, with mild temperatures, but know that Australian summer is the peak season throughout the country.
Galapagos Islands
December through May is generally a good time to visit the Galapagos Islands, thanks to warm weather and calmer seas, which make for better cruising and snorkelling. You can enjoy the Galapago
SIGNATURE TOURS
Signature South America Circle

Signature Peru

Signature Buenos Aires to Rio

Signature Patagonia

Signature Galapagos

Signature Salt Flats
EXTENSION PACKAGES
Antarctica

Patagonia

Peru

Brazil

Argentina

Ecuador
This brochure covers the regions and holiday types listed below. Click on the links to see more free travel brochures covering the regions and holiday types you are interested in.