Latin America Collections View Basket
To order this holiday brochure for FREE delivery to your home or computer, click the GET THIS FREE button.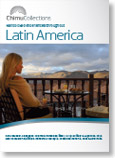 This brochure is no longer available on this website.
Hand-picked Experiences through South & Central America – when only the best will do
Argentina | Belize | Bolivia | Brazil | Chile | Colombia | Costa Rica | Cuba | Ecuador | Galapagos | Guatamela | Honduras | Mexico | Nicaragua | Panama | Peru | Uruguay | Venezuela | Antarctica
If nothing but the best is good enough for you, you've come to the right place to experience Latin America. Long considered an 'off the beaten track' destination, Latin America now boasts world class luxury accommodation and travel services, while preserving its grass roots traditions.
Luxury travel in South America is exciting. In Peru, maybe you want to hike to Machu Picchu but arrive feeling fresh? Chimu Adventures will send you on the Salkantay route, trekking from luxury lodge to luxury lodge, relaxing by the fire when you arrive then enjoying the views of the Andes from your outdoor hot tub, before getting a good night's sleep in a comfortable bed.
Does cruising on the Amazon with a 180° panorama from your bed, personal staff and your own spa sound like your way to travel? Chimu will arrange it for you. Perhaps you prefer walking onto your private terrace in the middle of the Atacama Desert in Chile, taking in the ancient volcanoes, before heading out on a desert adventure, and recovering at the hotel spa where you indulge in fine cuisine.
Even getting around can be indulgent, especially if you chose to travel to Machu Picchu via the Orient Express, enjoying breathtaking views along the way while you are pampered with fine dining and entertainment.
On board Antarctica's expedition ships, a number of luxury cabins have been outfitted for the discerning traveller to enjoy the intimacy of a smaller cruise in style.
Most of Chimu Adventures' itineraries throughout Latin America can be enjoyed in the star rating of your choice from 3 to 5 star or a combination. So you don't need to stay put to enjoy luxury, you can travel and enjoy at the same time.
See the brochure for some suggested luxury tours in South America or Antarctica designed by Chimu's specialist team. Choose one of these or design your own journey.
Multi-country Experiences
Peru
Chile
Argentina
Brazil
Galapagos & Ecuador
Colombia
Bolivia
Central America
Antarctica
This brochure covers the regions and holiday types listed below. Click on the links to see more free travel brochures covering the regions and holiday types you are interested in.