To order this holiday brochure for FREE delivery to your home or computer, click the GET THIS FREE button.
Discover the history and sheer beauty of this desert nation
The Kingdom of Jordan | 8 Days from Amman, 31 Oct 2022 & 6 Feb 2023
Jordan & Egypt | 20 Days from Amman, 31 Oct 2022 & 6 Feb 2023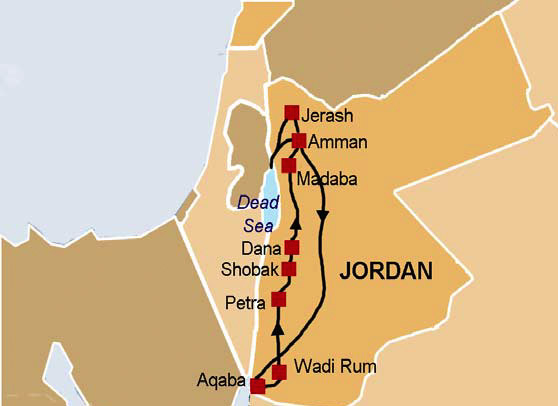 Jordan has fascinated visitors for centuries with its stunning desert landscapes, a plethora of ancient towns and amazing World Heritage sites. It is comfortable, safe and welcoming and is one of the region's most rewarding destinations.
The local culture of hospitality stems from the country's deep roots in its Bedouin history. Although modern day Jordan is a relatively new country compared to its larger neighbours, the region has been traversed by camel caravans and Nabataean traders plying the legendary King's Highway for centuries whilst Roman legions, Muslim armies and the Crusaders have all swept through this ancient land on their journeys of conquest.
Although largely desert, Jordan has lush farming lands, dramatic mountains and beautiful beaches. Crusader castles and ancient churches dot the countryside and there are the enduring sites of Wadi Rum, the Dead Sea and the jewel in the crown of the country's many antiquities, wonderful Petra, the ancient Nabataean city carved into the pink sandstone cliffs in Jordan's southwestern desert.
Highlights
From Amman, the Jordanian capital, travel north to the ancient city of Jerash, site of an unbroken chain of human occupation dating back more than 6,500 years. Having reached its golden age under Roman rule, it boasts impressive greco-roman ruins.
Descend to the Dead Sea, whose salt enriched waters are known for their healing properties.
Swim at Aqaba, which fronts the warm waters of the Red Sea.
Magnificent Wadi Rum, one of the most spectacuar desert valleys in the Middle East. Spend the night in a luxurious bedouin style encampment, climb sand dunes, and enjoy a camel ride at sunset.
The ancient Nabataean site of Petra, one of the most celebrated sites in the region. The view of the ancient Treasury building as you enter through the narrow gap in the Siq canyon is breathtaking.
Enroute back to Amman, visit the imposing 12th Century Shoback Crusader castle and stroll through the ancient villages of Dana and Madaba.
Your host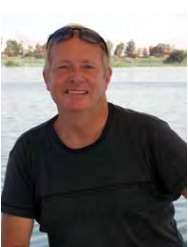 Steve Mortimer heads up Byroads Travel and will be your host on this tour. Steve has more than 30 years in the travel industry and has travelled to well over 120 countries. He has worked with a number of well‐known Australian and UK adventure travel companies including 13 years as a Product Manager and Operations Director for Peregrine Adventures. In addition to researching and developing holidays in many different regions of the world Steve has led a great number of trips to some of the world's most interesting, exotic and out of the way places.
Steve likes nothing better than getting out and about with like-minded travellers, sharing his knowledge and introducing them to some of the world's most interesting places.
With Byroads, you can be confident that your itinerary includes visits to all the 'must see' attractions – and much more, however there are some days when you'll have time to wander and to make some of your own discoveries. Throughout the tour local guides are employed to provide a wealth of background information and share their extensive local knowledge.
This brochure covers the regions and holiday types listed below. Click on the links to see more free travel brochures covering the regions and holiday types you are interested in.