Unique Small Group Tours View Basket
To order this holiday brochure for FREE delivery to your home or computer, click the GET THIS FREE button.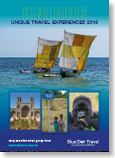 This brochure is no longer available on this website.
Specialists in small group tours to unique destinations
Africa & Middle East, Europe, Asia, South America, North America
Wherever you want to go in the world that's off the tried-and-trusted tourist trails, Blue Dot gets you there. Travel is in small, personalised groups, many escorted from the airport, so there's nothing for you to worry about - just enjoy the journey of your dreams.
Blue Dot Travel specialises in small group tours (max 16) to destinations that are not your average 'everyday' city or resort, providing like-minded travellers with culturally rich travel experiences to unique destinations around the globe.
Blue Dot Travel makes certain that you immerse yourself in the local food, culture & lifestyle while ensuring you see the main sights of each destination. Each itinerary, from Ethiopia to Iceland, Madagascar to the Balkans, Borneo to Malta and Central Asia to Eastern Russia, are prepared with the benefit of experience and intricate attention to detail.
Diverse people and exotic cultures, fantastic fauna and flora, incredible landscapes - rainforests, volcanoes, mountains, islands, beaches - medieval cities, bargain shopping, colourful bazaars, rich history, mammoth monuments, rare artifacts, fun festivals, great museums... write up your wish list and Blue Dot will put it together in countries as diverse as your holiday dreams.
Private Tours
If travelling with small groups is not for you, Blue Dot Travel also offers private tours to many of the destinations. These are available with just four people booking – or as many as you like. There are dozens of itineraries to choose from. Ask Blue Dot Travel to help you put together something very special for you and your group.
Family Tours
Blue Dot Travel offers a range of fully-guided, family-friendly, two-week trips to exciting destinations off the beaten path. Explore more unusual places, rich in culture and adventure. You'll stay in good-quality accommodation, enjoy great food and see glorious scenery. Plus, interaction with the locals will ensure special family memories are made. With less familiar destinations, the hard stuff is done for you. Hotels, main meals, accommodation and sightseeing is all taken care of. It all adds up to excellent value for money.
More Extraordinary than Ordinary - why choose Blue Dot Travel
Fully guided and escorted – Blue Dot Travel looks after you from start to finish.
Quality, reputable in-country operators, tour guides and airlines.
Small, personalised groups means greater flexibility (max group size is 16).
Ideal for travellers over 50.
Experts in unique destinations where you will be immersed in the local culture.
Comprehensive, well-planned itineraries.
Good balance of leisure time so you are not always on the go.
Excellent value! Blue Dot Travel's tours are inclusive of airfares, accommodation, expert in-country guides, Australian host, most meals, sightseeing and transfers.
Itineraries are available on a private group basis.
Destinations include:
Africa & Middle East
Ethiopia – for the Timkat Festival

Uganda – Gorillas & More
Botswana, Namibia, Cape Town & Victoria Falls
Madagascar – Nature's Own Laboratory
Iran – Gem of the Middle East
South America
The Guianas – Suriname, Guyana & French Guiana

Panama & Colombia
North America
Alaska – Must-See Wilderness
Europe
Portugal & Her Isles
The Caucasus – Georgia, Azerbaijan & Armenia
Malta, Sardinia & Corsica
Asia
The Stans of Central Asia
Western China – The Silk Road

Mongolia for the Nadaam Festival
Kamchatka – Russia's Far East Wilderness
Sumatra & Rinca
Japan in Autumn
Nagaland & India's North East

Christmas in Sri Lanka
This brochure covers the regions and holiday types listed below. Click on the links to see more free travel brochures covering the regions and holiday types you are interested in.