Explore Worldwide - Small Group Journeys View Basket
To order this holiday brochure for FREE delivery to your home or computer, click the GET THIS FREE button.
Welcome to Explore
UK | Europe | Middle East | Africa | Asia | Canada | Central & South America
Classic Discovery, Walking & Trekking, Cycling, Self-Guided Tours, Private Tours, Family Tours, Solo Travel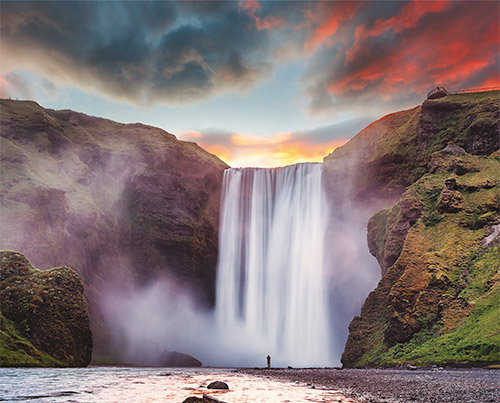 From Explore's first tour in Egypt to its latest trips in Tajikistan and Jamaica, Explore has been creating holidays all over the world for more than 37 years. Explore loves embracing different cultures, getting under the skin of a country and creating experiences that go beyond an ordinary holiday.
The best advice comes from people who've experienced it, so Explore has spent lots of time travelling to every corner of the globe to make sure they've been there, done that. That way you know you're in capable hands from the moment you book, to the moment you return home.
You'll get up close and personal with the destinations and communities you travel through, seeing top tourist sites as well as going off the beaten path and visiting hidden gems. Explore pairs local, family-run hotels with unique accommodation like Bedouin camps, teepees, raft houses and boats. Explore leaves no stone unturned to make sure you have a truly authentic experience. And when you travel with Explore, you support the people and places it visits, leaving only footprints and taking only memories.
This year Explore is launching 14 brand new trips, including a winter exploration in Russia and a journey travelling along the iconic Pamir Highway and across the Tien Shan into Kazakhstan.
The local Explore Leaders are enthusiastic and passionate about their region. Whether you're curious about culture, history or community, your leader will share first-hand knowledge and unique insight you wouldn't get elsewhere.
From the fairytale castles of Romania to the big game of South Africa, Explore has a wide variety of destinations and adventures to choose from. Choose the type of holiday, the pace you want to travel, and the accommodation grade that suits you.
Get closer with Explore.
Small Group Tours
Europe

Albania
Bulgaria
Estonia
Greece
Iceland
Italy
Latvia
Lithuania
North Macedonia
Poland
Spain
Turkey
Ukraine

The Americas

Argentina

Belize

Canada

Chile

Colombia

Costa Rica
Cuba

Ecuador

Galapagos Islands

Guatemala

Mexico

Peru

Middle East

Africa

Benin

Botswana

Ethiopia

Madagascar

Morocco

Namibia

South Africa

Swaziland

Togo

Zambia

Asia

Armenia
Burma (Myanmar)
Cambodia
Georgia
India
Japan
Nepal
Sri Lanka
Uzbekistan
Vietnam
This brochure covers the regions and holiday types listed below. Click on the links to see more free travel brochures covering the regions and holiday types you are interested in.