Japan – Pilgrim Trails of the Kii Peninsula View Basket
To order this holiday brochure for FREE delivery to your home or computer, click the GET THIS FREE button.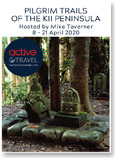 This brochure is no longer available on this website.
Pilgrim Trails of the Kii Peninsula hosted by Mike Taverner
8-21 April 2020 | 14 days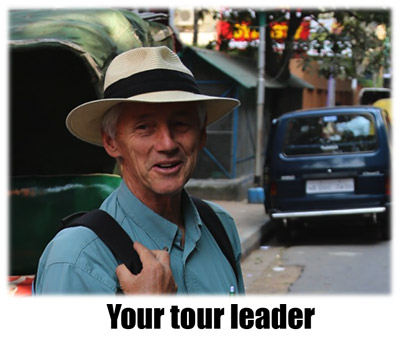 Autumn is a good time for hiking in Japan. The temperatures are optimal and this season offers a wonderful display of autumn foliage. This area of Japan is famous for its precipitation.
Accommodation is snugly warm but you need to be prepared for both warm to hot days as well as cold and wet.
This small group tour has been designed to create the perfect itinerary for a unique holiday, using the expertise, knowledge and skills of Active Travel's experienced tour hosts, local suppliers and industry contacts.
The walking program begins gently in the ancient capital Nara, exploring Japan's oldest and largest temple set with other national treasures in Nara Park.
From Nara, head into the Kii Mountain range to the secluded mountain top religious complex of Koyasan. This epitomises the merging of the worship of temples and the natural environment.
Head south down the Kii Peninsula and along the spine of this stunning mountain range and join the Nakahechi route of the Kumano Kodo pilgrim trails. Over the next five days, the group will walk as pilgrims have for more than 1,000 years.
Each day, walk 5 to 20km along moss-covered paths between small mountain villages. Stay at local inns with amazing food and welcome hot baths. Along the way you'll enjoy a rest spot for two nights where you will be nurtured by open-air hot springs.
The pilgrimage ends at the Grand Shrines of Nachikatsuura where the highest waterfall in Japan is found. Follow the coast to its southern-most point near Kushimoto for some inspiring walks. From here it is only several hours on Japan's very efficient trains to Osaka and onward flights.
Your tour leader
Your expert tour leader, Mike Taverner, is an experienced group leader and enthusiastic walker, having completed many recreational and wilderness walks. He is not a frantic 'must get there quickly' walker but one who enjoys absorbing the sights, sounds and experiences of the surrounds. Mike leads Active Travel groups on walking adventures in West Timor, Nagaland, Peru, Japan and Ethiopia. Having walked the Kii Peninsula many times, Mike is well informed of the local conditions and full of enthusiasm for the amazing environment and its cultural and natural history.
Inclusions
13 nights accommodation in comfortable hotels and traditional Japanese inns

Meals as indicated on itinerary including a selection of fabulous fresh Japanese dishes

Sightseeing, transport, entrance fees to attractions listed (*some local transport not included)

Luggage transfer between accommodations

Hot baths to soak away any soreness

Services of Mike Taverner as a tour leader
Highlights
Visit Koyasan Mountain top temple

Witness fascinating temple ceremonies

Walk the Kumano Kodo pilgrimage trail

View Nachi sacred waterfall

Enjoy the comfort of traditional Japanese inns

Wander about local seaside villages

Travel in a traditional flat bottom boat
About Active Travel
Active Travel specialises in Independent Journeys to a diverse range of unique destinations. These private tours use private transport and guides, giving you the comfort and security of local knowledge and assistance with the flexibility and freedom to spend time exploring on your own.
Active Travel presents favourite itineraries from countries all around the world designed to inspire your travels. You can choose to book the suggested itinerary or have a trip tailor-made to your interests, destinations and budget. Your trip can depart on any day with a minimum of just two people.
Active Travel's experienced staff have expertise across all seven continents and work with you to create the most amazing holiday memories, saving you precious time while taking care of:
Independent Tours to every destination worldwide

Flights, Trains, Buses and Ferries

Private Groups for friends and family

Hosted Group Tours

River, Ocean & Expedition Cruises

Travel Insurance

Car Hire & Car Leasing

All Types of Accommodation

Corporate Travel and conferences

Independent Journeys
This brochure covers the regions and holiday types listed below. Click on the links to see more free travel brochures covering the regions and holiday types you are interested in.