Western Australia Independent |
Free Travel Brochures
View Basket

The key to successful Independent holidays is planning. You do not want to waste precious holiday time in Western Australia working out where to stay, how to get from A to B and what to see when you're there. Even if you change your mind once you arrive, it pays to have a plan to start with.
Booking ahead not only saves time but saves money too. Insiders in the travel industry talk about "rack rate", which is the top rate they quote to people who pitch up in the evening and need a place to stay. They're on "the rack" and have little choice but to accept whatever rate is given them. You do not want to pay rack rate. Equally, you want to be sure that your bookings are valid and will be honoured once you arrive.
This is where these Western Australia destination specialists can help. Unlike a general travel agent who has to try to cover everything, the experts whose brochures feature on these pages focus on Western Australia and get to know it inside out. And they pass this inside knowledge on to you. So you save time and money. And you have the security of knowing that all the bookings you make will be honoured. So, if you're the independent sort who likes to go your own way, by all means, be our guest. But take the expert's advice and plan ahead.
The following free holiday travel brochures feature Western Australia Independent holidays, tours and packages – click the GET THIS FREE button to order your Western Australia Independent holiday brochures.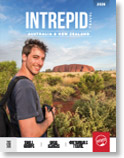 2020 With big red deserts, sun-bronzed beaches, soaring peaks and lush rainforests, Australia and New Zealand offer a kaleidoscope of brilliant colours and startling natural beauty… Intrepid is for travellers with a yearning to get off the beaten track, discovering real people, real cultures and having incredible experiences along the way.Experience the real world in the safety of a small group, with freedom and flexibility. Includes independent short breaks.
> MORE...
---
---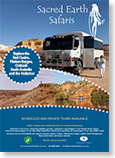 2020-2021 Family owned and operated Sacred Earth's small group 4WD safaris explore remote locations including Kakadu, the Top End, WA's West Coast, the Kimberley, Pilbara, Flinders Ranges, Outback South Australia, Kangaroo Island and the Nullarbor. Experience Aboriginal culture, ancient landscapes, spectacular gorges and amazing flora and fauna. These journeys provide maximum comfort and a more personal experience, catering for all interests and ages – ideal for families and special interest groups.
> MORE...
---
---