Australia Rail Journeys |
Free Travel Brochures
View Basket

The following free holiday travel brochures feature Australia Rail Journeys holidays, tours and packages – click the GET THIS FREE button to order your Australia Rail Journeys holiday brochures.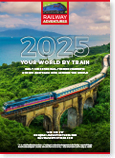 Scott McGregor's Railway Adventures
2020 | Australia | Europe | Britain | Ireland | Asia | Americas | South Africa | Tour Leader Scott McGregor is an actor, presenter, writer and producer on stage, film and TV. He has hosted many popular shows as well as highly successful tours in India, Russia, Japan, Australia and Europe. Railway Adventures tours are designed for the comfortable, leisurely enjoyment of a country and its culture travelling as much as possible by train in a small group (average of 15). These unique themed journeys open doors to extraordinary places and people.
> MORE...
---
---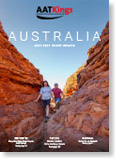 2020-2021 Red Centre, Top End, City & Regional Tours, Day Tours Experience iconic destinations your way with AAT Kings Short Breaks! Travelling independently gives you flexibility with dates, destinations, hotels and dining options. You choose where you'd like to go and when, and AAT Kings will book your accommodation, sightseeing and transfers. When travelling in Australia, AAT Kings can even book the flights you need to complement your Short Break.
> MORE...
---
---