Scott McGregor's Railway Adventures |
Free Travel Brochures
View Basket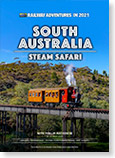 Scott McGregor's Railway Adventures
9 Days departing 9 May & 26 Sep 2021 Join rail enthusiast Phillip MacKenzie on this special adventure, from the broken, rugged and rust-coloured landscape of the Flinders Ranges to the rolling green hills and pristine coastline of the Fleurieu Peninsula. Imagine yourself riding in the balcony coach of a hard-working steam train up the wild West Coast mountains or revelling in the sublime beauty of Cradle Mountain Lake. Along the way, you'll enjoy the hospitality of warm and welcoming locals, gourmet foods and wines, quality accommodation, and unique side trips on rail, road and river.
> MORE...
---
---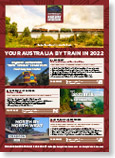 Scott McGregor's Railway Adventures
QLD | NSW | SA | TAS | NT | WA | VIC | New Zealand Well-known TV personality and self-confessed rail fan, Scott McGregor brings you this specially curated selection of escorted train journeys in Australia and New Zealand. From coral-fringed islands and migrating whales to little steam trains in the misty, forested south-west of Tasmania, you'll get to explore parts of the country that you've been waiting to tick off your list. It's time to get back on the tracks in your own backyard again. Small groups, crafted itineraries, hand-picked hotels and unique modes of travel …
> MORE...
---
---