USA & Canada Budget |
Free Travel Brochures
View Basket

The following free holiday travel brochures feature USA & Canada Budget holidays, tours and packages – click the GET THIS FREE button to order your USA & Canada Budget holiday brochures.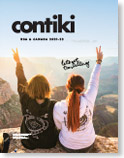 2021-2022 See more, do more, live more. On a Contiki trip you'll do just that. Contiki's tours will make sure you immerse yourself in the very best: the ultimate inclusions, the best team, the most incredible sights, all included. Roll down Route 66 and see the bright lights of Vegas. Feel the spray of Niagara Falls or walk the rim of the Grand Canyon for a sunrise like no other. Ski Lake Tahoe. Explore Hawaii. The USA & Canada is massive, and Contiki ensures you experience its very best. EarlyBird Deals!
> MORE...
---
---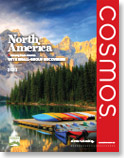 2021 Including Latin America Cosmos is no ordinary travel company. Dedicated to giving you the excitement of faraway places at a down-to-earth price, Cosmos has few rivals and no match in the field of value. You get the experience while Cosmos takes care of the details. A Cosmos trip makes the best possible use of your time. The day-to-day itineraries offer clear, complete, and uncomplicated descriptions. And all Tour Directors are experienced, knowledgeable and friendly professionals who smooth your way through exciting destinations. EarlyBird Deals!
> MORE...
---
---