Central & South America Budget |
Free Travel Brochures
View Basket

The following free holiday travel brochures feature Central & South America Budget holidays, tours and packages – click the GET THIS FREE button to order your Central & South America Budget holiday brochures.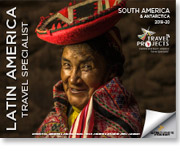 | Antarctica | Argentina | Bolivia | Brazil | Chile | Colombia | Ecuador | Peru | Uruguay | Travel Projects knows Latin America inside out and offers a wide range of multi-country discovery tours, small group tours and flexible, tailor-made journeys to suit your personal requirements. For wildlife enthusiasts, there are competitive Galapagos, Antarctica and Amazon River Cruises. Whatever your budget, Travel Projects can create your perfect holiday. A team of well-travelled experts will help you get the best out of your trip.
> MORE...
---
---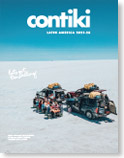 2021-2023 | South & Central America | Indulge in all that is Latin America. From the exotic Galapagos & Costa Rica to the culture of Peru, Brazil & Argentina, let Contiki unlock the sights & sounds wherever you travel. Contiki offers you a Backstage Pass to Latin America. It's a combination of many things, exclusive to Contiki, that gives you unrivalled value & sets the Contiki Latin America experience apart from the rest. Small group adventures specially designed for 18-35s. EarlyBird Deals!
> MORE...
---
---