Britain, Ireland & France Book Club At Sea Cruise View Basket
To order this holiday brochure for FREE delivery to your home or computer, click the GET THIS FREE button.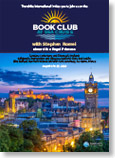 This brochure is no longer available on this website.
Cruise around the British Isles, Ireland and France aboard the Regal Princess with Stephen Romei
Departs Australia 6-25 August 2020 | London, Canterbury and Liverpool, England | Edinburgh, Invergordon and Glasgow, Scotland; Cork and Dublin, Eire | Belfast, Northern Ireland | St Peter Port, Guernsey | Le Havre, France
Join journalist, writer and film critic Stephen Romei for the Book Club at Sea Cruise around the British Isles, Ireland and France aboard the Regal Princess. Managed by an experienced tour manager, this fascinating cruise includes sightseeing tours at each port of call and visits to sights associated with famous authors. Also included are book group discussions with Stephen Romei on Colm Toibin's Mad, Bad and Dangerous to Know: the Fathers of Wild, Yeats and Joyce, Muriel Spark's The Prime of Miss Jean Brodie and Gustave Flaubert's The Legend of Saint Julian the Hospitalier. This is available in a three-story collection titled Three Tales.
Your tour leader – Stephen Romei
Stephen Romei is a journalist, writer and film critic. In 35-plus years of journalism he has covered everything, from the front page to the back page, from 9/11 and American elections when based in New York, to federal and state politics, business, science and medicine, social affairs and sport at home. For the past 15 years his focus has been on books, writers and writing, as editor of The Australian Literary Review and now literary editor of The Australian newspaper. He has met most of the bestknown writers, local and international. He is also one of The Australian's film critics, working alongside David Stratton to review each week's movies. He is particularly interested in the connection between books and movies. If he had to choose a favourite novel it would change from time to time, but Herman Melville's Moby-Dick would be up there, which perhaps is not recommended reading on an ocean liner.
Spectacular cruising on board the Regal Princess
The Regal Princess interior is elegant with the feel of old-world country club and is perfect for enjoying the scenic cruise around the British Isles. Regal Princess has four restaurants: the Club Restaurant being the most formal, the Sterling Steakhouse and signature Sabatini's Italian restaurant are extra cost venues. The Panorama Buffet has both indoor and outdoor seating and is the ship's casual dining spot. Every cruise features lavish productions with some of the largest casts at sea, performing today's Broadway hits and long-running classics. Evening cocktails in one of the ship's cosy lounges or swanky bars is a perfect place to meet up with shipboard friends and swap stories about the afternoon's adventures. A voyage on the Royal Princess is an experience to be savoured and remembered!
What's Included
Economy flights from Melbourne, Sydney, Brisbane and Perth to London and return from Edinburgh and economy flight from Southampton to Edinburgh.
12 nights in your luxurious stateroom on board the Regal Princess.
1 night in London and 4 nights in Edinburgh including breakfast in 4-star hotels. A lunch in Edinburgh.
Sightseeing tours in London, St Peter Port, Dublin, Liverpool, Belfast, Glasgow, Invergordon, Edinburgh and Le Havre.
The services of a private English-speaking guide while on sightseeing tours and private coaches.
Led by Stephen Romei, well-known journalist, writer and film critic.
Tour management by Travelrite International.
Air taxes and government and fuel surcharges.
All port taxes.
On-board gratuities.
This brochure covers the regions and holiday types listed below. Click on the links to see more free travel brochures covering the regions and holiday types you are interested in.