Tasmania by Rail, Road & River – departs 4 Mar 2021 View Basket
To order this holiday brochure for FREE delivery to your home or computer, click the GET THIS FREE button.
Let train travel inspire your imagination
LAUNCESTON | CRADLE MOUNTAIN | STRAHAN | HOBART – 12 days departing 4 March, 18 March & 7 October 2021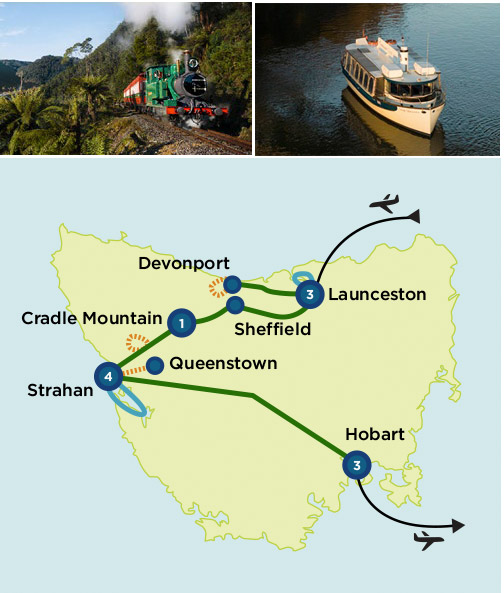 "The trains in any country contain the essential paraphernalia of the culture …"
Paul Theroux – The Great Railway Bazaar
There is something magical about Tasmania. Its wild, unspoiled natural beauty, quirky and stimulating art scene, living history and eclectic collection of railway journeys form the inspiration for this tour.
With the changing colours, wine harvests, long days and mild temperatures, it's the perfect backdrop for many interesting excursions.
This tour circumnavigates Australia's 'holiday state' and brings together a wonderful collection of iconic sights, scenery and interesting encounters.
Imagine yourself riding in the balcony coach of a hard-working steam train up the wild West Coast mountains or revelling in the sublime beauty of Cradle Mountain Lake. Along the way, you'll enjoy the hospitality of warm and welcoming locals, gourmet foods and wines, quality accommodation and unique side trips on rail, road and river.
All of this in the company of your experienced and knowledgeable host, who'll share with you the unique flavours and bring to life the stories of this fascinating island.
Highlights
Ride the West Coast Wilderness Railway from Strahan to Queenstown, enjoying a feast, including champagne and local wines, in the train's charming restaurant balcony car

Visit heritage railways, museums and markets.

Savour a special gala welcome dinner at the legendary Stillwater restaurant in Launceston

Visit Cradle Mountain and explore its beautiful surrounds

Sail in comfort around Macquarie Harbour and up the pristine Gordon River
Meet Your Tour Leader: Eamonn Seddon
Eamonn joined Launceston City Council in 2013 as Tourism Manager until a wish to 'semi retire' gave him the opportunity to start a small day tour company, Prestige Tours Tasmania, which, over the last few years has seen him leading and hosting tours on various themes all over the island. Prior to this Eamonn's career has had a distinct heritage rail focus – CEO of Puffing Billy Railway, and West Coast Wilderness Railway. Eamonn has led a number of tours for Railway Adventures and is pleased to lead this tour once again and is looking forward to sharing his time with you all in Tasmania.
About Railway Adventures
The joy of travel is not confined to the destination. How you travel is a large and rich part of the experience. Railway Adventures offers a truly unique perspective on some of the world's most spectacular holiday destinations, with the confidence that the journey will be just as magical and memorable as what you find at the end of the line.
Unique itineraries — each itinerary has been meticulously developed by a team of expert travellers with many years' experience, an intimate knowledge of the destination, and with great cultural awareness. You are guaranteed to experience the best that each destination has to offer.
Authentic local experiences — whether it's a little-known yet impressive steam railway, a small boutique hotel or an authentic restaurant, you can be sure of experiencing something special on these tours.
Expert local guides and operators — Railway Adventures employs local guides to share their passion and knowledge of the places they call home, while partners on the ground provide the best possible support and backup all the way.
Small group sizes — a small number of guests per trip guarantees an intimate experience with less time spent queuing, more time with your guide, and better access to sightseeing destinations.
Fully escorted – tour leaders are experienced and capable, entertaining and considerate, and together with local guides have your needs well covered. They help with everything along the way, providing peace of mind, and enabling you to relax and enjoy the journey. And you'll find them jolly good company, to boot!
Customer satisfaction — Railway Adventures' testimonials speak for themselves. Customer satisfaction ratings show that over 97% would recommend Railway Adventures to others.
ON THE RAILS
Variety is the spice of life on the rails and that is what you'll get in spades with Railway Adventures. Character-filled, zig-zagging railways of Sri Lanka, opulent hotels on wheels in India and South Africa, steam heritage trains in some of the most staggeringly beautiful parts of the world, dinky little carriages in outback Queensland, bullet trains in Japan— if it travels on a rail track, Railway Adventures is there!
OFF THE RAILS
It's not just the trains, boats and planes; it's the warm, comfortable beds at night, the culinary delights, the immersion in a new culture and the people you meet that makes travelling so enjoyable. Railway Adventures strives to create the most intriguing and memorable itineraries, with hand-picked hotels, restaurants, local guides and cultural experiences to make sure you experience the best possible rail journey in a safe, comfortable and pleasurable way.
This brochure covers the regions and holiday types listed below. Click on the links to see more free travel brochures covering the regions and holiday types you are interested in.