Egypt, Jordan, Morocco, Israel View Basket
To order this holiday brochure for FREE delivery to your home or computer, click the GET THIS FREE button.
See the Ancient world through fresh new eyes
Egypt | Israel | Jordan | Morocco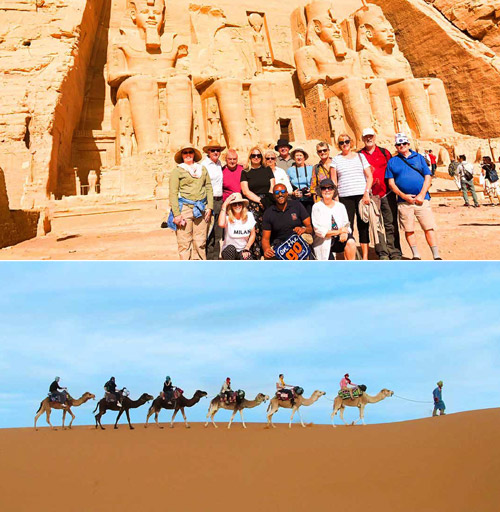 Dazzling sights are to be seen, unusual transport taken, unlikely friendships made and history uncovered like never before on these carefully planned group tours, special event trips, tailor made tours and private journeys through Egypt, Israel, Jordan and Morocco.
Flexible Group Tours & Tailor-made Holidays
Carefully planned itineraries take in the key highlights and offer you a fun and relaxed experience. The Pyramids of Giza, the rose city of Petra, the temples of Abu Simbel, the lofty heights of the High Atlas Mountains, the spicy aromas of Morocco, 4 x 4 safaris through the desert, camel trekking, hot air ballooning... there's an itinerary that's made for you, your family or group of friends.
All group tours in Egypt are escorted by an Egyptian tour leader, who is fully conversant in Egyptology. The knowledge they impart will leave you with an education of Egypt's sights and attractions that is second to none. Your tour leader will make your holiday as seamless as possible, ensuring smooth hotel check-in, organising day to day activities and giving you tips on where to shop or eat at each port of call.
Extend your holiday with one or more of our exciting group tour bolt-ons. Learn to dive the Red Sea, go hot air ballooning in Luxor or witness the illumination of Ramses II Temple at the Abu Simbel Sun Festival.
You can create your own personalised holiday to the Middle East. Choose the standard and style of accommodation you desire, your preferred mode of transport and the particular sights you want to see. To get you started, take a look at some of the suggested itineraries in this brochure.
Egypt Group Tours
These established group tours, escorted by an Egyptologist, are ideal for an enjoyable and cultural holiday in Egypt. Carefully planned itineraries offer all the highlights and top experiences combined with great hotels, plenty of fun and relaxation.
Egypt Family Tours
Family-friendly Egypt tours are perfect for young adults and children alike. With flexible touring arrangements, you will visit all the best sights, stay at quality hotels in idyllic locations and enjoy plenty of free time for swimming at the beach or pool.
Jordan Group Tours
Jordan is renowned for its famous Rose City of Petra, the stunning desert landscape of Wadi Rum, Crusader castles and Roman ruins. For unique experiences, bob about in the Dead Sea or trek to Petra through beautiful Dana National Park.
Israel Group Tours
Israel is a fascinating country, rich in history, culture and natural beauty. Discover archaeological and holy sites, beautiful Mediterranean beaches, cosmopolitan cities and the best of Middle Eastern cuisine.
Morocco Group Tours
Morocco offers an eclectic mix of Roman ruins, bustling medinas, High Atlas Mountains and spicy aromas. Bargain for pottery in a labyrinth of souqs, explore the Sahara on camel back or relax by the beach in enchanting Essaouira.
Tailor-made Holidays & City Breaks
Create your dream holiday to Egypt, the Middle East or North Africa. Choose the standard and style of accommodation you desire, your preferred mode of travel and sights you want to see. To get you started take a look at recommended top spots and favourite itineraries.
Short Stays
Egypt, Jordan, Israel & Morocco short stays & Dubai stopovers.
This brochure covers the regions and holiday types listed below. Click on the links to see more free travel brochures covering the regions and holiday types you are interested in.