Food Adventures – Americas, Europe, Middle East & Asia View Basket
To order this holiday brochure for FREE delivery to your home or computer, click the GET THIS FREE button.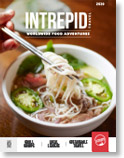 This brochure is no longer available on this website.
Be tempted by Intrepid Travel's delectable new Food Adventures
Italy | Slovenia | Croatia | Macedonia | Spain | Morocco | Israel | Turkey | Vietnam | Thailand | Cambodia | China | Japan | India | Sri Lanka | Mexico | Peru
Eating your way around the world just got easier, as Intrepid has expanded its specialist range of food-centric trips to include even more destinations – South America, North Africa, The Indian Subcontinent and Asia.
So if you're looking for a trip that takes you to the heart of a region's authentic food culture and allows you to experience the best street food, local specialties and taste the definitive drinks of a destination like sipping Pisco sours in Peru or slamming tequilas in Mexico, then take a look at Intrepid's brand new additions to the Food Adventure menu!
Intrepid Travel's range of food trips focusses on authentic, local, grassroots food experiences, offering travellers a well-priced alternative to traditional, high-end gourmet food tours.
Serving up a delicious adventure every time, Intrepid Travel's Food trips are a grassroots, affordable way to travel through the world's best food destinations.
With options ranging from 8-14 day Real Food Adventures, 4-5 day Bite-size Breaks and 2-4 hour Urban Food Safaris, there will be a Food trip to suit every timeframe and appetite.
Food itineraries have a strong focus on street food, authentic local specialties, home-cooking and urban food and drink culture, so the real flavour of a region can be savoured and experienced. But they're more than just about cuisine – all Intrepid Travel's Food trips are filled with plenty of local interaction, cultural exploration and real life experiences.
The 20 trips will celebrate street fare, local specialties, secret home recipes, markets and urban food culture.
Some of the authentic food experiences include:
A late-night taco trawl through the streets of Mexico City;
Visiting one of the world's wildest food markets, Beijing's Donghuamen Night Market, where NOTHING is off the menu;
Foraging for wild greens in a Turkish coastal town;
Tending the vines in La Rioja wine-growing region in Northern Spain; and
Learning secret recipes from a genuine Vietnamese masterchef in Ho Chi Minh City.
The trips have been designed to appeal to a broad range of travellers who want to combine their interest in food with a destination's key travel highlights. As with other Intrepid trips, they will be led by a local leader who is passionate and knowledgeable about the local food scene. Group sizes will be kept to a maximum of 12 people to provide an intimate travel experience.
There are three distinct trip styles in the range, ensuring a variety of prices to suit any budget:
Real Food Adventures:
8-14 days in duration, these touring itineraries showcase the 'real food' culture and customs of multiple regions within a single country. Destinations include China, Vietnam, Mexico, India, Spain and Turkey..
Bite-size Breaks: 4–5 days in length, these short, centralised itineraries focus on one or two regions and are ideal for a long weekend or short getaway. Destinations include Tokyo, New Orleans, Venice, Galicia, as well as Bangkok and Chiang Mai.
Urban Food Safaris: 2–4 hours in duration, these food crawls offer the inside scoop on some of the world's most exciting food cities and emerging foodie hotspots. Destinations include Athens, Kuala Lumpur, Los Angeles, Delhi and Hanoi.
This brochure covers the regions and holiday types listed below. Click on the links to see more free travel brochures covering the regions and holiday types you are interested in.