To order this holiday brochure for FREE delivery to your home or computer, click the GET THIS FREE button.
An enticing blend of Mesoamerican cultures & Spanish traditions
Mexico & The Yucatan | 15 Days, starting Mexico City, 3 March 20223
Mexico & Cuba | 29 Days, starting Mexico City, 3 March 2023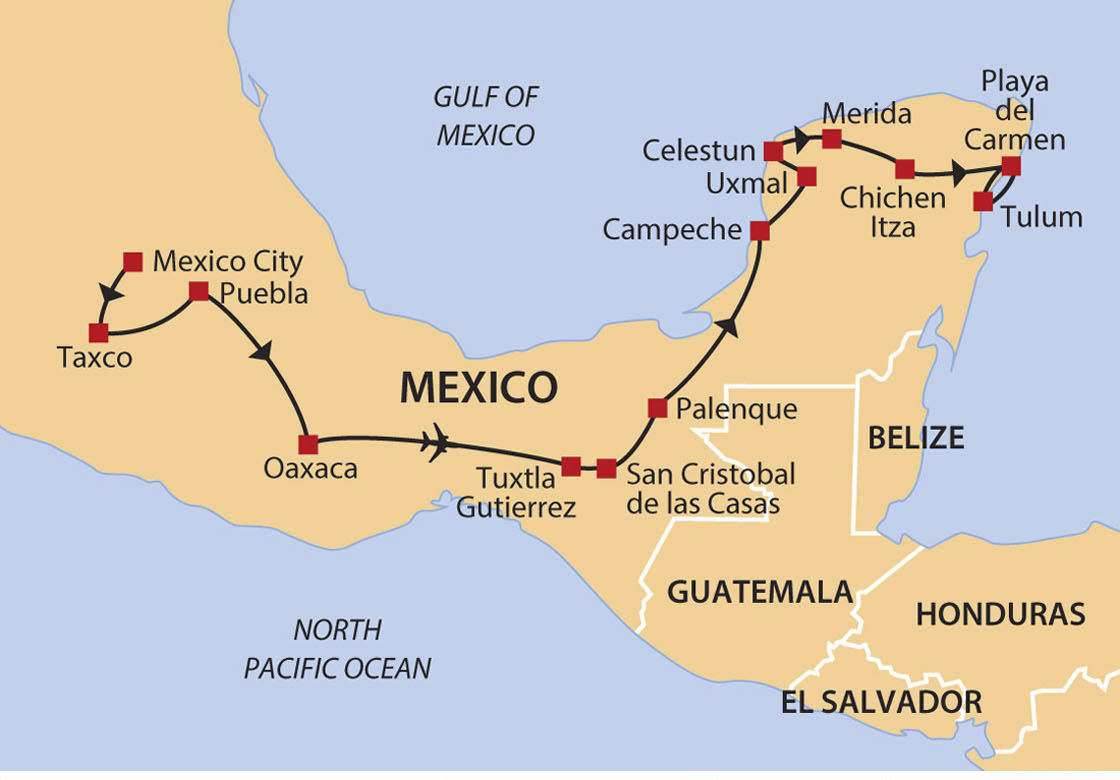 Long before the Spanish Conquistador Hernan Cortes stepped foot in Mexico in 1519, the region was populated by complex indigenous civilisations including the Olmec, Maya, Teotihuacan, Toltec and Aztec Empires. These Mesoamerican civilisations had developed a form of writing so that Mexico's written history stretches back hundreds of years before the Spanish arrived. Following the conquest of the Aztec Empire in 1521 the area was incorporated into the Empire of Spain, with Mexico City the centre of colonial rule.
Mexico today is a wonderful blend of these ancient pre-Colombian cultures with the more recent Spanish traditions. As you travel this fascinating country you will encounter stunning colonial cities adorned with churches as well as spectacular archaeological sites and their enormous pyramids. There is a rich indigenous culture waiting to be discovered with a lively music, festival and arts scene, a sophisticated cuisine and stunning natural beauty from the dry deserts in the north to deep forested jungles and palm lined beaches in the south.
Starting in Mexico City you tour the colonial sites of this ancient Aztec capital before heading to the giant pyramids at nearby Teotihuacan. On your way to Taxco you'll stop at a museum dedicated to the artist Frida Kahlo and take a boat ride through the narrow canals at Xochimilco. Taxco and Puebla are two of Mexico's best preserved colonial towns whilst colourful Oaxaca is well known for its handicrafts and the ancient ceremonial Zapotec site of Monte Alban. Flying to Tuxtla you then visit the impressive Sumidero Canyon and continue to San Cristobal de las Casas where you enjoy the rich indigenous culture of the city and two of its nearby villages.
Next come the great Mayan archaeological sites of Palenque and Uxmal and following a visit to Campeche and Merida you arrive to explore the world famous Mayan archaeological complex at Chichen Itza.
Finally you arrive at the stunning beaches at Playa del Carmen where, having seen the Mayan cliff top ruins at Tulum our holiday in Mexico and the Yucatan Peninsula comes to an end.
Your host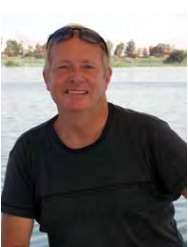 Steve Mortimer heads up Byroads Travel and will be your host on this tour. Steve has nearly 30 years in the travel industry and has travelled to well over 100 countries. He has worked with a number of well‐ known Australian adventure travel companies including 13 years as a Product Manager and Operations Director for Peregrine Adventures. Most recently he has been involved in researching and developing holidays in several different regions of the world, including Latin America and the Middle East where he has lived.
Steve likes nothing better than getting out and about with like‐minded travellers, sharing his knowledge and introducing participants to some of the world's most interesting places, peoples and cultures. He has been a regular visitor to Mexico over many years and the colour and diversity of the Yucatan peninsula in particular keeps him coming back for more.
With your itinerary you can be confident you'll visit all the 'must see' attractions – and much more, however there are some days when you'll have time to wander and make some of your own discoveries. Throughout the tour local guides are employed to provide a wealth of background information and share their extensive local knowledge.
This brochure covers the regions and holiday types listed below. Click on the links to see more free travel brochures covering the regions and holiday types you are interested in.