To order this holiday brochure for FREE delivery to your home or computer, click the GET THIS FREE button.
Fully Escorted Small Group Tour to idyllic Norfolk Island
7 Nights | Departs from Brisbane 30 October 2021 | Includes comprehensive sightseeing and flights from Brisbane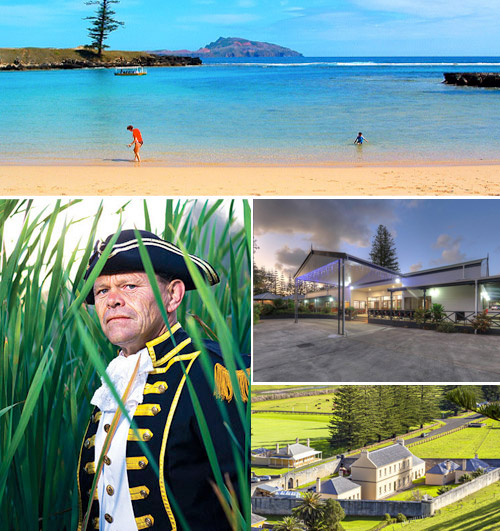 Discover this remote Australian island and its fascinating history with the small-group tour experts
The tiny island paradise of Norfolk provides your perfect escape from the recent isolation and restrictions of mainland Australia (and the world). Explore a uniquely different island holiday destination, with a pristine lifestyle, a powerful historic and cultural story to share, absolutely idyllic scenery everywhere and great food and hospitality. It's close and unique – make the most of this fabulous opportunity.
What's Included
Return flights ex Brisbane
Group transfers between airport & hotel
7 nights at the Paradise Hotel in a Superior Room
Full programme of daily sightseeing & activity
7 breakfasts & 7 dinners
Services of a Travel Masters Tour Escort
Your Tour Escort
Theis tour will be escorted by Neil Kirby, Joint Managing Director of Travel Masters. Neil will travel with you on this outstanding itinerary, bringing with him a wealth of knowledge and previous travel experience, along with a passion for people, places and different cultures.
Tour Highlights
You don't have to participate in every program activity - but it's all included.
Convict Settlement Tour
Explore the historic Georgian settlement of Kingston – the cemetery, the New Jail, the Pier Store, Boat Shed & the Crank Mill.
Ghost Tour
Dinner and Lantern Walk. Listen to tales and stories that will delight you, make you sad and through it all send shivers down your spine. Includes dinner in historic Kingston and a lantern walk through the ruins.
Progressive Dinner
Enjoy a 3-course meal progressing to different Norfolk Island family homes. You will join a group of other Norfolk Island visitors and be taken to carefully selected island homes where you will hear Norfolk stories from your dinner hosts. The Progressive Dinner is a fun night and a great way to meet the local people.
Breakfast Bush Walk
ake your choice of a stroll through 'One Hundred Acres Reserve' or for the more energetic, a leisurely 3.5km walk through scenic Mt Bates to Captain Cook Monument. At the end of the walks, meet on the clifftop for a delicious breakfast barbeque.
Pitcairn Settlers Village
Discover the colourful history of Norfolk Island's most recent settlement, the 'Pitcairners', from their descendants - on one of the last remaining original settler's properties. You will learn about the history & culture of the Pitcairn Settlers. View the pristine homestead gardens (including many of the traditional crops) visit a blacksmith's forge, a WWII Army hut, the Museum of Memorabilia and other significant locations.
1/2 Day Orientation Tour
The half day orientation tour is a must for every visitor! Visit historic Kingston, Cascade, Longridge & much more. See & hear about the famous convict buildings, beautiful beaches & golf course, the renowned Melanesian Chapel, our Government, our laws & lifestyle. Enjoy views from scenic spots on this full commentary conducted tour. Rest for a delicious morning or afternoon tea at a private home with fantastic views!
Island Culture Tour
Experience the culture of our forebears! From our mutineer ancestors and their Tahitian wives came the arts of wood craft, weaving, cooking & our Norfolk Language. On this tour we visit an island home and learn the arts of wood, language & weaving!
Island Cheese Tour
Started by island brothers Glen & John Christian, "Mootineers" Cheese Company is a boutique dairy and cheese producer creating hand-made mouth watering cheeses with a small herd of organic cows. Visit a local farm and meet the milk cows, see beehives and learn about the production of local honey; visit the local sawmill and learn about the iconic Norfolk Pine; enjoy some scrumptious cheeses, honey and jams with complimentary wines.
The Sound & Light Show
Nightfall at Kingston brings a different mood to the Convict Settlement. The stillness and the stars are there just as they were before mankind arrived in 1788. However, with the dramatic use of real life sounds, theatrical lighting & costumed actors, the stillness is broken as you experience the horrifying decades of Norfolk Island's convict era.
Cyclorama
The Fletcher's Mutiny Cyclorama is regarded as one of Norfolk Island's most popular attractions and has won several Tourism Awards. You will walk inside a circular panoramic painting to be completely surrounded by the artwork. It is a truly unique way to experience the history of the Bounty adventures and discover how the world's most famous mutiny created the Pitcairn and Norfolk Island communities.
Night as a Convict
A fun night out for all ages! Dress as a convict & join in with the Commandant for an evening of gaiety, feasting, singing & dancing. Great food! Great fun! (outfit supplied) Norfolk's only dinner & dance night.
Night With The Mutineers
Be entertained by descendants of the Bounty Mutineers while savouring the culture, music and a delicious two-course feast fit for a mutineer! Enjoy a complimentary drink on arrival along with island dancing, island drumming, weaving and talks on whaling.
4WD Tour
This 4WD tour takes you through Norfolks National Park where you see not only the beauty of the gum forest but also the different growth stages of the Norfolk Pine. View the many varieties of both native and imported plants as well as the newly constructed Boo Book Owl nests.
Why Travel Masters?
With over 20 Years' experience, Travel Masters boasts an award-winning team of highly qualified international consultants trained to assist you in all your travel needs.
Having travelled most continents of the world and experienced a number of the most diverse cultural backgrounds known to mankind, they offer clients a personalised approach to booking holidays, with extensive personal knowledge and understanding.
Managing Directors Beth and Bob Malcolm are champions of the travel industry, with collectively more than 25 years' experience. Beth is well recognised in the travel and tourism sector as the past National Vice-President of the Australian Institute of Travel and Tourism, and as the two-time winner of the Australian Travel Management Award.
Bob and Beth personally escort small groups to unique and culturally diverse destinations throughout the world, ensuring that each person on the tour has the experience of a lifetime. Whether it's travelling to tourism meccas or exotic islands, you will be guaranteed a well organised, well paced and memorable holiday.
Awards
Best Regional Travel Agency in Australia
Australian Travel Centre of the Year
State and National Awards for Excellence
This brochure covers the regions and holiday types listed below. Click on the links to see more free travel brochures covering the regions and holiday types you are interested in.