To order this holiday brochure for FREE delivery to your home or computer, click the GET THIS FREE button.
Explore the towering Andes & the amazing Amazon on this inspiring escorted journey
8 Days – Starting Quito 7 April 2023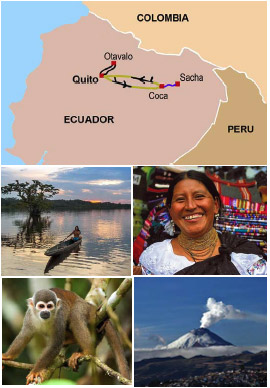 Ecuador is a microcosm of South America, with snow-capped mountains, smoking volcanoes, enormous rivers, lush tropical coastal plains, amazing wildlife and dense Amazonian jungle. This, coupled with the country's rich Indian and Spanish history, makes Ecuador a truly wonderful destination for the curious traveller.
Ecuador's mainland can be divided into three distinct areas that run the length of the country. The coastal region is a fertile alluvial plain, particularly famous for its banana plantations. The middle section is the Sierra, formed by the western & eastern chain of the Andes which contains several high plateaus. This is both an agricultural area and the indigenous heartland of the country and home to towering peaks and more than 30 volcanoes. On the eastern side of the Sierra is the Orient. This vast, sparsely populated area extends into the upper Amazon basin and is covered by thick tropical rainforests rich in exotic wildlife. Although remote, the Amazon is one of Ecuador's most exciting destinations.
Your Ecuadorian adventure starts upon arrival at Ecuador's new airport where you meet your guide and head for the colourful town of Otavalo. The town is famous for its wonderful Indian arts and crafts market. Visit Ecuador's capital Quito, founded by the Spanish on the ruins of an Incan city. It remains the least-altered historic centre in Latin America and is a UNESCO World Heritage Site. It is set in a breathtaking Andean valley surrounded by spectacular volcanic peaks. You will discover the city's highlights and travel out to 'Mitad del Mundo' to stand upon the Equator line.
A short flight over the Andes brings you to Coca. Here you will join a motorized canoe on the Napo River which brings you to Sacha Lodge, one of Ecuador's premiere rainforest lodges located in the heart of the Amazon rainforest. With your expert rainforest guide, you will learn about the flora and fauna of this incredibly important biosphere. See the nocturnal forest dwellers on night walks; view the forest from a different perspective on top of the Canopy Bridge; seek out caiman, sloths, monkeys and an amazing assortment of stunning birdlife; learn about the medicinal properties of different plants and the traditions and beliefs of the native Indians who call the rainforest home. All this and more from the comfort of Sacha Lodge.
At the end of your Amazon jungle adventure, you will return to Coca for your flight back to Quito.
Tour highlights
The Otavalo Indian Market
Cotacachi Village
Cuicocha Crater Lagoon
Quito Basilica
Archbishops Palace
Panecillo Hill Lookout
La Compania Church
'Mitad del Mundo' (Equator)
Intiñan Museum
3 Nights in Sacha Amazon Lodge
Sacha Butterfly Centre
Jungle Canopy Bridge
Igapo & Terra Firma Forest s
Lagartococha Trail Nature Walk
Lagartococha Lake Canoe Safari
The Kapok Observation Tower
Your host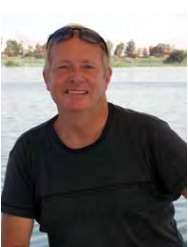 Steve Mortimer heads up Byroads Travel and will be your host on this tour. Steve has more than 30 years in the travel industry and has travelled to well over 120 countries. He has worked with a number of well‐known Australian and UK adventure travel companies including 13 years as a Product Manager and Operations Director for Peregrine Adventures. In addition to researching and developing holidays in many different regions of the world Steve has led a great number of trips to some of the world's most interesting, exotic and out of the way places.
Steve likes nothing better than getting out and about with like-minded travellers, sharing his knowledge and introducing them to some of the world's most interesting places.
With Byroads, you can be confident that your itinerary includes visits to all the 'must see' attractions – and much more, however there are some days when you'll have time to wander and to make some of your own discoveries. Throughout the tour local guides are employed to provide a wealth of background information and share their extensive local knowledge.
Why travel with Byroads?
Byroads is an exciting travel company, with a well-established pedigree. It specialises in a small but select range of destinations, offering tours that cover not only the A-list sights, but many of the lesser-known attractions as well. A 'byroad' is a road less travelled and this encapsulates the spirit of these tours.
This brochure covers the regions and holiday types listed below. Click on the links to see more free travel brochures covering the regions and holiday types you are interested in.