Europe Christmas & New Year Tours View Basket
To order this holiday brochure for FREE delivery to your home or computer, click the GET THIS FREE button.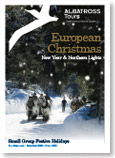 This brochure is no longer available on this website.
European Christmas, New Year & Winter Wonderland Tours
Unique escorted touring experiences designed exclusively for Australians
Albatross Tours offer the widest range of dedicated European Christmas, New Year & Winter Wonderland Tours. You could be wandering through Christmas markets, visiting beautiful churches, experiencing a cable car ride to a mountain peak or discovering a beautiful European village.
Why travel with Albatross Tours?
Discover a different style of touring, one that offers you genuine, in depth European experiences, wonderfully enjoyable and fulfilling holidays.
Specially for you
Unique tour itineraries designed to suit the travel needs of Australians and New Zealanders seeking genuinely authentic European travel experiences.
Small groups
Albatross Tours was one of the earliest innovators of small group touring. If you are looking to experience Europe for the first time – or perhaps as a return trip – an Albatross small group tour will allow you to enjoy a more personalised and in-depth holiday experience. Imagine enjoying traditional Christmas meals in local restaurants, staying in a small family run hotel, and getting to experience the traditions of Europe at Christmas time with a small group of like-minded travellers. The average group size with Albatross is just 22; the maximum is 28. Tours are guaranteed with as few as just 10.
Longer stays
Enjoy leisurely and sensibly paced itineraries that include 2, 3, 4 and even 7 night stays in each captivating city or region.
Genuinely inclusive
Albatross Tours guarantees there are no 'optional' activity costs – even your 'end of tour' tips are included. Check out the outstanding value inclusions in each tour itinerary.
Authentic experiences
Packed with fabulous local dining, high quality excursions, activities and unique experiences – and they are all included!
'My Time' Guaranteed
Your days are easier. With our sensible and leisurely pace, we guarantee you 'My Time' so you an relax and truly enjoy the festive wonderland you have travelled so far to see.
Unique accommodation
Stay in hand selected, character style accommodation in superb locations. In a historic mansion, centuries old castle or a beautiful alpine chalet style hotel.
Experience you can trust
With over 25 years of experience in successfully creating and operating market-leading European tours, you know you are in safe hands.
There is a magical Winter Wonderland out there waiting for you, filled with exciting 'bucket list' experiences, amazing adventures, and bursting with heart-warming festivities – and with Albatross you will get to experience the very best!
Christmas Market Tours
What a great way to do your Christmas shopping! Timed to capture that European Christmas magic in the festive weeks leading up to Christmas. Visit fabulous Christmas Markets, enjoy exciting activities, thrilling mountain experiences and be home for Christmas Day!
Christmas Holidays
Relax and settle into one specially selected 'Christmas hotel' and use this 'home base' for included daily excursions and activities. With free time to truly enjoy each picturesque destination, these Christmas Holidays are popular for family and friends' gatherings.
Christmas Tours
Perfect for anyone wanting the complete European Christmas experience. Usually starting with a few nights in one of Europe's grand historic cities, escape to the snow clad mountains and celebrate Christmas over 3, 4, 5 or 6 nights in nostalgic, charming hotels. With so much included, you will explore local picturesque towns and villages, Christmas Markets, ancient monasteries and fairytale castles.
New Year Tours
Imagine watching New Year's Eve fireworks in Bavaria, enjoying a grand celebration in an Italian Castle or simply spending time in the mountains playing in the snow. Albatross Tours has something for everyone. These New Year tours can be enjoyed either as 'stand-alone' tours or seamlessly added to almost all of the Festive Christmas Tours and Holidays.
This brochure covers the regions and holiday types listed below. Click on the links to see more free travel brochures covering the regions and holiday types you are interested in.