To order this holiday brochure for FREE delivery to your home or computer, click the GET THIS FREE button.
Explore the Highlights and Discover Turkey's Hidden Treasures
16 DAYS FROM ISTANBUL 10 Oct 2022 & 11 Sep 2023 | Istanbul | Ephesus | Sirince | Pamukkale | Denizli | Ankara | Safranbolu | Yoruk Koyu | Kastamonu | Samsun | Amasya | Hattusa | Goreme | Cappadocia | Goreme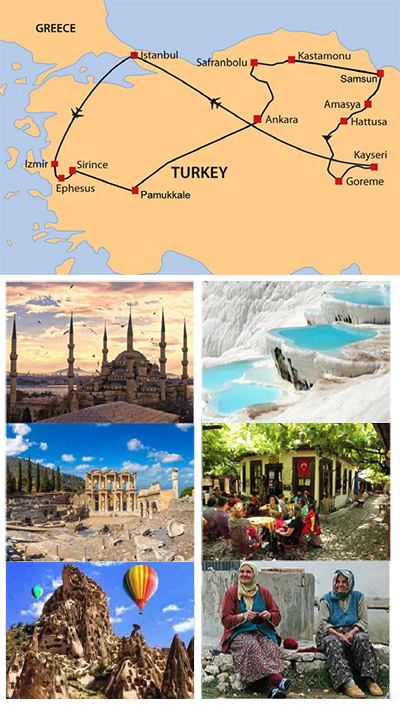 Experience the hidden treasures of Turkey on this incredible small-group tour led by expert host Steve Mortimer.
Turkey sits at the crossroads of history with cultural connections dating through the Greek, Roman, Persian, Byzantine and Ottoman empires. Beyond the popular sites along the Aegean coast, there is also much to see and do in Turkey's hinterland. This Byroads tour takes in three well‐known highlights: Istanbul, ancient Ephesus and Cappadocia – and in each place, you will see more than the normal sightseeing fare. In addition, there is a special focus on the region that lies between northern Anatolia and the Black Sea, which boasts many wonderful Ottoman era towns and villages.
Hand-picked accommodation
The accommodation is a particular highlight of this trip and each property has been carefully selected. In Istanbul, stay in a very well located boutique hotel just minutes from the Blue Mosque. Overnight inn Sirince in a charming village house and in Safranbolu, experience a typical Ottoman style hotel in the centre of town. At Amasya, relax at a boutique spa hotel and in Goreme, stay in an atmospheric cave‐style hotel, with great views of the village.
What's included
• Steve Mortimer as Tour Escort • Turkish tour guide throughout • local guides • arrival transfer • transport throughout • 2 domestic flights • 15 nights' accommodation • entrance fees and meals as indicated in itinerary.

Transport is by plane, boat and air-conditioned mini-bus.
Tour Highlights
Hagia Sophia & Blue Mosque
Yoruk Koyu Village
Hippodrome & Topkapi Palace
Samsun & the Black Sea
Istanbul Basilica Cistern
Sahinkaya Canyon
Islamic & Turkish Art Museum
Historic Amasya
Istanbul Grand & Egyptian Bazaars
Hattusha Hittite Site
Rustem Pasha Mosque
Goreme Open Air Museum
Galata Tower & Pera Museum
Cavusin & the Zelve Valley
Bosphorus Ferry Cruise
Kaymakli Underground City
Ancient Ephesus
Local Family Dinner
Pamukkale Springs & Hierapolis
Uchisar Castle
Ankara Mausoleum of Attaturk
Anatolian Cave Hotel
Safranbolu Village
Optional Balloon Ride
Your host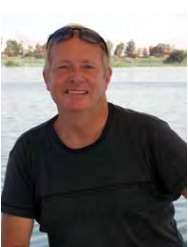 Steve Mortimer heads up Byroads Travel and will be your host on this tour. Steve has more than 30 years in the travel industry and has travelled to well over 120 countries. He has worked with a number of well‐known Australian and UK adventure travel companies including 13 years as a Product Manager and Operations Director for Peregrine Adventures. In addition to researching and developing holidays in many different regions of the world Steve has led a great number of trips to some of the world's most interesting, exotic and out of the way places.
Steve likes nothing better than getting out and about with like-minded travellers, sharing his knowledge and introducing them to some of the world's most interesting places.
With Byroads, you can be confident that your itinerary includes visits to all the 'must see' attractions – and much more, however there are some days when you'll have time to wander and to make some of your own discoveries. Throughout the tour local guides are employed to provide a wealth of background information and share their extensive local knowledge.
Why travel with Byroads?
Byroads is an exciting travel company, with a well-established pedigree. It specialises in a small but select range of destinations, offering tours that cover not only the A-list sights, but many of the lesser-known attractions as well. A 'byroad' is a road less travelled and this encapsulates the spirit of these tours.
Small groups
Group sizes are small, with a maximum of 15 per tour. This is important, as many of the selected hotels only have 10-15 rooms. Paricipants tend to be aged between 45-70.
This brochure covers the regions and holiday types listed below. Click on the links to see more free travel brochures covering the regions and holiday types you are interested in.