To order this holiday brochure for FREE delivery to your home or computer, click the GET THIS FREE button.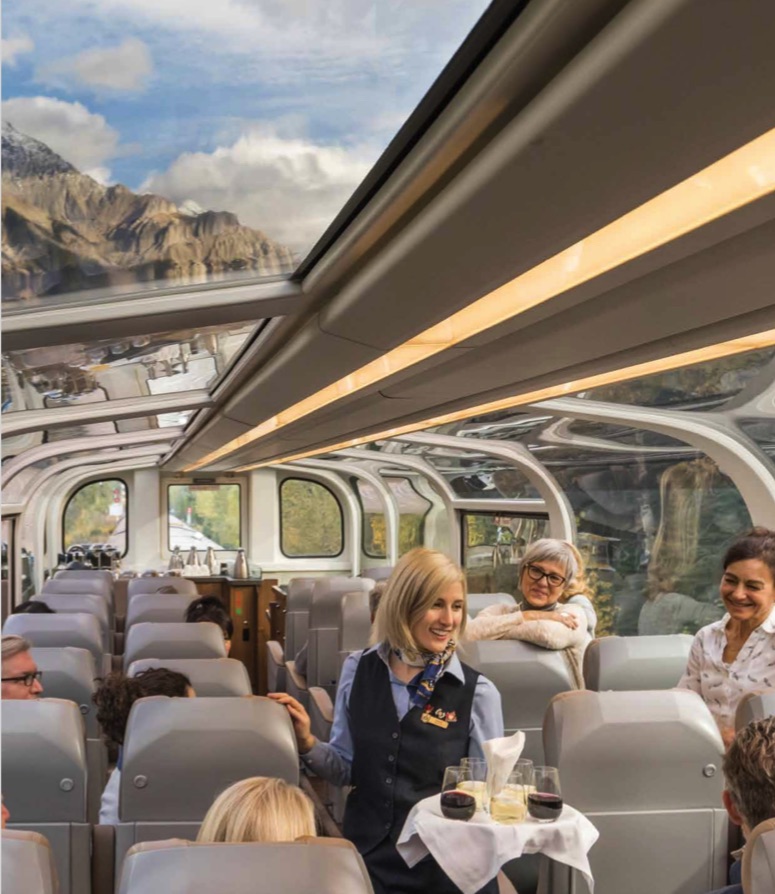 When you board Rocky Mountaineer, you're not embarking on a trip – you're creating a deeply personal story. A story that has many chapters, with fine dining, attentive service, and beautiful landscapes during your days on the train, and restful hotel rooms at night off the train.
It's a chronicle of your journey as you discover a whole new world from your glass-dome coach. But it's also about your internal voyage, awakening emotions of nostalgia for luxurious train travel, inspiration from world-class cities, and awe for majestic mountains. Come join the Rocky Mountaineer for an adventure that only you and Rocky Mountaineer can write together. For many, it's the journey of a lifetime.
Every mile is a journey as Rocky Mountaineer carves through otherwise inaccessible terrain. It's a unique way to experience the sheer sides of mountains, steep canyons, and untamed western wilderness. We get you up close and personal, and the best part is that you can enjoy it from the luxury of your seat.
Your train will also take you on a tour of Western Canada's most remarkable attractions, stopping off at world-class cities, national parks, quaint valleys, and tranquil lakes. Wherever you look, each piece of the adventure will take your breath away. It's a journey you'll never forget, in one of the most beautiful settings on the planet.
Why choose Adventure Destinations?
Adventure Destinations is an independent, Australian owned travel wholesaler that believes it shouldn't cost the earth to see the world. For over a decade, Adventure Destinations has searched out the very best value for money travel experiences on the planet, designing a constantly expanding range of products to suit every style and budget.
Adventure Destinations' expert staff have over 70 years combined experience in international travel, and make frequent trips back to its specialised areas to stay on top of the latest trends, properties and attractions.
Wherever you want to go, whether you want to relax on a beach, see the sights or challenge your limits, Adventure Destinations has the expertise to turn any holiday into the trip of a lifetime. Adventure Destinations' travel specialist's are passionate about creating exciting journeys to some of the world's most amazing places, including Canada, Alaska, USA, Africa, Borneo, Malaysia, Turkey and South America.
Adventure Destinations prides itself on unwavering attention to detail, ensuring that your holiday is a wonderful and rewarding experience you'll never forget.
So plan your next holiday with Adventure Destinations. It won't just be a holiday – it will be an experience.
This brochure covers the regions and holiday types listed below. Click on the links to see more free travel brochures covering the regions and holiday types you are interested in.