To order this holiday brochure for FREE delivery to your home or computer, click the GET THIS FREE button.
Escorted tours, tailor-made itineraries, cruises and train journeys to match your style and budget
Canada | Alaska | USA | Hawaii – cruises, tours, mini-stays, self-drive, train journeys, wildlife, hotels & accommodation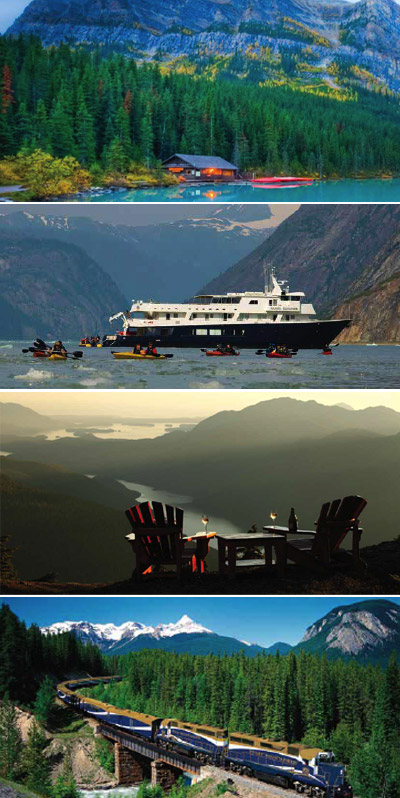 Since 1997, Adventure Destinations has been creating quality experiences for travellers to explore the vast attractions of North America. Itineraries have been hand-selected to give you the best holiday experience at affordable prices. An experienced team has travelled extensively in each destination and can offer you the best travel advice for your holiday.
Adventure Destinations offers independent and escorted tours or can tailor a holiday especially for you, catering for your specific needs, style and budget. Enquire about personalised groups and special interest tours.
Wildlife exeriences with bears
Whether it's Grizzly Bears, Black Bears or Polar Bears, an up-close and personal encounter is an awe-inspiring, thrilling wildlife experience. Stay at a dedicated floating or land-based bear lodge with expert staff to get the most out of your experience. The best time to see bears is May to October, but book early if you want to see grizzly's catching Salmon as space is limited.
Discover the Canadian Rockies
The Canadian Rockies Mountain Range spans Canada's provinces of Alberta and British Columbia. The most popularly photographed and visited section is along the Icefields Parkway between Banff and Jasper. One of the best ways to explore is on a self-driving holiday through the Rockies – visit lesser known sites and take a break with a spectacular backdrop.
Witness the Northern Lights
The natural phenomena of the Aurora Borealis or "Northern Lights" is a dazzling light show caused by electrically charged particles from the sun colliding with gases in the earth's atmosphere. Whitehorse, Yellowknife and Fairbanks are the best places for viewing the lights between late August and late April. Avoid mid to late October due to unsettled weather conditions.
Your choice of Alaska cruises
Cruise Alaska's famous Inside Passage on a big ship –  or go where the big ships and crowds can't get to, on a small ship. Large cruise ships generally take a route that visits the small towns of Alaska and offer shore excursions (additional cost) to see the local sights. If your focus is on wilderness and wildlife, then choose a small ship. You might pay a bit more but all of the expertly guided daily activities are included.
Explore the USA National Parks
The USA has many National Parks, each with their own unique highlights and attractions. Travel out of the cities and experience the beauty of the open wilderness. Not far from Las Vegas, you can visit some of the iconic parks like Grand Canyon, Zion National Park, Bryce Canyon & Monument Valley. Then head north and explore Yellowstone, Grand Teton and more.
Individual itineraries designed specially for you
If you have specific travel requirements, Adventure Destinations can tailor an individual itinerary just for you. Use the itineraries in the brochure as a starting point or design your own tour from the outset. Adventure Destinations' experienced staff would love to help you bring your perfect holiday to life. By choosing your own mix of adventure and comfort, you can explore each destination at a style and price that suits you.
Accommodation to suit your style
Depending on your budget and preferences, Adventure Destinations offers a wide range of accommodation from rustic wilderness lodges and cabins to B&Bs, 5-star hotels and everything in between.
Single Travellers
If you wish to join a tour as a solo traveller, Adventure Destinations' friendly consultants will try and match you up with a companion of the same sex with similar interests where possible.
Why choose Adventure Destinations?
Adventure Destinations is an independent, Australian owned travel wholesaler that believes it shouldn't cost the earth to see the world. For over a decade, Adventure Destinations has searched out the very best value for money travel experiences on the planet, designing a constantly expanding range of products to suit every style and budget.
Adventure Destinations' expert staff have over 70 years combined experience in international travel, and make frequent trips back to its specialised areas to stay on top of the latest trends, properties and attractions.
Wherever you want to go, whether you want to relax on a beach, see the sights or challenge your limits, Adventure Destinations has the expertise to turn any holiday into the trip of a lifetime. Adventure Destinations' travel specialist's are passionate about creating exciting journeys to some of the world's most amazing places, including Canada, Alaska, USA, Africa, Borneo, Malaysia, Turkey and South America.
Adventure Destinations prides itself on unwavering attention to detail, ensuring that your holiday is a wonderful and rewarding experience you'll never forget.
So plan your next holiday with Adventure Destinations. It won't just be a holiday – it will be an experience to remember.
CANADA

Vancouver Hotels / Mini Stays

Victoria & Whistler Hotels / Mini Stays Jasper & Lake Louise Hotels / Mini Stays
Banff & Calgary Hotels / Mini Stays Toronto & Ottawa Hotels

Mini Stays Montréal & Québec Hotels

Mini Stays Canada Escorted Tours

Rocky Mountaineer

Canada Independent Rail & Coach Canada Self Drive

Canada Bears & Wildlife

Canada & Arctic Cruising

Canada Unique Accommodations

Canada Off-The-Beaten-Path

Winter Canada

Alaska

Anchorage & Denali Hotels / Mini Stays Fairbanks & Juneau Hotels / Mini Stays
Alaska Escorted Tours

Alaska Independent Rail & Coach Alaska Self Drive

Alaska Wildlife

Alaska Small Ship Cruising

Alaska Cruising

Alaska Unique Accommodations

Alaska Off-The-Beaten-Path & Winter

ALASKA

Anchorage & Denali Hotels / Mini Stays
Fairbanks & Juneau Hotels / Mini Stays
Alaska Escorted Tours

Alaska Independent Rail & Coach Alaska Self Drive

Alaska Wildlife

Alaska Small Ship Cruising

Alaska Cruising

Alaska Unique Accommodations

Alaska Off-The-Beaten-Path & Winter

USA

Los Angeles & Anaheim Hotels / Mini Stays

San Francisco & Vegas Hotels / Mini Stays

New York & Washington DC Hotels / Mini Stays

Dallas & Orlando Hotels / Mini Stays

Honolulu & Maui Hotels / Mini Stays

USA Self Drive

USA Escorted Tours

USA Independent Rail & Coach USA Cruising

USA Unique Accommodations
>
This brochure covers the regions and holiday types listed below. Click on the links to see more free travel brochures covering the regions and holiday types you are interested in.