The Kidman Way - Outback New South Wales View Basket
To order this holiday brochure for FREE delivery to your home or computer, click the GET THIS FREE button.
Discover the magic of Australia's legendary Outback highway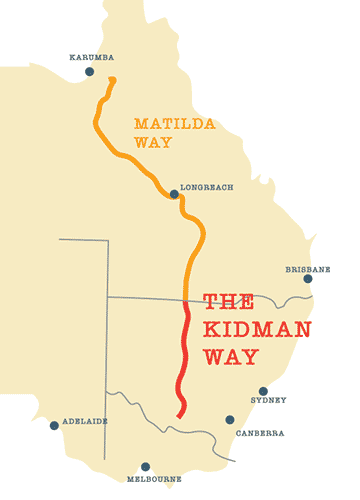 Jerilderie • Coleambally • Darlington Point • Griffith • Goolgowi • Merriwagga • Hillston • Murrumbidgee • Carrathool • Cobar • Bourke
Backtrack to the Outback along Australia's legendary highway, The Kidman Way.
From Jerilderie - the gateway to the Kidman Way and a keystone in the Ned Kelly story – travel through Griffith, Cobar, Bourke and on to Barringun. You'll discover the real New South Wales Outback in the fascinating historic towns along the way.
Whether you're a family with pets, seniors, caravanners, campers or backpacking your way around Australia, you'll return with fascinating stories and experiences from your journey.
This brochure provides a comprehensive guide to the Kidman Way - hotels, motels, B&Bs, farm stays, camping and well-serviced caravan parks. You'll find every thing you need to have a wonderful journey.
There's never been a better time to Backtrack to the Outback!
The Kidman Way TOP 10
Book a visit to Altina Wildlife Safari Park a must-see while in the region located east of Darlington Point.
Drop a line in the Murrumbidgee, Lachlan and Darling Rivers and try your skill at catching a Murray Cod.
Go wine tasting and explore the region's many cellar doors while near Griffith. You'll find everything from boxed bargains for campfire quaffing to premium labels for special celebrations.
The main street of Griffith is lined with boutiques, barbers and bakeries. You'll be impressed by the dress and shoe shops and delighted with the Italian eateries.
Mingle with the locals at a Country Race Meet.
Explore the many National Parks along the Kidman Way – Toorale, Murrumbidgee Valley, Cocoparra, Gundabooka, Willandra – for great walks, bird watching and native animal spotting.
Discover Cobar's history and culture at the Great Cobar Heritage Centre.
Admire the panoramic views of the town and surrounds from Fort Bourke Lookout, located just 3km from Cobar.
Enjoy vivid sunsets and brilliant night skies.
Unearth the stories at the Back O' Bourke Exhibition Centre, a great tribute to the pioneers and their enduring spirit.
Sir Sidney Kidman (1857 – 1935)
Sidney Kidman was born near Adelaide in 1857. As a boy he worked on stations in SA and Western NSW. In 1870 when copper was discovered at Cobar he set up a butcher shop, selling meat to the miners, he then bought his first station, Owen Downs in the NT in 1886. He went on to become the largest land owner in the world. The Kidman Way road is not named for the person Sir Sidney Kidman but for his inspiring vision to open inland Australia.
This brochure covers the regions and holiday types listed below. Click on the links to see more free travel brochures covering the regions and holiday types you are interested in.