To order this holiday brochure for FREE delivery to your home or computer, click the GET THIS FREE button.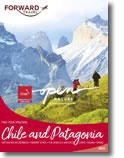 This brochure is no longer available on this website.
Savour the flavour of a Chilean journey made specially for you

Chile ... long, slim and extraordinarily hot
A local legend says that when God nished creating the wonders of the world there were many pieces left over; sprawling glaciers and icy fjords, fertile valleys and dry deserts, soaring mountains and snow capped volcanoes, beautiful forests and sandy beaches. To maximise their brilliance he put them together in a long, thin country, and called it Chile. Whether the legend is fact or fiction, Chile is an extraordinary feast for travellers. In keeping with the legend, Daid and Rose have put their favourite pieces together too, hoping to inspire you to put Chile on your travel menu and find out why they think Chile is South America's hottest country.
Bounded by the Pacific Ocean and the Andes mountains, the world's longest country stretches from the stark Atacama in the north to pristine Patagonia in the south, and further to Antarctica. The north has the driest desert in the world,filled with spectacular light and clear skies. The centre gives you vibrant, historic cities, and fabulous wineries to savour the local avours. South is Patagonia, greeting you with picture perfect volcanoes, verdant green lakes and lush rainforests, culminating in the vastness of the Patagonian steppe and the spectacular peaks of Torres del Paine NP. From top to bottom Chile will inspire and reward you. David and Rose want to share their love of Chile with you and hope you will allow them to create your own Journey to Savour through this amazing country.
Why Forward Travel?
Forward Travel is the brainchild of seasoned travellers David Smyth and Rose Toohey, who have combined their knowledge and experience to help forward thinking travellers travel better, travel further and travel more.
David and Rose have journeyed far and wide enjoying the road less travelled in preference to the busy highway. They own and run Forward Travel, so have the freedom, flexibility, and enthusiasm to tailor your trip exactly how you want it to be. They work directly with trusted tour operators in each country to offer you the largest range of choices in each destination.
Recipes for tailor-made journeys to suit your style and budget
This brochure takes a new and different approach to make planning your holiday easier and more enjoyable. See it as a cookbook and choose the recipe (or recipes) that excite you. Forward Travel will then work with you to season them, creating a trip to delight your 'travel buds'. Forward Travel has handpicked the finest ingredients and created wonderful recipes to bring out their flavour, just waiting for the main ingredient to perfect them – you!
There are itineraries to suit all appetites, from quick bites, through to multi-country banquets. You may be looking for a quick snack or you might have time to linger longer and enjoy dessert as well. Perhaps you are looking for a feast befitting a special occasion? Whatever your taste and time frame, Forward Travel's planners, or 'chefs', will work with you to ensure your flavours are right and your journey is one to be savoured.
Use these recipes to get some ideas, or simply let Forward Travel's chefs know where you are thinking of going and they will create your own personalised itinerary based on your travel style, length of stay, and budget.
The Forward style of travel
Travelling is not just about what you see but how you experience it. Forward Travel wants your memories to be of great guides, fantastic meals, comical "Spanglish" conversations, and how you felt being immersed in your location, rather than merely ticking off the sights you'd already seen before you left home.
Hotels are personally selected to deliver the best value. Your preferences will be considered to suggest hotels appropriate to the location and the amount of time you have available. Trips are often planned using good, tourist class hotels to save you money for a luxury mini holiday at the end of your trip. Hotels used in this collection are mainly 3.5-4 star, usually smaller hotels and offer some local character. Forward Travel looks for excellent locations, security and comfort, spacious public areas, large rooms, luggage space, good breakfasts and free wi-fi wherever possible.
English speaking guides will meet you in each location to escort you to your hotel. Guided sightseeing will introduce you to famous and fabulous places, and allow time to explore on your own. Expert local guides give great insight to hidden jewels and restaurants that the guide books don't know about. When it is time to move on, you will be collected from your hotel and taken to the next exciting destination. Some of the guided sightseeing is with other people, and some is private. Local buses are used for long distance travel, always with someone there to put you on the right bus, and someone to meet you at your destination. This gives you the maximum time to enjoy the journey without having to worry about the boring bits.
Forward Pricing
Most people travel with a partner or friend, so all prices are per person, based on two people travelling together and sharing accommodation with each other. If you are looking for some time out, a trip can be planned specially for you. Most trips are independent so can be tailored as you wish. Forward Travel welcomes larger groups as well and can often secure group discounts.
All prices include:
Arrival and departure transfers with English speaking driver/guides in each location.
All transportation, commencing with your arrival transfer on day one, through to departure transfer on the final day. Flights have been based on the LAN Airpass (see page 6), and may increase due to eligibility and availability.
Good quality, well located accommodation, with private facilities and breakfast daily. Other meals are listed in each itinerary.
Sightseeing tours, usually shared with other travellers, (to keep price down for you), led by English speaking guides. In some places, like Machu Picchu, your tour will be just for you.
Entrance fees that can be paid in advance (some National Parks require payment upon arrival, so cannot be included in the tour price).
24 hour assistance by our trusted partners in each country.
This brochure covers the regions and holiday types listed below. Click on the links to see more free travel brochures covering the regions and holiday types you are interested in.