River Cruises: Europe, Asia, South America View Basket
To order this holiday brochure for FREE delivery to your home or computer, click the GET THIS FREE button.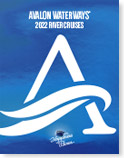 This brochure is no longer available on this website.
River Cruising from a unique point of view – yours
Solo Traveller and EarlyBird Offers
Gently rambling, eagerly flowing, wildly rushing… Europe's legendary waterways have distinct personalities and long, fascinating histories. Whether you choose the enchanting Danube, the romantic Rhine, or one of the many other rivers, your perspective on this magnificent continent will be forever changed.
Part of the Globus family of brands, Avalon Waterways is backed by more than 88 years of experience in planning itineraries and guiding holidays around the world. As experts in travel, Avalon Waterways creates truly unique, award-winning river cruise holidays on one of Europe's youngest fleets.
Staterooms that enhance your experience
How you cruise is just as important as where. Avalon's revolutionary Panorama Suites are 30% larger than the industry standard and feature huge wall-to-wall, floor-to-ceiling windows. They're staterooms that open to create an Open-Air Balcony.
"What impressed me most was the thought and innovation Avalon has put in to its suite ships. They have been designed with their travellers in mind – spacious and stylish, sleek and contemporary, friendly and relaxed. They've thought of the important things like turning the bed to face the view, while also remembering the little things like making sure there's good coffee on standby in the morning. This is really the only way to travel." – Deborah Hutton, Avalon Ambassador
Your voyage, your way
Avalon Choice lets you personalise your cruise daily at no extra cost. You decide what and where to eat on board, how you want to be entertained, the things you want to do on board, and even the style and pace of your included shore excursions (where available).
Authentic experiences
On board, Avalon's Local Favorites give you an enriching glimpse into your destination's culture and traditions. Enjoy a wide range of activities, like food and wine tastings, demonstrations by local artisans, talks by experts about the areas through which you're traveling, and lively performances by local entertainers.
The right inclusions
Your cruise experience is designed to include all the right things, but still leaves room for your own preferences. That's why every Avalon cruise includes shore excursions with Local Guides; beer, and wine, with all onboard dinners; free Wi-Fi; a choice of dining options and venues; onboard enrichment activities; and outside staterooms to take it all in. Then, Avalon gives you choices to help you spend your time and money your way. It's the difference between expensive all-inclusive options and just the right inclusiveness. With more expertly-led discovery options than any other cruise line, Avalon makes it possible for you to explore each port according to what intrigues you most.
Worldwide Collection
This Worldwide Collection features a superb range of European cruises on the Rhine, Moselle, Main, Danube, Seine, Saône and Rhône rivers and worldwide cruises including the Nile, Yangtze, Mekong, Amazon and Galápagos Islands.
Whether it be river cruising in Europe, Southeast Asia, China, the Galapagos Islands, or the Peruvian Amazon, at Avalon Waterways your choices are many and are as individual as you.
EUROPE

Rivers of France

Waterways of Holland & Belgium

Rhine, Moselle & Main

Upper Danube

Lower Danube
Rivers of France

Multi-River Cruises

Festive Season River Cruises

ASIA

Vietnam, Cambodia & the Mekong River

The Heart of Cambodia & Vietnam
India & the Ganges River

SOUTH AMERICA

Peruvian Amazon

Ecuador & its Galápagos Islands
Discover the Galápagos & Peru
This brochure covers the regions and holiday types listed below. Click on the links to see more free travel brochures covering the regions and holiday types you are interested in.