Kimberley Coast Expedition Cruises View Basket
To order this holiday brochure for FREE delivery to your home or computer, click the GET THIS FREE button.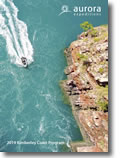 This brochure is no longer available on this website.
Kimberley Coast, Arnhem Land & Cape York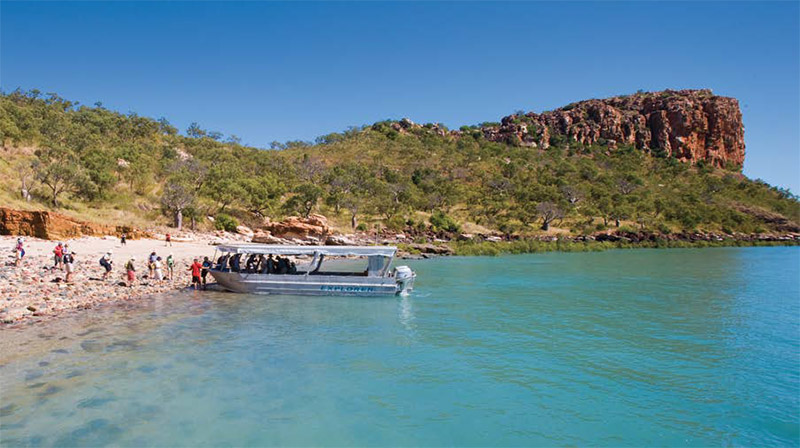 Since 1998, Aurora Expeditions has delved deep into Australia's ancient Kimberley Coast, teasing out its hidden treasures and spectacular natural wonders. Enjoy the camaraderie and raw beauty that comes from exploring the planet's oldest and wildest frontiers. Each day depart from the 'Mother Ship' in a specially-designed excursion craft to discover natural wonders like Montgomery Reef (sharks, turtles, rays), adrenaline-inducing Horizontal Waterfalls and ancient rock paintings. Add in an artist's workshop and an optional heli-flight to Mitchell Falls for the perfect adventure.
These Darwin-Broome voyages reveal the best of natural history and culture of Australia's tropical north. Aurora's guides have first-hand experience in the regions you visit, and are as keen as anyone to discover new places along the way. Coral Expeditions I, Aurora's expedition ship, is the perfect launch pad to set off from and oh, so comfortable to return to. Join Aurora Expeditions on an unforgettable adventure to places that few are fortunate to visit. These Kimberley itineraries, like all others, are an indication of the destinations and activities on offer. Throughout Aurora's expeditions, changes maye be made in response to weather, tides – anything affecting the vessel operation – to make the most of each day.
Your ship
Coral Expeditions I is the perfect vessel to explore the remote waters of Australia's north. At just 35 metres long, the 42-passenger custom-fit catamaran features all the creature comforts you require for cruising along the Kimberley coastline. We make landings using Zodiacs and the purpose-built landing craft, Explorer, designed to navigate the Kimberley's shallow, narrow tidal waters.
Kimberley Adventure Activities
Sandstone escarpments twisted like toffee and fired by sunrise; turquoise waters glow through mangroves; boab trees punctuate the woodlands. The Kimberley coast inspires like nowhere else. Ignite your muse in our complimentary artist workshop, take an extended hike back to Kunmunya or enjoy a wedge-tailed eagle's perspective of the landscape on an exciting heli-flight to Mitchell Falls.
Expedition Experiences
Enjoy special excursions to admire graceful Gwion Gwion figures and informative Wandjina paintings
Exclusive hike to Kunmunya with Mike Cusack of Australian Geographic's renowned wilderness couple
Spotlight for saltwater crocodiles and massive manta rays in Prince Regent Nature Reserve
Meander white-sand beaches, trek through untrodden bush and climb to hidden waterholes for a sneaky dip
From boobies to frigates, flycatchers to fantails, delight in the variety and beauty of birds you'll see
Zodiac cruise into the spray of King George Falls, Western Australia's highest waterfall.

Kimberley Coast - 11 days

Broome to Darwin

Darwin to Broome
Why travel with Aurora Expeditions?
Small groups are best
At sea, Aurora Expeditions' high-latitude, expedition ship is small enough to go where others can't, often resulting in more landings. On land, Aurora's group size is limited to 16. Fewer people means a more personalised experience and a lasting camaraderie.
Consistently Aurora Expeditions.
Rather than book you onto another company's trip, Aurora Expeditions operate only its own expeditions, either on vessels that it charters, or working closely with local experts who share its ethos and style.
Aurora Expeditions' staff put you first
Your security, wellbeing and understanding of the places you visit are Aurora Expeditions' staff's priorities. Aurora's staff have a passion for sharing their knowledge and making everyone feel as if they are on the same team.
Enrichment through understanding
The more Aurora Expeditions' remote area specialists share their knowledge about the history and natural environments you encounter, the more rewarding the experience.
Environmental sensitivity
Aurora Expeditions' helped develop international environmental guidelines for the polar regions you visit, and consciously limits the number of people it takes to its destinations.
Flexibility and freedom
Aurora Expeditions stops for breaching whales! Enjoy your destinations in your own way, within the bounds of safety. Hike up a snow slope, take your time photographing wildlife, inspect historical huts or simply sit and admire the view.
Aurora Expeditions' spirit of adventure!
Photograph wind-plumes on Mt Everest, share the trail with gauchos, yak-herders or rarely-visited rainforest hunters. Scuba dive or snorkel with leopard seals, sea kayak with whales or enjoy a feast of tundra berries. Ponder ancient rock paintings or lift your spirits in a Buddhist monastery. No matter where in the world, Aurora Expeditions encourages a true sense of exploration.
Aurora Expeditions has fun
Aurora Expeditions loves what it does and believes that everyone involved, from expeditioners to staff, ship's crews to trekking teams, shares the same goal – the best expedition imaginable!
Many inclusions
Whether it's a stylish jacket and photo journal memento to keep, or gumboots to wear on our polar voyages; flights for our fly/sail Antarctic program; linking flights in Iceland, Alaska, Ecuador, Nepal and Africa or Everest heliflights, our inclusions are what most others would consider extras.
Environmental Stewardship
From Aurora's very first Antarctic voyage in 1992, it has been committed to environmentally responsible tourism practices. Founding Australian members of the International Association of Antarctic Tour Operators (IAATO) and the Association of Arctic Expedition Cruise Operators (AECO), Aurora supports research, donates funds, and allocates resources to ensure it leaves places it visits as it found them – or better. As you travel with Aurora,it hopes you develop a deeper understanding of the natural forces shaping our world. By creating lifelong environmental ambassadors, Aurora aims to preserve the wild places for future generations.
If you're a solo traveller, welcome on board!
Aurora Expeditions welcomes many solo travellers on its trips, and their numbers are increasing each year. Maybe it's simply the nature of the expeditions, but Aurora understands what a big step it is for many to set off on their own. To address this, Aurora has developed its informal 'cabin-mate finding service' that matches solo travellers with a cabin mate of the same gender. And it has had great success so far! Aurora Expeditions' small groups and relaxed atmosphere make it easy to make new friends (and remember everyone's name!), and the inspiring destinations are a great conversation starter. Plus, by sharing a cabin you'll also avoid paying any extra 'single supplements'. You might arrive alone, but Aurora can guarantee that you'll go home with lifelong friends.
This brochure covers the regions and holiday types listed below. Click on the links to see more free travel brochures covering the regions and holiday types you are interested in.