Scandinavia Tailor-Made Collection View Basket
To order this holiday brochure for FREE delivery to your home or computer, click the GET THIS FREE button.
Your Choice of Tailor-Made Independent Holidays
Norway | Sweden | Denmark | Finland | Iceland | Greenland
Scandinavia's natural wonders will astound even the most seasoned traveller with incredibly steep fjords of extraordinary beauty, cascading waterfalls down tall mountains and grand glaciers that never melt. The glaciers, mountains, and waterfalls are all about raw, sublime power. On the other hand, natural wonders such as the midnight sun, the fjords, and quiet national parks highlight Scandinavia's serene qualities.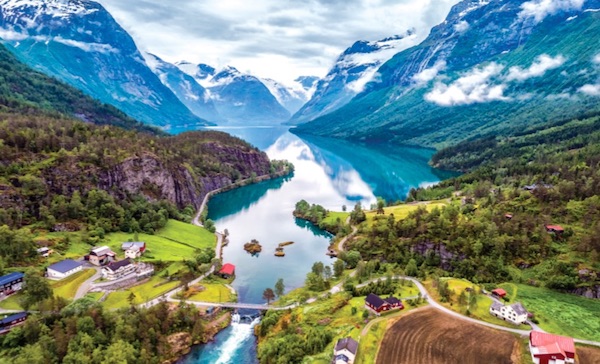 A winter's pilgrimage in search of the Aurora Borealis is a perennial bucket-list topper. It is a truly magical experience with dark skies overhead bursting into grand, ethereal colours. Sightings are never guaranteed, so it pays to heed the advice of the destination experts.
What makes Adventure World extraordinary?
For over 40 years, Adventure World has been crafting holidays for Australians to spectacular and exciting lands. Adventure World is perfect for the traveller who likes to experience unique destinations in comfort and discerning style with an emphasis on exploring local cultures.
Experiences made for you
Adventure World understands that everyone is unique, and your travel experiences should be no different. How you discover the must-sees of a country, and explore and interpret the lesser-known hidden gems is entirely up to you. Adventure World is here to help you to create YOUR adventure of a lifetime.
Adventure World can tailor-make your trip, creating an itinerary perfectly suited to you. Adventure World's expert travel designers have all travelled extensively and so can help you to build your own journey and embrace your own travel style.
Browse through Adventure World's extensive range of recommended journeys in this brochure and choose from one of the scheduled trips or contact your travel agent to build one of the tailor-made itineraries with Adventure World's travel experts, find the elements that you love and mix and match them.
Upgrade your accommodation, change a tour or extend a trip. It's up to you. Create your own itinerary using our recommendations and Adventure World can help you build the perfect journey.
So think about where you want to go and where you want to stay, what sightseeing tours suit you, where you want to eat, and if you want to join up with other like-minded travellers. It's that easy. Let Adventure World help you to create an experience that will suit your price range and travel style. By doing so, you'll create memories for a lifetime.
Be inspired
Do your research, read this brochure and create your wish list.
Get planning
Talk to your local travel agent to start planning your journey.
Book your trip
Your travel agent will contact Adventure World to book your adventure and you'll soon be on your way.
Share your journey
While travelling or when you return, share your travel adventures and hashtag your posts.
In This Brochure

Scandinavia

Multi-Country Trips

Norway

Norway Trips

Norway Coastal Cruises

Norway Expedition Cruises

Norway Accommodation

Finland

Finland Trips

Finland Accommodation

 

Denmark & Sweden

Denmark Trips

Sweden Trips

Accommodation

Iceland & Greenland

Iceland Trips

Iceland Accommodation

Iceland & Greenland Expedition Cruises
This brochure covers the regions and holiday types listed below. Click on the links to see more free travel brochures covering the regions and holiday types you are interested in.