To order this holiday brochure for FREE delivery to your home or computer, click the GET THIS FREE button.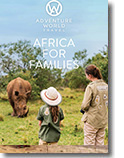 This brochure is no longer available on this website.
Family-friendly Safaris
Africa captures the imagination of all who travel there. The diverse landscapes, abundant wildlife and unique cultures are perfect for those seeking a family trip that is exciting, educational and awe-inspiring. Whether you're marvelling at a family of elephants flapping their ears, watching a lion shake his mane, counting the stripes on a Zebra or trying to guess the length of a giraffe's neck, this continent is full of memorable moments for you and your family to treasure.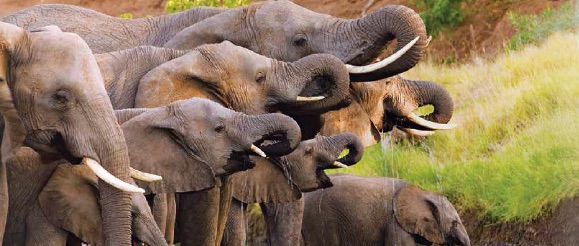 IS THERE A MINIMUM AGE REQUIREMENT?
Every camp and lodge has different facilities and age requirements. Fortunately, our experts can recommend which properties are best for a family friendly experience. As a general guideline, the lodges and camps in this catalogue generally accept children from age 6-8+.
WHAT IS A TYPICAL DAY ON SAFARI?
Normally your day starts with an early morning game drive, before returning to your camp or lodge for breakfast. You'll then have time to relax at camp, take in some of the amenities, such as the spa or a nature walk. After lunch, head out for an afternoon game drive. Sunset means it's time for sundowners, a popular tradition of drinks and snacks in the wilderness. Return to camp for a late dinner and spend the evening star gazing or enjoying the facilities.
ARE THERE KIDS PROGRAMMES?
Many camps and lodges offer interactive kids programmes that are both fun and educational. From trackers teaching kids about different animal footprints and behaviours, to learning about local crafts, they're bound to end each day with new discoveries.
WHAT SHOULD WE PACK?
With most charter flights in Africa requiring a soft bag under 15kgs, it's tricky to know what to pack! Most camps and lodges offer laundry services, so you don't need to pack as many outfits as you'd normally do. We always recommend packing both cool and warm clothes (layers are a great idea!) as while the days are warm, mornings and evenings can be cool. Ask our team for more information about what you should pack.
ARE FAMILY ROOMS AVAILABLE?
Some camps and lodges offer comfortable family rooms - some even with separate bedrooms and shared living spaces. Other lodges may allow an extra bed to be added to a room. Enquire with our team for recommendations that will suit your family.
ARE THERE CHILD DISCOUNTS?
Child discounts vary from property to property - as do the ages at which discounts may be applicable. Generally, if children are staying in the same room, cabin or tent as you, then the children will be at a discounted rate.
Adventure World will build your dream journey
For over 40 years, Adventure World has been crafting holidays for Australians to spectacular and exciting lands. Adventure World is perfect for the traveller who likes to experience unique destinations in comfort and discerning style with an emphasis on exploring local cultures.
Experiences made for you
Adventure World understands that everyone is unique, and your travel experiences should be no different. How you discover the must-sees of a country, and explore and interpret the lesser-known hidden gems is entirely up to you. Adventure World is here to help you to create YOUR adventure of a lifetime.
Adventure World can tailor-make your trip, creating an itinerary perfectly suited to you. Adventure World's expert travel designers have all travelled extensively and so can help you to build your own journey and embrace your own travel style.
Browse through Adventure World's extensive range of recommended journeys in this brochure and choose from one of the scheduled trips or contact your travel agent to build one of the tailor-made itineraries with Adventure World's travel experts, find the elements that you love and mix and match them.
Upgrade your accommodation, change a tour or extend a trip. It's up to you. Create your own itinerary using our recommendations and Adventure World can help you build the perfect journey.
So think about where you want to go and where you want to stay, what sightseeing tours suit you, where you want to eat, and if you want to join up with other like-minded travellers. It's that easy. Let Adventure World help you to create an experience that will suit your price range and travel style. By doing so, you'll create memories for a lifetime.
Be inspired
Do your research, read this brochure and create your wish list.
Get planning
Talk to your local travel agent to start planning your journey.
Book your trip
Your travel agent will contact Adventure World to book your adventure and you'll soon be on your way.
Share your journey
While travelling or when you return, share your travel adventures and hashtag your posts.
This brochure covers the regions and holiday types listed below. Click on the links to see more free travel brochures covering the regions and holiday types you are interested in.