Borneo, Malaysia & Singapore – Tours & Independent Itineraries View Basket
To order this holiday brochure for FREE delivery to your home or computer, click the GET THIS FREE button.
Creating journeys of a lifetime
Singapore | Borneo | Sabah | Sarawak | Sandakan | Kota Kinabalu | Kuching | Kuala Lumpur | Penang | Langkawi | Malaysia | Brunei | Kalimantan | Singapore | Sentosa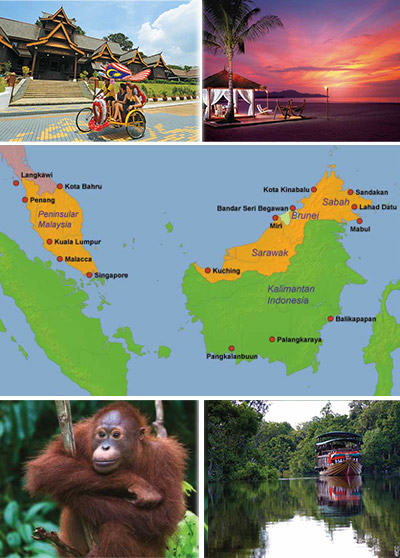 Since 1997, Adventure Destinations has been sending travellers to Borneo and Malaysia to explore its vast attractions. Itineraries have been hand-selected to give you the best holiday experience at affordable prices. With an experienced team having travelled extensively to Borneo and Malaysia, Adventure Destinations is able to offer you the best travel advice for your holiday.
Adventure Destinations offers independent and escorted tours or can tailor a holiday especially for you, catering for your specific needs, style and budget. Enquire about special interest group tours or put a group together yourself and experience these exceptional countries.
Borneo and Malaysia entice the traveller seeking an exciting and different holiday. Regardless of whether your desire is a holiday relaxing at one of the fabulous beach resorts, a complete adventure safari including climbing Mt Kinabalu, visiting some of the indigenous tribes staying in Longhouses, or a complete tailor-made itinerary to your specific requirements, Borneo and Malaysia promise rewarding and memorable holiday experiences.
Borneo, Singapore & Malaysia
The Malaysian states of Sabah and Sarawak, the small Sultanate of Brunei and Indonesian Kalimantan, really satisfies the travellers spirit. A land covered with mountains and jungles bursting with colourful flora, fauna,
untamed beauty and magnificent beaches. Borneo is a land of diversity with ancient traditions and customs; a potpourri of cultures - Malay, Chinese, Indonesians, Eurasians and Dayaks (the generic name used to define
the multitude of different tribes). Borneo is home to a variety of wildlife, in particular, the orang utans, proboscis monkeys, macaques, rare hornbills, green turtles, elephants and rhinoceros. For the birding enthusiast, some 600 species of birds inhabit the coastal lowland, high mountain areas and cave systems.
Malaysia offers swaying palms, clear blue skies and sandy beaches enticing the traveller to seek an experience "away from it all".
Kuala Lumpur, the capital, is a modern city but has never lost sight of its traditional Moorish heritage. Penang, "the Pearl of the Orient", has always captured the imagination of travellers with its colonial past, gardens, hills and varieties of cuisine. Visit ancient Malacca, founded in the 15th Century, and journey to the colonial hill station areas of Fraser Hill and the Cameron Highlands, 5000ft above sea level. For those looking for something adventurous, a trip to Taman Negara National Park boasts a myriad of wildlife and a great variety of birdlife.
Why choose Adventure Destinations?
Adventure Destinations is an independent, Australian owned travel wholesaler that believes it shouldn't cost the earth to see the world. For over a decade, Adventure Destinations has searched out the very best value for money travel experiences on the planet, designing a constantly expanding range of products to suit every style and budget.
Adventure Destinations' expert staff have over 70 years combined experience in international travel, and make frequent trips back to its specialised areas to stay on top of the latest trends, properties and attractions.
Wherever you want to go, whether you want to relax on a beach, see the sights or challenge your limits, Adventure Destinations has the expertise to turn any holiday into the trip of a lifetime. Adventure Destinations' travel specialist's are passionate about creating exciting journeys to some of the world's most amazing places, including Canada, Alaska, USA, Africa, Borneo, Malaysia, Turkey and South America.
Adventure Destinations prides itself on unwavering attention to detail, ensuring that your holiday is a wonderful and rewarding experience you'll never forget.
So plan your next holiday with Adventure Destinations. It won't just be a holiday – it will be an experience to remember.
This brochure covers the regions and holiday types listed below. Click on the links to see more free travel brochures covering the regions and holiday types you are interested in.