Papua New Guinea |
Free Travel Brochures
View Basket

The following free holiday travel brochures feature Papua New Guinea holidays, tours and packages – click the GET THIS FREE button to order your Papua New Guinea holiday brochures.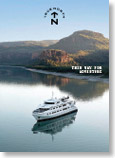 Join True North Adventure Cruises on an adventure cruise around the Australian coastline and in the stunning waters of Indonesia and PNG. All cruises are activity-based and designed for the most discerning adventurer. Guests consistently remark "that's the best holiday I have ever had". The magnificent True North features the ultimate in style, modern cuisine and a young Australian crew. Expedition boats take passengers away in small groups and most cruise options feature an onboard helicopter!
> MORE...
---
---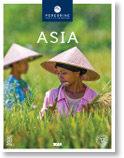 Discover the exotic allure of Asia, an incredible continent that will change the way you see the world. For almost 40 years, Peregrine has led the field in small group adventure travel, with innovative itineraries that explore iconic and off-the-beaten-track highlights through South East Asia, Myanmar, China, Japan, Taiwan, Central Asia, India, Sri Lanka, Nepal, Tibet & Bhutan. Includes Tailor-Made Travel, Independent Journeys and private departures of small group tours.
> MORE...
---
---