In Search of the Vikings – Escorted Cruise View Basket
To order this holiday brochure for FREE delivery to your home or computer, click the GET THIS FREE button.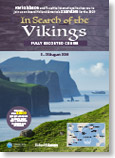 This brochure is no longer available on this website.
Fully escorted cruise
Netherlands - Ireland - Faroe Islands - Iceland - Prince Christian Sound - Greenland - Canada - USA | 3-25 August 2020 | 21 Days
Includes over $2000 per person value in sightseeing tours, entrances, transfers and gratuities.
This fully escorted tour takes you on an exciting journey that follows the path of the Scandinavian sea-warriors known as the Vikings. Hosted by the extremely knowledgeable and passionate Kari Gisalson, you will be engaged by his enthusiasm for Icelandic history, writing, and love for travel. You will be enjoying your travels aboard the grandly proportioned and recently enhanced surroundings of Holland-America's MS Zaandam.
You host – Kari Gíslason
Kári Gíslason is a writer and an academic with a passion for the Viking Age sagas of Scandinavia. He was born in Iceland, and has spent much time there researching the sagas and Icelandic history. Kári was awarded a doctorate in 2003 for his thesis on medieval Icelandic literature. He is the author of the highly-acclaimed memoir The Promise of Iceland and a novel The Ash Burner, and co-author with Richard Fidler of Saga Land, the best-selling travel book about Iceland and the sagas that he also copresented as an ABC radio series. He writes memoir, travel writing and fiction, as well as essays and reviews about creative writing and literature. He is presently Associate Professor of Creative Writing at Queensland University of Technology.
Cruise in luxury on board Zaandam
Designed to carry fewer guests while offering greater space, Zaandam is elegant and comfortable. Her décor is inspired by music and features musical instruments including signed guitars from Queen, Iggy Pop, Eric Clapton and the Rolling Stones and a Baroque-style pipe organ. While onboard, enjoy cooking shows and hands-on workshops with America's Test Kitchen. Rejuvenate at the Greenhouse Spa & Salon. Of course an important aspect on any cruise is enjoying delicious culinary experiences and the Zaandam is no exception. Explore a wide range of delicious on-board dining options – everything from a burger and fries by the Lido pool to the Pan-Asian flavours of Tamarind to the ultimate in refined and luxurious dining at Pinnacle Grill. With their global traditions and diverse culinary interests, the Chefs are always adding inspired new signature dishes to the menus.
Don't worry about coming alone
About a third of people on the cruise travel alone. Travelrite can match people in twin-share cabins when available, saving you the single supplement. You
won't be left alone; the Travelrite tour manager will be looking after you. There will be group activities almost every day.
The advantages of the In Search of the Vikings cruise
The cruise is fully escorted and will be a great, fun holiday with plenty of activities. Each evening you will dine with the group at a reserved
table. You will meet a fun group of people and have a fabulous time.
Included in the Search of the Northern Lights Cruise
Economy-class air travel from Melbourne/Sydney/Brisbane to Europe and from Boston back to Australia
Travel on Holland America Zaandam in the selected cabin category
All meals, entertainment and service charges on Holland America Zaandam
Tour leadership by Kari Gislason
Private group activities on board
One night's accommodation and breakfast in Boston
Sightseeing tours as listed in the itinerary
Cruise management by Travelrite International
Port and handling charges on Holland America Zaandam
Cruise taxes
Air taxes as of 1 June 2019
Onboard gratuities
Why Travelrite?
Travelrite International has over 30 years' experience organising unique special interest tours to many wonderful and exotic locations worldwide. A family business that values integrity, quality and providing customers with fantastic value, in 2013 Travelrite won the 'Best Cruise Promotion' for its Film Festival at Sea tour with David Stratton and in 2015 it won the 'Cruise agency of the year' bronze award. Its staff have all travelled extensively and can provide expert advice on any of your travel needs. Travelrite has two retail offices in the eastern suburbs of Melbourne, Victoria.
This brochure covers the regions and holiday types listed below. Click on the links to see more free travel brochures covering the regions and holiday types you are interested in.