The Fabled Silk Road – Luxury Rail Journey View Basket
To order this holiday brochure for FREE delivery to your home or computer, click the GET THIS FREE button.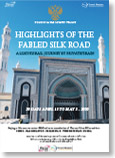 This brochure is no longer available on this website.
A Luxury Rail Journey By Private Train
Beijing to Moscow, via ancient Silk Road oasis communities of Western China & Central Asia | China - Kazakhastan - Uzbekistan - Turkmenistan - Russia | 20 Days | 13 April to 3 May 2020
Beijing - Xian - Dunhuang - Turpan - Almaty - Tashkent - Samarkand - Bukhara – Merv - Ashgabat - Darvaza Gas Crater - Khiva - Volgograd - Moscow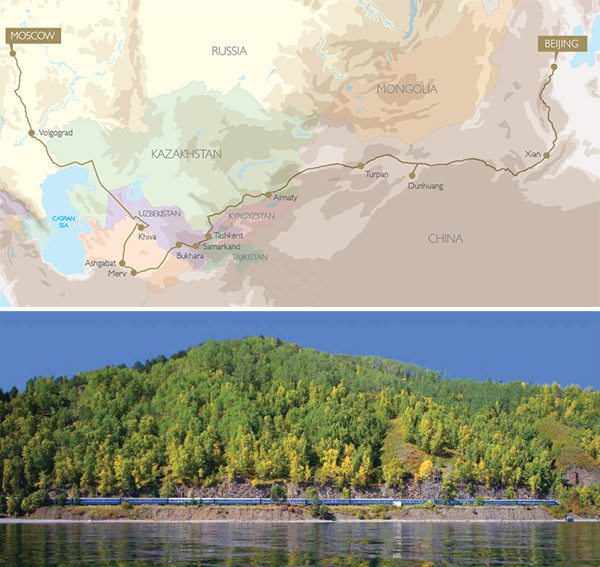 Embark on the Adventure of a Lifetime with Golden Eagle Rail and Travel Masters, retracing one of the most important trading routes of ancient civilisation.
The Silk Road follows in the footsteps of such legendary figures as Alexander the Great and Marco Polo. For centuries, merchants and adventurers journeyed on ancient routes through some of the most testing landscapes in the world trading silk, spices and perfumes. These 'highways' – stretching some 6,400 km – collectively came to be called the 'Silk Road'.
Crossing though China and some of the most remote former Soviet Republics en-route to Moscow, this epic journey is on board both the Shangri-La Express in China and Golden Eagle through Kazakhstan, Uzbekistan and Turkmenistan. An ever-changing landscape will take in some of the most magnificent yet little visited sites and oasis communities from the ancient world. This luxury rail tour provides the opportunity to travel in comfort and safety. A true feeling of adventure and pioneering awaits on this unique tour by private train.
Rail-cruising is a fantastic way to absorb the rich culture and cinematic landscape of the country. The journey is carefully designed to balance generous amounts of relaxation, while voyaging across vast landscapes with sightseeing that opens a window into the soul and spirit of the places and communities you visit.
On offer is first-class customer service, a romantic exploration of the world's most remarkable sites and a room with a view that constantly changes. Aboard this hotel-on-wheels you can expect welcoming cabins, fine dining and elegant surroundings.
Unique Itineraries
This rail cruise itinerary is planned and operated exclusively by Golden Eagle with great attention to the little things that really matter so that you can experience this Voyage of a Lifetime in a relaxed and informal way. The itinerary is designed to turn dreams of a lifetime into priceless memories, and take in some of the most culturally diverse destinations the world has to offer.
Freedom Of Choice Touring
Customise your journey and enjoy the opportunity to select from an array of Freedom of Choice touring options that best suit your interests. Your off-train excursions will still take in all the major attractions of the places you are visiting but, in featured locations, you will be presented with a variety of activities from which to choose, and enjoy a tailor-made experience. In short, it means that your holiday is just that, your very own, and it's all included in the tour price, with no more for you to pay. It is the ultimate in flexibility.
Your hotel-on-wheels
Settle into your well-appointed and comfortable cabin as you enjoy this voyage of a lifetime. Your cabin attendant will be on hand to look after all of your needs. The Golden Eagle is comprised of Imperial, Golden & Silver Class sleeper carriages, one or two Restaurant Cars and a Bar Lounge Car. As far as possible tours are all-inclusive with no hidden extras.
Experienced Tour Escorts/Hosts
Beth & Bob Malcolm have been organising and escorting Travel Masters/ Travel Studio tour groups to all corners of the planet for almost 30 years. Their destination knowledge and experience will be invaluable on this Silk Road Adventure. Beth & Bob have previously escorted many different groups to every destination on this rail journey, hosted rail journeys with several of the world's biggest rail operators (including Golden Eagle), and have been identities in the travel industry for some 35 years. You can be assured of personal and professional care and attention throughout this amazing rail adventure, with lots of memorable occasions along the way.
Why Travel Masters
With over 21 Years' Experience, Travel Masters boasts an award-winning team of highly qualified international consultants trained to assist you in all your travel needs.
Having travelled most continents of the world and experienced a number of the most diverse cultural backgrounds known to mankind, they offer clients a personalised approach to booking holidays, with extensive personal knowledge and understanding.
Managing directors Beth and Bob Malcolm are champions of the travel industry, with collectively more than 25 years' experience. Beth is well recognised in the travel and tourism sector as the past National Vice-President of the Australian Institute of Travel and Tourism, and as the two-time winner of the Australian Travel Management Award.
Bob and Beth personally escort small groups to unique and culturally diverse destinations throughout the world, ensuring that each person on the tour has the experience of a lifetime. Whether it's travelling to tourism meccas or exotic islands, you will be guaranteed a well organised, well paced and memorable holiday.
Awards
Best Regional Travel Agency in Australia
Australian Travel Centre of the Year
State and National Awards for Excellence
This brochure covers the regions and holiday types listed below. Click on the links to see more free travel brochures covering the regions and holiday types you are interested in.