Hidden Italy Walking Tours View Basket
To order this holiday brochure for FREE delivery to your home or computer, click the GET THIS FREE button.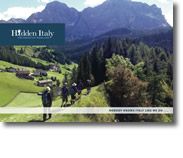 This brochure is no longer available on this website.
Nobody knows Italy like Hidden Italy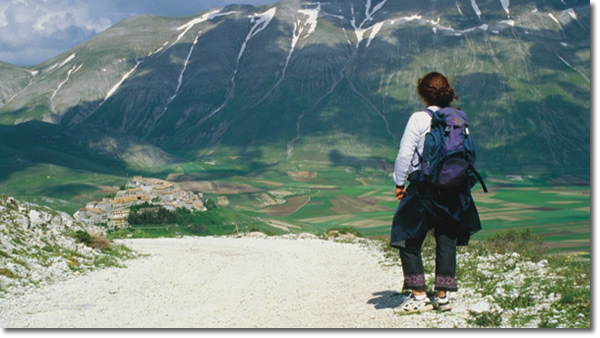 Hidden Italy has been organising walking tours in Italy since 1993 and was one of the pioneers of small group active tourism. Its first guided tour was based in Montalcino in southern Tuscany. Since then, Hidden Italy has taken people to many different parts of Italy, from the Lakes in the north to Sicily in the south and lots of places in between, including Liguria, Tuscany, Piedmont, Lazio, Umbria, Dolomites, Sardinia, Friuli and the Amal coast.
The idea for Hidden Italy came during the six years that Director, Simon Tancred, spent living and working in Milan in the 1980s, when, to escape the bustle and smog of that wonderful city, he went walking in the surrounding mountains, along the rivers on the Po plain or along the coastal paths of nearby Cinque Terre.
For Simon, there are still few greater pleasures than entering the walls of an ancient Italian town after a good day's walk, with the prospect of a fine meal and a warm bed in front of him. The original idea for Hidden Italy was to share this experience.
Hidden Italy has grown but its philosophy remains the same: to provide you with an enjoyable, hassle free holiday that will give you a genuine insight into this fascinating country.
Hidden Italy is based in Sydney, Australia, and its operational manager is based in its Italian office in Florence, Tuscany.
Some Of The Things That Make Hidden Italy Different
Hidden Italy has been organising and taking tours to Italy for twenty years. It is proudly family owned, managed and operated. Every aspect of the tours is personally selected, monitored and reviewed. Hidden Italy doesn't outsource or use third party services!
Hidden Italy specialises in walking tours in Italy. Hidden Italy doesn't try to be all things to all people but stick with what it knows best - Italy.
Hidden Italy guided tours visit places that are off the beaten track, and visits them in times of the year that are ideal for walking: southern Italy in spring and northern Italy in autumn
The pace of the guided tours is relaxed (it is a holiday after all!) and gives you plenty of time to unpack and soak up the atmosphere of the places we visit.
Hidden Italy's guided tours go to places that are well off the regular tourist trails and focus on a single region which has its own integral history and cultural traditions.
Hidden Italy's guided tours travel in small groups (from seven to a maximum of fifteen guests) which means that you can move discretely.
Hidden Italy's self-guided tours are continuous walks taking you from A to B - there are no shuttles or buses! Just pull on your boots each morning and set out - Hidden Italy will look after the rest.
Hidden Italy's self-guided walks are safe: there is always a farmhouse in sight; each walk is GPS way-marked and you have 24 hour local telephone back-up.
Hidden Italy's self-guided walks use the best available accommodation, a guarantee (no hostels or dodgy B&Bs out the back!)
As the self-guided walks are often in out-of-the-way places, Hidden Italy includes private transfers at the beginning and end of each itinerary to the nearest major train station. The tours are supported by local drivers who move your bags each day, who are also available should you wish to shorten or miss a walk.
Inside this brochure
Guided Tours

Sicily In Spring
Sicily In Autumn
Puglia
Sardinia
Venice And The Lakes
Verona & The Dolomites
Trieste And Friuli
Piedmont Trails To Freedom
Gardens Of Tuscany

Self-Guided Tours


Portofino and the Italian Riviera
Cinque Terre
Cinque Terre - The Slow Version
Tuscany 1 (Montalcino - Montepulciano)
Tuscany 2 (Mount Amiata)
Tuscany 3 (San Gimignano - Siena)
Tuscany 4 (Florence - Siena)
Tuscany/Umbria (Pitigliano – Orvieto)
Umbria (Assisi – Spoleto)
Amal Coast (Ravello – Positano)
Lake Como (Bellagio)
Sicily (Nicosia To Petralia)
Piedmont (Alba And Le Langhe)

Hidden Italy Plus

Provence (Avignon & the Dentelle Mountains
Spain (Granada and the Sierra Nevada)
Scotland (Scottish Borders)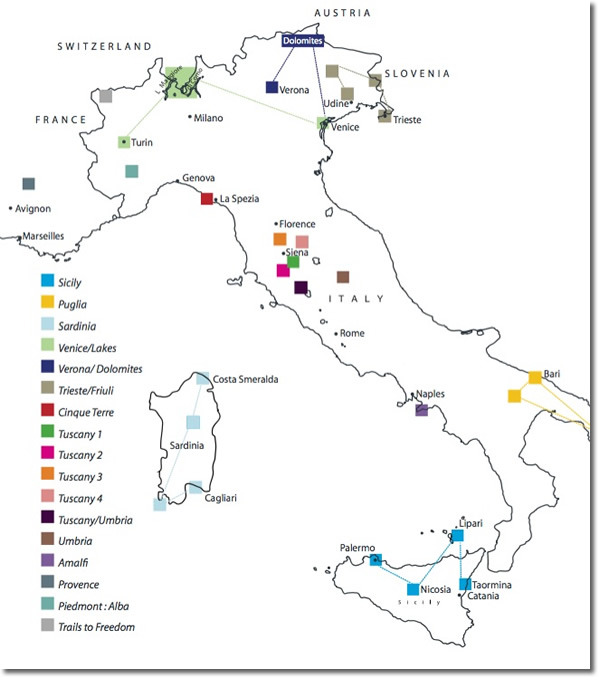 This brochure covers the regions and holiday types listed below. Click on the links to see more free travel brochures covering the regions and holiday types you are interested in.