To order this holiday brochure for FREE delivery to your home or computer, click the GET THIS FREE button.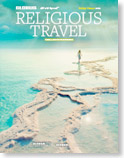 This brochure is no longer available on this website.
Why choose faith-based travel?
Italy | Portugal | Spain | France | Germany | Greece | Turkey | Israel | Jordan
Nothing helps you feel more connected to the world around you than traveling. Seeing the people and places that have sculpted what and who we are today is a life-changing experience that always leaves you feeling a part of something bigger than yourself. Faith-based travel is the perfect way to build fellowship by intimately exploring the roots and stories of your faith with fellow believers. The power of walking in the very footsteps of our treasured religious history, or standing in the very places where the stories of Scripture unfolded, is a moving experience that is magnified when you share it with others. Travel is the one thing you can buy that leaves you richer. Rich with memories of a time cherished, rich with the knowledge that you can make a difference in another person's life, rich with the belief that as humans, we can do so much to share the beauty of God's love.
Explore the roots of your faith with a Globus Religious Vacation, featuring some of the most spiritual places in the world. These inclusive tours are full of one-of-a-kind experiences and must-see sites to ensure you get the most out of your vacation.
On a Globus Religious Vacation, you'll explore the roots of your faith, walk in the footsteps of your spiritual leaders, and have your most cherished beliefs come to life. Globus' itineraries have been honed by more than eight decades of experience and a passion for religious travel. You'll return home inspired and ready to travel again!
Going with Globus is Divine
Globus has spent 88 years creating vacations that strike the perfect balance between included planned activities...and leisure time to explore on your own. Globus actually takes you inside the world's most awe-inspiring spiritual places, where your expert Tour Director and Local Guides reveal the little-known facts and historical tales that will bring your faith to life. This very special VIP access, including headsets in most destinations, means you'll have a richer overall experience and will spend less time waiting in lines, so you can enjoy the unique flavors and customs of each stop along the way.
Excusions inspired spiritually and locally
Follow the Way of the Cross in Jerusalem, and float with ease on the Dead Sea
Explore the Cave of the Apocalypse in Patmos, and visit the mountainous island of Mykonos with its dazzling white houses
Immerse yourself in the history of Wartburg Castle, and enjoy a romantic cruise along the Rhine River
Reflect in the Basilica of St. Francis in Assisi, and admire the mighty Colosseum in Rome
Walk a portion of the Camino Pilgrim's Way in Santiago de Compostela, and marvel at the masterpieces in the Prado Museum in Madrid
No Worries. No Hassles. No Kidding.
On a Globus tour, you get an easy, hassle-free, all-in-one vacation that gives you the freedom to let your hair down and just enjoy! Every Globus tour includes these elements to make your vacation complete:
Sightseeing & VIP Access
Your Globus tour always includes the major attractions. In fact, Globus offers you more included features and behind- the-scenes local experiences than any other Tour Operator—plus, you get special VIP access at the must-see sites. Globus actually takes you inside Europe's most awe-inspiring places - right to the head of the line and through the front door. Globus' itineraries clearly indicate inside visits and special features by putting them into UPPERCASE.
Tour Directors & Local Guides
With Globus, you travel in the company of genuine local experts - Tour Directors and Local Guides who are actually from the region through which you're traveling. All along the way, they share their vast knowledge of the areas and can point you in the right direction to help you get the most out of your free time.
Meals
Food and wine tastings, and traditional meals at local restaurants help you experience your destination's culture through its cuisine. On all Globus' included meals, whether at a local restaurant, or at your hotel, enjoy at least one complimentary glass of wine, beer, or soft drink, and coffee or tea.
Superior Hotels
Selected for their comfort, beauty, and proximity to key sites, these hotels feature twin-bedded rooms with private bath or shower (hotel and city taxes, service charges, and tips for baggage handling included).
Transportation
Private deluxe touring motorcoach with free Wi-Fi, air-conditioning, extra leg room, and emergency restroom; first-class seats on high-speed Continental trains and high-speed train rides on tours traveling between London and Paris (or Brussels). Globus can even coordinate your flights with your tour!
Headsets
Included headsets for sightseeing on the Continent give you the freedom to roam through some of Europe's most famous attractions without missing a moment of fascinating commentary.
Local Favourites
Globus helps you get out there and really experience Europe! Globus takes you behind the scenes to spotlight what makes this destination unique - and to introduce you to its local flavors.
Plus...
Discounts for groups, young travelers, triple rooms, early bookings, add-a-tour, and frequent travelers; helpful travel documents; and more!
Select The Perfect Hotels
Finding the right hotel in a foreign country can be stressful - even online reviews don't always tell an accurate story. But with a Globus tour, you only stay in accommodations that Globus has pre-screened and selected for their comfort, cleanliness, attractiveness, and convenient location, often within mere steps from the greatest sites. For example, while other Tour Operators choose hotels outside of Venice, Globus' Italian tours put you right in the heart of the city!
Furthermore, Globus knows that relaxing at the end of a busy day of sightseeing is essential. The last thing you want to do is wrestle with suitcases while you stand in line to check-in. The hotels Globus uses are masters at efficiently handling group check-ins, so all you have to do is step off your motorcoach and into the hotel lobby. Your Tour Director handles check-in, hands you your key, and your baggage is delivered right to your guestroom. We even take care of the porterage gratuity for you.
Most hotels offer free Wi-Fi in the hotel lobby.
This brochure covers the regions and holiday types listed below. Click on the links to see more free travel brochures covering the regions and holiday types you are interested in.