Escapes - Winter Europe Tours View Basket
To order this holiday brochure for FREE delivery to your home or computer, click the GET THIS FREE button.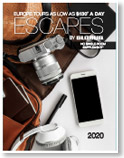 This brochure is no longer available on this website.
Thinner crowds, thicker wallets … off-season escapes for as low as $130 a day
Britain | Ireland | France | Netherlands | Belgium | Spain | Portugal | Morocco | Italy | Germany | Switzerland | Poland | Croatia | Greece & Mediterranean Cruises | Israel | Jordan
Think summer is the best time to go to Europe? Think again! The off season presents milder temperatures, fewer crowds, and better deals. Escapes by Globus is a compilation of the best
itineraries in Europe—presented during the low season—so you can experience Europe's most popular destinations for less.
What if you could walk along the Champs Elysées to the Arc de Triomphe without fighting a massive crowd?
And what if you can see Michelangelo's David without bumping into the tourist on your left and on your right? And what if you could do all of this at a low all-inclusive price? With Escapes by Globus, you can experience the best of Europe without the crowds – and even better – without the high-season prices. When considering your next journey overseas, here are the top reasons to consider an Escapes by Globus off-season experience:
Mosey Up To Mona
Fewer travellers in the low season mean fewer crowds, so you'll enjoy more space in museums, among the ruins, and down the cobblestone streets.
Linger A Little Longer
Shorter lines to see the main attractions result in more time for longer lunches, longer strolls, and longer drawn-out sips of frothy cappuccinos.
The Heat Is Off
High season equals high temperatures. When you travel during the European Autumn, Winter, or Spring months, you can experience Europe's hottest sights and warmest traditions without enduring the sweltering heat.
More Bang For Your Euro.
Everything looks a little different in Europe during the low season – the landscapes, the streetscapes, and especially the prices. From transportation and dining to shopping and sightseeing, you'll see plenty of discounts and deals.
Meet Beppe. Not Bob.
While you're travelling this time of year, the locals typically aren't. Which means more time getting to know them and their unique customs
Half The Crowds. Half The Price. All The Inclusions.
Lower prices. Shorter lines. Smaller crowds. These are some of the perks of low-season travel. Fewer inclusions? Not with Globus! On an Escapes by Globus tour, you get an easy, hassle-free, all-in-one holiday that includes all of these elements to make your holiday complete:
Sightseeing & VIP Access
An Escapes by Globus tour always includes the major attractions, plus you get special VIP access at the must-see sights. Globus actually takes you inside Europe's most awe-inspiring places – right to the head of the line and through the front door. Globus' itineraries clearly indicate inside visits and special features.
Tour Directors & Local Guides
With Globus, you travel in the company of genuine local experts - Tour Directors and Local Guides who are actually from the region through which you're travelling. All along the way, they share their vast knowledge of the areas and can point you in the right direction to help you get the most out of your free time.
Meals
Traditional meals help you experience your destination's culture through its cuisine. Globus tours always include several meals, each featuring at least one complimentary glass of regional wine, beer, soft drinks, coffee, or tea for an additional layer of local flavour.
Superior Hotels
Selected for their comfort, beauty, and proximity to key sights, these hotels feature twin-bedded rooms with a private bath or shower (plus all hotel and city taxes, service charges, and tips for baggage handling are included)!
Transportation
Enjoy private, deluxe touring motorcoaches with free Wi-Fi, air-conditioning, extra leg room, and an emergency restroom. High-speed trains are standard on tours travelling Paris–London and Edinburgh–London. Globus can even coordinate your flights with your tour!
Headsets
Included headsets for sightseeing on the Continent give you the freedom to roam through some of Europe's most famous attractions without missing a moment of fascinating commentary.
This brochure covers the regions and holiday types listed below. Click on the links to see more free travel brochures covering the regions and holiday types you are interested in.