India, Bhutan, Sri Lanka, Nepal & Himalayas View Basket
To order this holiday brochure for FREE delivery to your home or computer, click the GET THIS FREE button.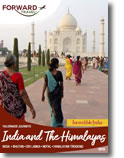 This brochure is no longer available on this website.
A rich feast for travellers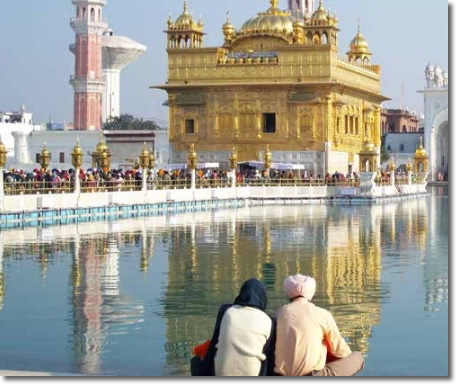 A medley of colour, culture, and curry, with an enthusiastic sprinkling of chaos adding to the delicious melting pot awaiting you.
Forward Travel has been travelling to India, and the surrounding regions, for many years and love all things sub- continental. David is a great fan of exploring lesser travelled Northern India, particularly Leh and Ladakh, and the waterways of Kerala; Rose, on the other hand, is a Rajasthan fan, with a soft spot for Sri Lanka, and a softer spot for cricket. They both agree that it's hard to beat a good North Indian – or Sri Lankan – curry!
Travel is a part of life, not a break from it, rather an integral part of our existence, and it deserves proper planning and careful preparation, which is why Dave and Rose created Forward Travel. They want to give you the best and most complete travel experience, combining their extensive knowledge in both travelling and planning with your interests to tailor make your very own journey.
This allows you to savour the excitement as your holiday approaches and then enjoy every moment of it, safe in the knowledge that all the hard work has been done and you can simply relax and be amazed as India unfolds before you.
Forward Travel really likes combining various experiences so you can appreciate its diversity. Magnificent forts and palaces
in romantic Rajasthan lead to remote desert camps. Luxurious rail journeys can be followed with gentle cruises along Kerala's serene waterways. Untrodden paths forge trails through magnificent mountains to small villages somehow unaffected by the modern age, while the cacophony of chaos radiating through the cities, contrasts with the solemnity of the religious traditions.
Forward Travel hopes you will allow it to create your own Journey to Savour through these exotic lands, discovering the people, culture, tradition, history and legacy of India and its neighbouring wonderlands. With Dave and Rose's passion, experience and meticulous planning, Forward Travel promises to weave memories you will cherish forever.
The way Forward
All Forward Travel's journeys are customised for each person, so our style of travel is really your style.
Forward Travel will discuss with you how you like to travel, including the type of accommodation and touring you prefer as well as how energetic you want to be. Forward Travel can then make suggestions to reflect your preferences.
Forward Travel likes the value of 3.5 – 4 star hotels, but India (in particular) is also known for its fabulous palace and heritage hotels, so Forward Travel will mix it up when suitable. And there's also its Heritage of Rajasthan where it only offers classic, heritage properties.
An English-speaking guide will meet you at the start of every tour and transfer you to your hotel. Forward Travel includes guided sightseeing to show you the wonders of your chosen destination, and there's plenty of time for you to explore on your own. Forward Travel's guides can give great insights into the history and culture – as well as introducing you to some fabulous restaurants the guide books may not know about. When it is time to move on you'll be picked up and taken to the next exciting destination. Forward Travel sometimes uses local trains, instead of flying, but there will always be someone there to point you in the right direction, and to meet you at your destination.
This gives you maximum time to enjoy the journey without having to worry about the boring bits.
Inside this brochure
Travelling Forward

The Places Forward Goes And Getting There

Tasty Stopovers

Complete India (22 Days)

Rajasthan

Jewels Of Rajasthan (10 Days)

The Golden Triangle (6 Days)

Osian Camel Camp (3 Days)

Essential Rajasthan (14 Days)

Heritage Of Rajasthan (15 Days)

Complete Rajasthan (19 Days)

Indian Splendor Aboard The
Mahrajah Express (8 Days)

Northern India

Essential North India (11 Days)

Complete North India (16 Days)

North & West India

Holy Himalaya (11 Days)

Textiles And Wildlife Of Gujarat (11 Days)

Ajanta And Ellora Caves (4 Days)

Kashmir & Ladakh (14 Days)

Secrets Of Sikkim (10 Days)

South India

Southern Highlights (11 Days)

Secrets Of Kerala (10 Days)

Wellness In India

Bhutan

Complete Bhutan (8 Days)

Sri Lanka

Essential Sri Lanka (9 Days)

Complete Sri Lanka (14 Days)
This brochure covers the regions and holiday types listed below. Click on the links to see more free travel brochures covering the regions and holiday types you are interested in.