Southeast Asia River Cruising & Tours View Basket
To order this holiday brochure for FREE delivery to your home or computer, click the GET THIS FREE button.
Quality you can afford, service you expect, premium inclusions you want and memories that last forever
Evergreen Tours invites you to join it on a journey to its new and exciting destination of South East Asia; a colourful and exotic land that will open your senses and fill you with wonder. With exclusive charters on board one of Asia's newest and most luxurious ships, the Mekong Navigator, Evergreen Tours brings you the best of these magnificent countries in the style and comfort that Evergreen Tours is renowned for.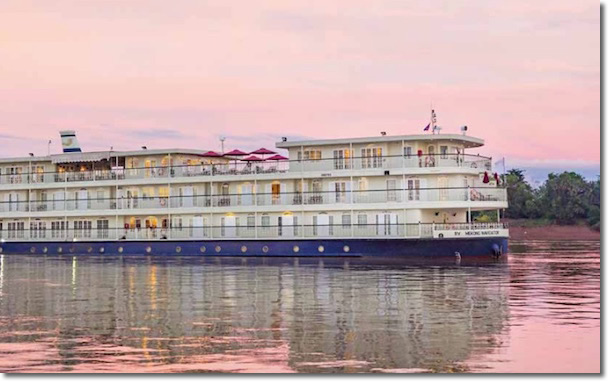 South East Asia is a rich and vibrant region full of beautiful landscapes, lively people, superb food, deep culture and poignant history. Evergreen Tours will ensure you not only experience the highlights of this incredible destination but also meet the people and uncover some of the hidden wonders that make this place so special. Take in picturesque Halong Bay on board a traditional junk, learn about the Imperial capital of Hue, meet the locals and relax in Hoi An, cruise in comfort along the Mekong River getting to know the nuances of river life, and soak up the magnificence of one of the most incredible set of ruins in the world, Angkor Wat. With Evergreen Tours, you can experience all the must-see attractions, destinations and scenery you expect, as well as breath-taking sights you never knew existed.
Evergreen Tours' team of local experts will proudly show you the best that South East Asia has to offer. Its friendly Tour and Cruise Directors, Coach Drivers, Local Guides and Cruise Ship crew do more than just their job, they go out of their way to ensure you're totally satisfied with every sightseeing experience and excursion. You will gain a unique perspective into world famous icons as well as some of South East Asia's magnificent regions. While Evergreen Tours' itineraries are comprehensive, you will also appreciate freedom for personal discoveries in your own time.
In this brochure you will find a combination of the very best and most affordable river cruising and touring programs including superb sightseeing, quality meals and excellent service. Being established for 35 years, Evergreen Tours is expert in touring and cruising and has developed carefully handcrafted itineraries to deliver the right balance of must-see sights, cultural interaction, local insights, culinary delights as well as uncovering some of South East Asia's best kept secrets. Discover for yourself why Evergreen Tours is the relaxing and convenient way to explore spectacular South East Asia.
Inside this brochure
A WORLD OF DISCOVERY
The Evergreen Experience
A Journey of Discovery
Cruise the Magnificent Mekong
The Mekong Navigator Exclusive Charters
You're Invited
A Perfect Night's Sleep
The Flavours of Asia
Earlybird Saving
Explorer Loyalty Program
DISCOVER VIETNAM & CAMBODIA
19 Day Vietnam & Cambodia Explorer and Mekong Cruise
16 Day Highlights of Vietnam & Cambodia and Mekong Cruise
12 Day Mekong Discoverer Cruise
8 Day Magnificent Mekong Cruise
10 Day Best of Vietnam
This brochure covers the regions and holiday types listed below. Click on the links to see more free travel brochures covering the regions and holiday types you are interested in.