Tailor-made tours of The Baltic States, Scandinavia, Russia & Eastern Europe View Basket
To order this holiday brochure for FREE delivery to your home or computer, click the GET THIS FREE button.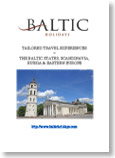 This brochure is no longer available on this website.
Tailor-made tours of The Baltic States, Scandinavia, Russia & Eastern Europe
Lithuania - Latvia - Estonia – Belarus – Kaliningrad – Russia – Poland – Hungary – Czech Republic – Slovakia – Romania – Moldova – Finland – Sweden – Norway

Baltic Holidays presents the Baltic region to you in tailor-made perfection - historical fascination, cultural excitement, winter wonders, gastronomy tours, Baltic capitals, special summer tours, intriguing Imperial Russia and beautiful beaches. Think Riga, St. Petersburg, Stockholm, Moscow, Tallinn, Helsinki, Vilnius... but then think again as Baltic Holidays now tailor tours from the northern reaches of Norway down to the warm Black sea resort of Odessa in Ukraine. Baltic Holidays can design an itinerary to suit you, and local teams will give you the warmest welcome when you travel.
Baltic Holidays offers personalised service, value for money, local insights and anecdotes, handpicked hotels, guides and drivers who are more like your friends – all designed to suit you.
Private Tours
Private tours are fine-crafted itineraries designed to suit you. Depending on your interests and requirements, we will tailor an itinerary to suit you – at your pace and with your preferred balance of sightseeing tours and free-time. Available to start any day of the year, and visit the places of interest to you, perfect for individuals or small groups of friends alike. You benefit from our local knowledge, experience and relationships with our local partners.
private transfers with friendly driver-guides sightseeing between destinations
handpicked hotels
private city tours
flexible itineraries tailored to suit you
local insights & personal service
confidence to explore off-the-beaten track
can also be done as a self-drive tour
Our bestselling Baltic Capitals Private Tour
Our most popular private tour of the Baltic Capitals - Vilnius, Riga & Tallinn. Exceptional personal service from your own guides and drivers throughout the tour, 3 nights in each city staying in characterful hotels in the old towns, and you can tailor the itinerary to suit your pace and interests. Plenty of free time to explore, but with the support of our local team when you need it.

This tour is unique to Baltic Holidays and we make your tour unique to you...
Group Tours
We handpick the best escorted group tours from our tried and tested local partners throughout our destinations. Look out for our own in-house small group tours – such as our charming Christmas markets tour to Tallinn, Riga & Vilnius – these are unique to us and much more personal than a larger coach tour including:
Baltic Christmas Markets tour – Tallinn, Riga & Vilnius all in one!
Moldova Wine Festival
Independence Day in Transnistria (Moldova)
Baltic Capitals small group tours
What our clients say
Our trip was superb, Philip. As you well know, before the trip I customized it quite a bit. Your team was terrific in accommodating that customization. The result was a unique and spectacular trip. I could go on at great length to tell you how much we enjoyed this trip but, instead, will save time by simply telling you that Denise and I have traveled quite extensively and we both agreed that this was one of our favorite trips ever. That is in large part due to your team's hard work before we landed and once we were "in country." The Baltics trip was the first time that we traveled on our own but used a tour company to help plan and then fully support the trip. You have now spoiled - and ruined - us.  Hats off to Baltic Holidays. You gave us a trip of a lifetime. – Mr & Mrs Sergesketter, tailor-made tour of the Baltic Capitals, Kaliningrad & Belarus, July 2017
Dear Jurga, We arrived home safe and sound on Saturday afternoon and, now, our minds are full of wonderful memories of a very enjoyable trip. Thank you very much for organising such a comprehensive holiday for us. Everything went like clockwork: guides were excellent, erudite and solicitous and good travelling companions, excellent selection of hotels - a faultless holiday. We have learnt so much about the history of the five countries and have met many friendly and welcoming people. Once again thank you for all your work. – Mr Cyster, Grand Baltic Private Tour (Vilnius, Riga, Tallinn, Helsinki, St Petersburg, Moscow), September 2017
Some of Baltic Holidays' most popular tours
Baltic States tours
Vilnius, Riga & Tallinn – Baltic Capitals Private Tour
Baltic Capitals & Poland Private Tour
Grand Baltic Tour – Vilnius, Riga, Tallinn, Helsinki & St Petersburg
Rural tour of the Baltic States
Luxury seaside tour through Estonia, Latvia & Lithuania
Baltic States & Belarus Private Tour
Poland – Kaliningrad – Lithuania Private Tour
Highlights of Lithuania tour
Highlights of Latvia tour
Highlights of Estonia tour
Winter experience rural tour of Estonia
Self-drive Baltic tour
Baltic cruise – land tour extensions
Russia tours
St Petersburg & Moscow Private Tour
Kaliningrad Private Tour
St Petersburg to Moscow via Volga river cruise
Scandinavia tours
Self-drive tours of Finland, Sweden & Norway
Norway in a nutshell
Scandinavian Capitals Private Tour – Copenhagen, Stockholm, Oslo &  Helsinki
Hurtigruten cruise – land tour extensions
Eastern Europe tours
Moldova Private Tour
Romania Highlights Private Tour
Ukraine Private Tour – Kiev, Lviv & Odessa
Danube cruise land tour extension - Budapest & Prague
Hungary Highlights Private Tour
Highlights of Poland Private Tour
Pick & mix where & how YOU want to visit
Destinations
Lithuania – Vilnius, Kaunas, the Curonian Spit…
Latvia – Riga, Jurmala, Sigulda…
Estonia – Tallinn, Parnu, the islands…
Finland – Helsinki, the wilderness…
Russia – St Petersburg, Moscow, Volga river cruise…
Poland – Gdansk, Warsaw, Krakow, Tatra mountains…
Belarus – Minsk, Brest, Grodno…
Kaliningrad region of Russia
Sweden – Stockholm, the nature…
Norway – Oslo, Stavanger, Bergen, the fjords, the Arctic circle…
Denmark – Copenhagen, Billund, the coast…
Ukraine – Kiev, Lviv, Odessa…
Moldova – Chisinau, Transnistria, wine cellars…
Romania – Bucharest, Brasov, Transylvania…
Hungary – Budapest, Lake Balaton…
Slovakia – Bratislava, Tatra mountains…
Czechia – Prague, Kutna Hora…
Experiences
Multi-city breaks – combining capital cities
Rural tourism farmsteads & activities
Palace & manor house hotels 
Spa hotels & wellness breaks
Beach holidays on the Baltic coast
Self-drive tours or transfers with a private driver-guide
Family holidays with activities
Cultural tours; wine, crafts, history, music, architecture
This brochure covers the regions and holiday types listed below. Click on the links to see more free travel brochures covering the regions and holiday types you are interested in.